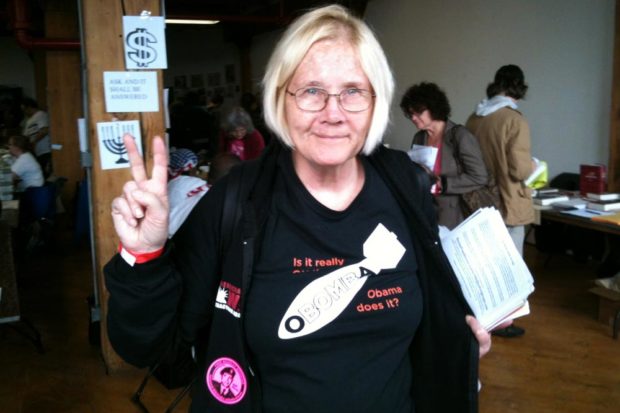 By Joshua Shurley
Colonel Ann Wright (retired) will speak on Oct. 14 at 2 p.m. at the Community United Church of Christ (5550 N. Fresno St.).
Colonel Wright spent 29 years in the U.S. Army and Army Reserves and another 16 years as a diplomat with the U.S. State Department before finally saying "enough is enough" and resigning in protest on the eve of the invasion of Iraq on March 19, 2003 (one of three State Department officials to do so). In her letter of resignation, Wright specifically cited disagreement with the Bush administration's unilateral action toward Iraq, the lack of effort in resolving the Israeli-Palestinian conflict, the lack of policy on North Korea and the curtailment of civil liberties within the United States after the events of 9/11.
Wright's career included duty in hot spots around the world, including Grenada, Panama, Somalia, Sierra Leone, Micronesia, Uzbekistan, Kyrgyzstan, Nicaragua and Mongolia. She received the State Department's Award for Heroism as chargé d'affaires during the evacuation of Sierra Leone in 1997 and later was part of the team that reestablished the U.S. Embassy in Kabul, Afghanistan, in 2001–2002.
Wright may have resigned from government employment in 2003, but her time since then can be characterized as truly honorable and faithful service to her country and to humanity at large. She has been active in Veterans for Peace, the Korea Peace Network and CODEPINK, among other groups (once quipping, "If it's got 'peace' in the name, I work for it").
She was on the Gaza Freedom Flotilla in 2010, which carried humanitarian aid and construction materials, with the intention of breaking the Israeli- Egyptian blockade of the Gaza Strip. The flotilla was attacked by Israeli forces, resulting in the killing of nine activists and the wounding of dozens more. In addition to numerous arrests for nonviolent protest, Wright has been on the front lines of peace activism from Iran to Cuba, from Okinawa to Standing Rock.
Wright also has been a rare voice of reason and sanity in highlighting the futility of U.S. military options and calling for immediate diplomatic talks to end the Korean War once and for all and to de-nuclearize the Korean peninsula.
The military demands obedience to authority and unrelentingly represses criticism within its ranks. Most veterans are unwilling to publicly question or criticize the military. But who is better able to understand and critique the military than those who have experienced it? Wright will speak about her history, how and why she chose to be a dissenting voice, and countries currently in the crosshairs of the U.S. government—North Korea, Russia and Iran.
*****
Dr. Joshua Shurley teaches political science at Clovis Community College, sits on the board of the Fresno Center for Nonviolence and is the organizer of the Fresno Chapter of Veterans for Peace. Contact him at 559-512-9469 or fresnovfp@gmail.com.