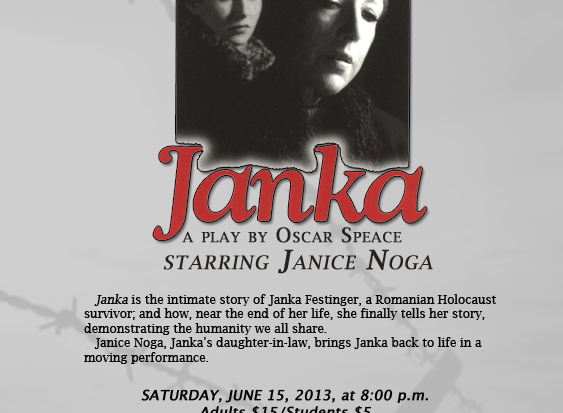 By Lorenzo Bassman
On June 15 at 8 p.m., the Unitarian Universalist Church of Fresno presents Janka, a play about one woman's will to survive the Holocaust.
Janka is the compelling and redemptive account of Janka Festinger, a native of Sighet, Romania, who survived the Nazi Holocaust, fell in love and married an American soldier and immigrated to the United States. At 70, she shares her life's voyage. The play tells the story of a woman who wanted to bear witness to all the horrors and drama of the Nazi regime that was experienced by millions of Jews—the nightmare of the concentration camps. The play documents a moving story of survival, redemption and the beginning of a new life.
Following the passing of Janka in 1994, her son, the award-winning and Emmy-nominated producer/director Oscar Speace, learned about a letter written by his mother after she was liberated by the U.S. military in 1945. From a small, modest apartment in Munich to a new life in the United States, Janka wrote a 60-page, highly descriptive, cogent letter to an uncle in Cleveland. In the letter, she recounted her day-to-day experiences in the camps—stories of family, friends, providing love and support to each other, and the cruelty administered by the SS.
And 53 years after she wrote it, Speace acquired the letter from Janka's sister. Written by hand in Hungarian, it was soon translated, and her son read it in profound concentration and silence. A new mission had emerged: This simply had to be shared with the world.
Through an emotionally charged performance by Speace's wife, Broadway actress Janice Noga, the one-woman play has been critically acclaimed and seen throughout the United States, Covent Garden in London, Edinburgh Festival Fringe in Scotland and, most recently, back to where Janka was born in Romania.
The Unitarian Universalist Church of Fresno is at 2672 E. Alluvial Ave. Tickets are $15 for adults and $5 for students. For more information, visit www.uufresno.org or call 559-322-6146.
*****
Lorenzo Bassman is the music director and events coordinator for the Unitarian Universalist Church of Fresno.