By Grisanti Valencia
Undocu-queers have been at the forefront of the immigrant rights movement fighting for all immigrant families. Their stories have inspired all of us in many ways. An undocu-queer is someone who identifies as undocumented and acknowledges her/his queer side. Being undocumented is a massive barrier for the immigrant community—from going to school to obtaining employment. Being a queer male or female in the Latino community is a taboo on its own given that most of the Latino population is either Catholic or Christian.
The word undocu-queer forces people to look at two identities at once. In one breath, in one word, we can confront two things people feel strongly about. With such strong parallels and intersections between both communities, the term seems like an inevitable and necessary result of the two movements. In 2010, many undocu-queers were pushing for the Dream Act. After the loss of the Dream Act vote in 2010, they organized an array of actions putting pressure on President Barack Obama to use his executive power to relieve our communities.
On June 15, 2012, President Obama announced the Deferred Action for Childhood Arrivals (DACA) program, which would allow a small percentage of the 11 million undocumented in this country to obtain a work permit with protection against deportation as long as they meet the following criteria:
Arriving to the United States before their 16th birthday and being under the age of 31 as of June 15, 2012
Graduating from high school or enrolled currently in school
Proving presence in the United States from June 15, 2007, to the present
Not having two or more misdemeanors and not posing a threat to national security or terrorist activities
After the program took effect, we realized that an array of people who were looking into applying could not for financial reasons, lack of evidence and not being able to meet one or more of the criteria. There was also the misconception portrayed in the media and by groups that would benefit from the DACA program. Many people thought that only those in the higher education system would be able to attain this relief. Having this protection came with a high cost.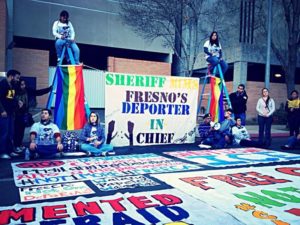 Not everyone can afford it, especially in the Central Valley where most people come from an agricultural worker family. In some instances, a family might have 3–5 people who potentially qualify for the DACA. Thus, the immigrant youth movement then moved to push for an immigration reform bill last year; in Congress, a bill had been proposed by the "Gang of Eight."
The immigrant youth who were approved for deferred action saw how our families were still being affected by these unjust laws that affect the immigrant community on a day-to-day basis. We found it unfair to just fight for immigrant youth when the community was being affected with no relief.
The DACA is a two-year program that can be renewed every two years, and then the immigrant youth are left in a limbo of being undocumented with the ability to work legally in this country but no pathway to citizenship. One proposal was to take out LGBTQ inclusion from the bill in order to pass it, leaving all of our undocu-queer brothers and sisters' lives unsecure.
Many immigrant leaders in the movement today are either womyn or undocu-queers, and they fight for our immigrant families every day. These same families shun the queer side of us believing that religion can fix them and not accepting the simple fact that they are queer and beautiful souls. They allow us to embrace our immigrant side but not our queer side even though you cannot have one without the other.
In many of the long pilgrimages where the rest stops begin in churches, undocu-queer folks are not able to come out as queer for the fear that all will be affected and they will not have a place to sleep that night. In the mainstream, LGBTQ movement folks do not embrace our undocumented side claiming we don't look undocumented. Things like "you don't have an accent," "you don't look like them," "why would you cross the border without papers?" are common things I hear in these spaces. That being said, why do these individuals claim both?
We have been taught that they are not positive things to proclaim and tell the whole world about. We hear these guerrer@s chanting at marches, "undocumented and unafraid, queer, queer and unashamed." There is a big intersection between being undocumented and being queer.
We have seen the undocu-queer population expanding in Southern California and in the Bay Area. This makes us wonder: Are there no undocu-queers in the Central Valley? Of course, the decision makers are primarily White, male and extremely conservative in the Central Valley. In the conservative Central Valley, there is an undocu-queer community that doesn't feel safe to come out, but we are here and we exist.
In the past year, Luis Ojeda, previously a member of Fresno Immigrant Youth in Action, worked to get undocu-queers in the Valley to come out not only as undocumented but also as queer. He empowered them to understand that their stories matter, and their stories are filled with survival and power. They keep smiling and fighting because their very existence depends on it. In Fresno last year, there were monthly healing circle spaces at the LGBTQ center.
A gathering of 30 undocu-queer youth will be held in Fresno on May 16–18.
*****
Grisanti Valencia is the Central California organizer for the California Immigrant Youth Justice alliance. Contact him at gvalencia @ciyja.org.