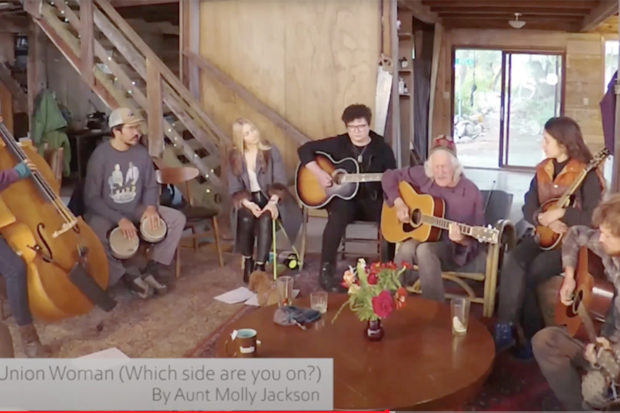 Every time this newspaper asks for the community's support, you come through for us.
Dec. 12 was our "Where Do We Go from Here" fundraiser, and you, our readers, made this a great year to be a part of the Community Alliance.
We surpassed our fundraising goal, heard from great speakers about how we can achieve our goal of building a more just society and listened to some great music by Jemmy Bluestein and friends.
Speakers Veva Islas, Daren Miller, Simone Cranston Rhodes and Miguel Arias spoke about the importance of electing progressives to local offices. We have already elected many allies to school boards, City Hall and other elected positions. Now that we have a majority in many of those elected offices it was suggested that we need to take a serious look at the Board of Supervisors.
Dolores Huerta, our keynote speaker, said that "one of the things we need to start emphasizing is public campaign finance reform. It is interesting that nobody is even talking about that. We have to start pushing that, make sure someone in the state legislature introduces a bill like that."
Camille Russell was presented an award in appreciation of her long-term contributions to the paper, and Tom Franz received a certificate in appreciation of his outstanding writing.
If you missed the event or you want to see it again, visit www.youtube.com/watch?v=7pFHtkqVgyk.
With the collapse of the newspaper industry as a backdrop, the Covid pandemic peaking in California and the potential implosion of the economy, we were a little unsure how things would go. Here is how it went: We had about 75 people on our Zoom call, a good time was had by all and we set PayPal on fire with all the donations that came in that day.
A highlight for me is that we brought in six new monthly sustainers. We now have 64 supporters who send us $5–$300 a month. The average is $30 each month. One reader sent us a $1,000 check and more than a dozen sent in $100 or more.
This is enough money for us to dream about how to get our message out to more people in Fresno and the San Joaquin Valley. Should we start writing grants to get funding that will pay for investigative journalism? Many newspapers are doing that as a way to survive.
Another idea is to expand the Spanish-language section for the thousands of monolingual readers out there. Those readers need a progressive analysis of the news, and we want to connect them to activists in the movement for social and economic justice.
We are talking about improving the Community Alliance website to make it more user-friendly and accessible. What about a greater social media presence and more outreach to young people? Getting youth involved with the newspaper is essential for long-term survival.
Let us know what you think. What should our priority be as we travel down this road together? Send us a letter to the editor, write me an e-mail or give us a call. We are in this together.
Our readers understand why it is important to give an undocumented immigrant a voice in this paper, to call for police accountability and why we struggle against right-wing forces for political power. With you by our side, we will continue to grow until we have the world we know is possible.
It is not too late to contribute to the Community Alliance. You can do that by cutting out the subscription form in this paper and mailing it to us or going online at https://fresnoalliance.com/subscribe/.
Power to the people!