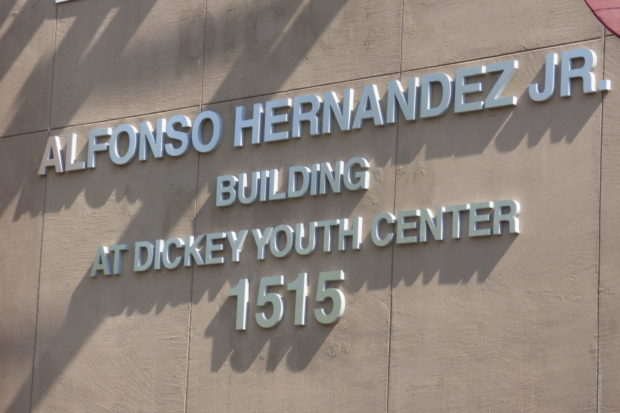 The Community Alliance
On Aug. 21, the Dickey Youth Center, known by many as the Chicano Youth Center, building was named the Alfonso Hernandez, Jr., Building in honor of Alfonso Hernandez, Jr., who passed away on Jan. 6. Hernandez was well known in the community as a "peaceful warrior," always caring and working to improve his community. Family and friends gathered for the official dedication ceremony of the building to honor Hernandez's tireless efforts to improve the conditions of and uplift low-income communities in southeast Fresno and beyond.
During the ceremony, Fresno City Council Member Oliver Baines shared that to name the building after Hernandez was a unanimous decision, "When the renaming of the building came to a vote, there was no dissent because everybody on this City Council all knew what Alfonso meant to this community. Very rarely do we get unanimous consent on something which speaks to the life and the legacy that this man left our community."
Baines goes on to tell the story on how the dedication came about, "[City Council Member] Sal (Quintero) calls me into the office, and Sal's always very respectful, 'Hey Oliver, you know Alfonso Hernandez just passed away?' (Baines) 'Yeah I know and I'm very sad about that. I know we adjourned one of our meetings in his memory.' And he (Quintero) goes, 'would you be supportive of naming the Dickey Youth Center after him?' And I took about three or four seconds to respond, and I said, 'Yes, let's do it'… although I am here celebrating this, it was Sal Quintero's idea to push this through."
"Alfonso was just a great person and the naming of this building really tells it all because I know that many of you here today have a stake in this building and have a stake in this property, it's yours, it's the community's. Alfonso did a lot to include the outlying areas that didn't have a lot of activities through the MEChA programs. And he's the one that started having the students go to Fresno State for Career Day," said Quintero.
Chicano Youth Center Board Member Enrique Reade recalled how he and Hernandez got funding for the Chicano Youth Center years ago, "Before 1999, we talked about getting money to build this center. We didn't know where we were going to get this money. There was no money in the city. The city said to us, 'get some money together, and we'll match you.' So what we did is I told Alfonso and I told Javier [Guzman], 'let's go to Sacramento and see a friend of mine.'" They visited then State Senator Richard G. Polanco and left with $1.7 million to help build the center.
The ceremony ended how Hernandez would have wanted it, with his friends, family and mariachi.
Que Viva Alfonso Hernandez!