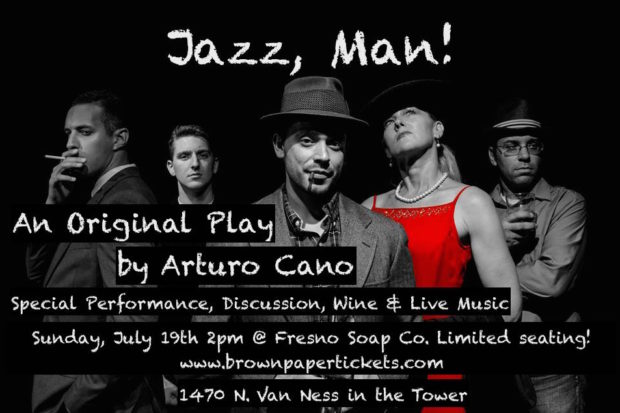 By Cherylyn Smith
"Jazz Man," an original play by Art Cano, is the story of Gus Friedman, a jazz trumpeter of stunning talent and uncompromising integrity, whose life experiences take him from the holy ground of pure artistry to the decadent realm of commercial enterprise. The story weaves through the spiritual, mythic, historic, political and psychological turmoil of the 1960s as Gus, a tormented soul who longs to find love and acceptance, encounters a diffident world. He is cast as a restless misfit, under the protection of a super cool façade.
Gus's internal conflicts are intensified when he finds himself caught in a web of contradictions that point to the central question of the play: "How does an artist maintain integrity and succeed in a world driven by profit-mongers and charlatans?"
Gus emerges from his own private hell, after having been exploited and left heartbroken by a woman, only to be lured by another cunning femme fatale, the CEO of a record company. Vulnerable and naïve, he makes a spectacular comeback under her control and the spell she casts on him. Gus is oblivious to his entrapment, but his music remains untainted and free, and his authenticity endures.
The tension reaches a pivotal point when his artistry is salvaged and brokered by characters that know his true musical greatness and want to sustain it. Yet, the final scene is bittersweet, as jazz itself emerges as the play's true hero. It is the underlying force in the play that transforms and shapes key characters and lifts the audience to a poignant and awe-inspiring recognition of all that it exudes, delivers and demands of us.
"Jazz Man" is not only art for the artist, it is for the artist in all of us.
This month, you will have one last chance to catch this play at Fresno Soap Co. (1470 N. Van Ness Ave.). A special performance on July 19 will include a discussion group with the cast involved and live music to follow. For more information, contact 559-301-2841 or info@fresnosoapco.com.
*****
Cherylyn Smith is a retired educator, having served as a bilingual adviser in the Multilingual/Multicultural Department of Education for the Fresno Unified School District. She currently teaches part-time at Fresno City College. She organizes public discussions on critical issues affecting the Central Valley, such as water, immigration, fracking, toxic dumps and high-speed rail. She has interviewed parties to the Prop 1A lawsuit on KFCF 88.1 FM. Contact her at cherylynsmith@aol.com.