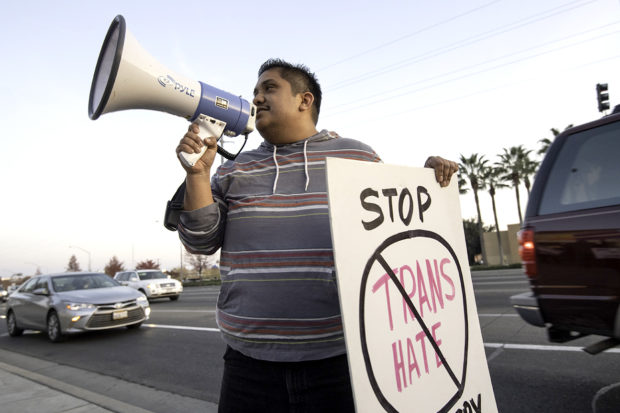 The Community Alliance staff
(Editor's note: Local LGBTQ community leader Zoyer Zyndel, 33, passed away on Dec. 26. Circumstances of his death were not made available to the public and were described as "unexpected." Zyndel was a passionate advocate on behalf of the LGBTQ community. His life and work will be missed. The following information comes mainly from the Trans-E-Motion Facebook page.)
It is with sadness and shock that we have learned of the unexpected and accidental passing of Zoyer Zyndel last night.
We are all reeling from the news of his passing and want to extend our deepest condolences to all who cared for him.
Zoyer was very much loved. He was loved by his family. He was loved by his friends. And he was loved by all the community members and organizations he worked with.
Zoyer's deepest passion was to advocate for and foster love and support for the trans community. He believed that every trans life was deserving of love, respect and happiness. It was his driving mission to be a force of good in this world. And all of us who knew him were drawn to that force.
For all of you who are shocked, upset or reeling from this news as we are, please know that Zoyer would want you to live, to seek support and to be loved.
Trans-E-Motion owes such a debt to Zoyer's service. He was a leader in so many places—not only in Trans-E-Motion but also in Community Link, PFLAG, countless other community groups, and at Fresno State and Fresno City College. He took it upon himself to create new pathways for people of the trans community and LGB community, and for that he will be severely missed.
Trans-E-Motion will hold Zoom support groups facilitated by a licensed therapist and will announce other remembrances in consultation with the family.
Zoyer's family has set up a GoFund me page to cover the funeral expenses (www.gofundme.com/f/zoyer-zyndels-funeral-expenses…). If you would like to send flowers, send them to 2812 Everglade Ave.,
Clovis, CA 93619.
Support Groups
Dec. 28, 6 p.m.
https://us02web.zoom.us/j/85303852952…
Meeting ID: 853 0385 2952
Passcode: Zoyer
Dec. 30, 6 p.m.
https://us02web.zoom.us/j/81537005456…
Meeting ID: 815 3700 5456
Passcode: Zoyer
Jan. 5, 6 p.m.
https://us02web.zoom.us/j/82483380298…
Meeting ID: 824 8338 0298
Passcode: Zoyer