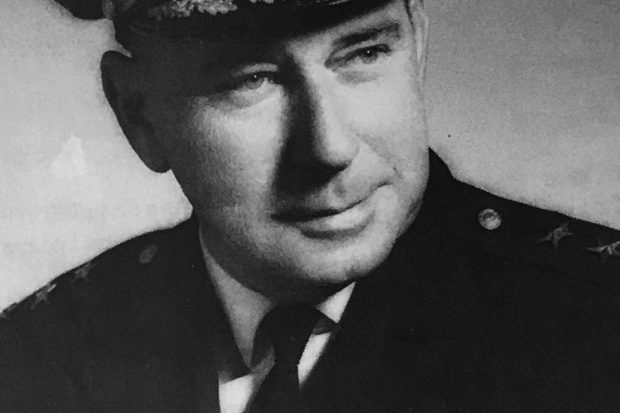 By James Mendez
Fresno is on the cusp of a historical mayoral election. Do we break with our past, look to the future and embark on a new pathway with Andrew Janz as mayor, or do we continue down the path Fresno has followed since it was founded by electing Jerry Dyer? We have two candidates with divergent views of what are Fresno's problems, the cause of Fresno's problems and how to alleviate Fresno's problems.
Dyer exemplifies the role that Fresno police chiefs have played in Fresno's long history of corruption. Land speculators and good ol' boys have run the city since Fresno was selected by Leland Stanford in 1872 to be the site for a railway station of the Central Pacific Railroad. A number of the land speculators and early settlers that were involved in Fresno's development had also served in the Confederacy.
Since Fresno was incorporated in 1885 it has been known as a "wide open town." Similar to today, the power brokers of the day said Fresno business needed to be free from any regulations in order for business to prosper. In the 1800s, Fresno businesspeople and entrepreneurs said they had to have unregulated saloons, gambling dens and brothels.
For the next 130 years, besides being known for summer heat, Fresno has been known for corruption, cronyism and crime. Although a few people have flourished under this "good ol' boy" system, the well-being of the majority of Fresno's residents has been negatively affected in terms of their economic development, housing, education and health.
The corruption in Fresno could not have gone on without the cooperation of the Fresno Police Department and, in particular, the Fresno police chief.
From its beginnings, the Fresno Police Department had been a bastion of White men, born and bred in Fresno, who were willing to look the other way if they could benefit financially.
William T. Shaw was an early example of police corruption. According to the Clovis Museum, Shaw Avenue is named for him. He "came here in 1878 with his cousin, M.R. Madary. Madary was a developer, constructing buildings and operating a lumber mill; Shaw was also a building contractor; he married Threna Hedges, whose father, H.P. Hedges, was on the fire commission…Shaw was later elected constable of Fresno in 1892 and 1894."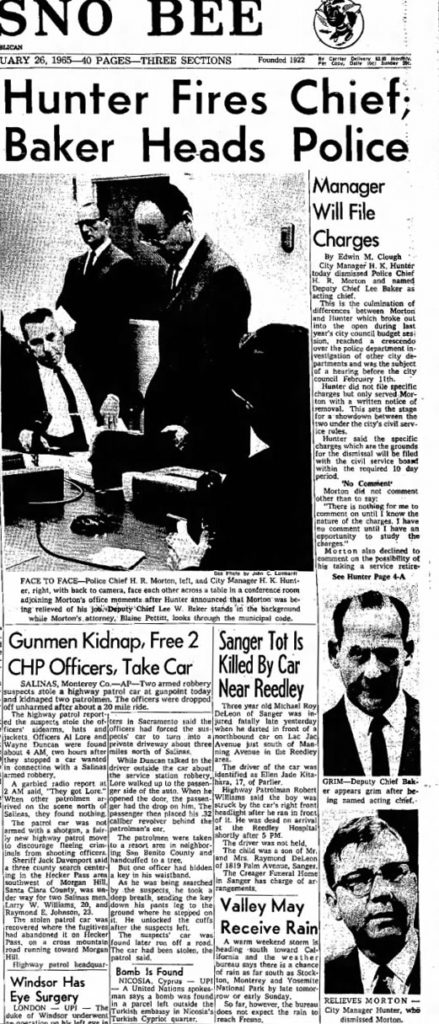 He was the Fresno police chief from 1906 to April 8, 1911, when he resigned after public censure because of "inactivity in enforcing city ordinances." Even so, he was later allowed to serve on the police and fire commissions.
During Prohibition in the 1920s, Fresno was known as the wettest county in the state, if not the nation. In a 1995 Los Angeles Times article, Mark Arax noted that "in the 1920s, Prohibition Agent Tom Nicely, a former Fresno police officer, discovered that this town was one of the wettest in the state. Hiding in the trunk of a bootlegger's roadster, Nicely gathered evidence of a huge liquor syndicate that involved farmers, the mayor and a quarter of the police force…only one of the 13 defendants was convicted. The mayor and police chief were untouched."
Also in the 1920s, Fresno was a stronghold for the Ku Klux Klan. The Pop Laval Foundation has a well-known photo of a public 1925 meeting of the Ku Klux Klan at the Fresno Baseball Park. Having had a number of Confederate soldiers, officers and their families settle in Fresno might have contributed to the development of the Ku Klux Klan here.
During a raid on the Ku Klux Klan headquarters in Inglewood, federal agents seized a membership list that named six (or seven depending on the source) Fresno police officers who were members of the Fresno Ku Klux Klan klavern. They also found leading members from Fresno such as J.M. Euless, a Fresno businessperson and real estate broker, on the membership list.
The relationship between Fresno's corruption and the police department has been more clearly recorded since the 1930s.
Ray Wallace was Fresno police chief from the 1930s until 1950. As police chief, he controlled much of the vice (gambling and prostitution) in the city. He was ultimately caught and sentenced to 18 months in federal prison in 1950 for tax evasion and for using his office to amass 1,700 acres of land. At that time, federal investigators found him attempting to use $10,000 in $5 and $10 bills he received from his prostitution business to buy another side business.
After Wallace was removed from office, Hank Morton became police chief and assumed control of gambling, prostitution (having married the madam of the largest brothel in Fresno) and drugs. Morton had risen through the Fresno Police Department ranks under Wallace to become second in command.
From 1950 to 1971, Morton was the police chief. He was fired by a reform-minded city manager in 1965, however, because he had appointed the Civil Board that reviewed his case, he appealed the decision and was reinstated.
There were federal investigations in the 1960s but no charges against Morton. Morton is generally thought to be the most corrupt of all the Fresno police chiefs. He was also Fresno's longest serving police chief.
"It was a rotten town with a rotten police force," said Larry Miller, a retired federal agent who busted numerous Fresno bookies with connections to the police department in the 1960s. "And the citizens didn't mind. Their indifference was practically suffocating."
After Morton's tenure as chief ended in 1971, Harold Britton became the police chief. He was born and raised in Fresno. He had been a star athlete at Roosevelt High School. He served in World War II. He returned to Fresno to join the Fresno Police Department in 1947 under Wallace. He rose up the ranks under the corrupt Police Chief Morton. When he became chief, Britton continued many of Morton's practices.
During Britton's tenure in the 1970s, "three federal organized crime strike forces investigated the Fresno Police Department. No charges ensued, though the last probe led to reorganization of the department." Britton was ultimately fired in late 1977 over defending a police officer who was being paid by the city but was not working at the time.
Police officer James Conrad was fired for working security at a downtown department store at the same time he was collecting city pay while waiting to testify in court. Britton backed Conrad, who got his job back.
City Manager Ralph Hanley, with support from a reform mayor, Dan Whitehurst, went after Britton, for having two standards of justice. One thing led to another, and in late 1977, Britton was fired. Britton died in 2013.
(This episode was similar to what happened under Police Chief Dyer when an internal city audit in March 2019 "conclude(d) that at least four Fresno police officers were paid for hours they didn't actually work…Fresno Police Department employees were teaching Police Academy classes at Fresno City College" while they were also being paid by the city for being on duty and working more hours than allowed.)
The federal investigations and the firing of Britton led to a period of reform in the police department and the city. Democrat Dan Whitehurst was mayor from 1977 to 1985. In 1978, he brought in Police Chief George K. Hansen from Lincoln, Neb. The thinking was that someone from outside Fresno was needed to try and reform the department.
Hansen instituted community-based policing and brought police closer to the public. He died in 1983 while still in office.
Whitehurst then appointed Max Downs as the next Fresno police chief. He served from 1983 to 1991.
In 1991, Mayor Karen Humphrey appointed African American Joseph Samuels, another outside reformer, to be police chief. He was the first, and only, non-White Fresno police chief. He served only from 1991 to 1993 before leaving Fresno to return to Oakland as the police chief there.
Dyer's predecessor. Ed Winchester, was police chief from 1993 until he resigned in disgrace in May 2001. In 2000, explosives were stolen by teenagers from a remote police bunker in Clovis that Winchester did not know about and was not routinely inspected. Later that same year, officials discovered that an assault rifle, 11 pounds of cocaine and more than
$200,000 was missing from department property rooms.
Winchester was police chief when Jim Patterson was mayor. Patterson had been bankrolled by developers. During the Winchester/Patterson tenure, the city was again investigated by federal agents in Operation Rezone. The federal investigation went on for a number of years culminating in indictments and convictions in 1998.
Operation Rezone investigators found that developer lobbyists had paid illegal bribes to local elected officials. By the spring of 1999, Operation Rezone had obtained 13 convictions for bribery and corruption involving planning and zoning decisions. Five of those convicted were members of the Fresno or Clovis city councils.
Eighty-year-old John Bonadelle had been a major Fresno developer since the 1950s. Bonadelle was indicted on 11 charges of racketeering, bribery, witness tampering, money laundering and mail fraud. He entered a guilty plea on one count of mail fraud in May in return for a sentence of nine months in a halfway house and $300,000 in fines and forfeitures.
"Two targets of the investigation have pleaded guilty and agreed to cooperate with authorities, including Jeffrey T. Roberts, a Fresno land-use consultant long suspected of being a bagman for politicians and developers." (https://www.latimes.com/archives/la-xpm-1995-12-06-mn-10860-story.html) Roberts is currently vice president of Darius Assemi's Granville Homes. Assemi, his family and his corporations are among Dyer's major donors.
Ed Hunt was Fresno County District Attorney from 1982 to 2002. He had close ties to developers that contributed to each of his campaigns. Under Hunt, the DA's office "failed to prosecute a single case of municipal corruption" from 1982 to 1995 during the time that Operation Rezone was being run. Many thought he ran an "efficient and effective" department. (https://www.fresnobee.com/news/politics-government/article19529178.html)
Hunt retired in 2002 after pleading no contest to drunk driving in December 2001. He was sentenced to three years' probation and community service.
In 2000, Police Chief Winchester was in political trouble over his poor management of the police department. Winchester made a backroom deal with Dyer and Alan Autry, who was running for mayor at the time against Whitehurst. For Winchester's support, Autry would allow Winchester to retire rather than be fired for his mismanagement of the police department. Whitehurst wanted Winchester fired and the department leadership replaced. If Autry won the election, Winchester would resign and Dyer, a good friend of Autry's, would become chief.
To make the transition easier, Winchester promoted Dyer to assistant chief. Whitehurst, who wanted reform of the police department, lost the election. Autry won, Winchester resigned and Dyer became chief. This backroom deal was similar to Wallace handing over the department to Morton, Morton handing over the department to Britton and Dyer handing over the position to the current police chief, Andy Hall.
Although no evidence has surfaced that Dyer has been personally involved in running prostitution rings or gambling dens, his second in command, Keith Foster, was selling cocaine, heroin and marijuana while he was under Dyer's command. Dyer has said he was unaware of these dealings.
Dyer represents the good ol' boy way of doing things in Fresno. His one Fresno way is to have his land speculator friends continue to run Fresno for their personal benefit.
Dyer has refused to see the link between racism, poverty and low educational performance, increased incarcerations, poor health outcomes and homelessness. He prefers to say the lack of father figures, the lack of respect for police, the lack of discipline and the lack of punishment of criminals are the source of Fresno problems. His failure to see racism as the major contribution to poverty among African Americans and Latinos in Fresno can be attributed to his own blindness regarding racism in Fresno and in America overall.
Andrew Janz represents a new way that is free of the influence that real estate developers have held over the city since the early 1900s. Janz would also be a break from the underlying racism, corruption, cronyism, bribery and extortion.
Janz would approach problems looking at the root causes of the issues facing Fresno. He would bring in the most competent and experienced people to tackle those issues in the most efficient, effective and humane way possible. The choice is ours to make by getting our friends, children and family to vote in this election.
*****
James Mendez is a retired physician. He is a supporter of public education having been a recipient from kindergarten through medical school. He and his wife are thankful for this time of their lives to spend time with their daughters and grandchildren. Contact him at jim_mendez@icloud.com.