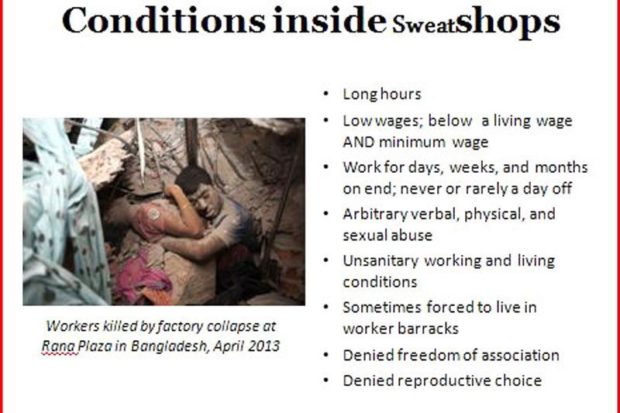 By Andrea Wilson
When we see a piece of clothing—or any item in a store for that matter—we usually don't think about its origins. We should. Production is not completely automated. Specialized machines exist to assist in a variety of different tasks, but every step of the way human hands remain essential to the completion of those tasks. In a well-regulated workplace, these factory jobs are not bad for garment workers and their families. Well-regulated places are even good for consumers, who don't necessarily pay more for items made under better working conditions.
Unfortunately, many manufacturers, especially the best-known brands, in order to make even greater profits and spend ever greater amounts in advertising, source apparel through factories located in countries where human hands are not protected. These "sweatshops"—workplaces violating at least two labor laws—are the cause of pain and poverty for millions of people around the world, particularly in Asia and Central and Latin America, where multinationals have so much power that many countries remain in effect under colonial rule.
This pain and poverty is built into the Fresno State and California State University (CSU) system apparel supply chain. Several of Fresno State's best known licensees, including Nike, JanSport, Russell Athletic, MV Sport and Gildan, are all known to have contracted through sweatshops.
Fresno State's official licensing agreement, which licensees like Nike must sign in order to produce Fresno State logo apparel, expects brands to work with fair and safe factories that pay their workers a living wage, respect their human right to associate freely, unionize and collectively bargain without fear of physical and sexual harassment or other discrimination. However, this expectation is unenforceable currently because, as Section VI of the agreement notes, "No labor monitoring practices have been agreed upon between the university and the licensees."
If licensed brands are currently working with sweatshops, the significance would run deep. It would mean Fresno State, and by extent all of its students, faculty, donors and supporters who proudly wear Fresno State apparel are, with their purchases, subsidizing some of the world's worst workplaces—factories that use violence and the threat of it to coerce the mostly female workforce to work long hours in exchange for low or no wages and with hiring practices that often fall under the category of human trafficking.
The university has an opportunity to align its practices with its principles, as well as with its students' convictions. In November 2013, a student team of which the author was a part researched attitudes of current Fresno State students toward sweatshops in their university supply chain. Over a five-day sampling period, 119 current students responded and the results were fascinating:
Eighty-seven percent agreed Fresno State and the CSU system should take steps to eliminate sweatshop conditions from the CSU supply chain;
Five percent knew individuals who had worked in sweatshops;
Three percent were descended from or related to individuals who worked in sweatshops; and
One current student actually worked in sweatshop conditions in the Mexican food packaging industry (paid per box rather than by the hour, this student made far below minimum wage).
So what can be done?
We could recognize those of our licensees that have verifiably high-quality business practices. At least one exists: Alta Gracia, a factory specializing in collegiate logo apparel in the Dominican Republic. Currently, Duke University carries 23 items by this label. (Check out the style at www.shopdukestores.duke.edu and www.altragraciaapparel.com.) By contrast, Fresno State's Kennel Bookstore carries only two. Critically, both of these items—a single shirt and sweatshirt style—are priced more competitively for students than comparable items produced by brands with higher advertising costs (e.g., Nike and Adidas).
We should also recognize the likelihood that some Fresno State licensees, despite promises to the university, may be sourcing apparel through factories where laws protecting workers are easily broken. In the spirit of Rev. Dr. Martin Luther King, Jr., we're not out to put the apparel companies out of business "but rather to put justice in business." A boycott of these brands would abandon these workers to a period of unemployment for which they have no savings. Rather, recognizing that these workers are a part of our university community, our aim should be to ensure they are treated fairly.
To date, two organizations exist to help end labor abuses in university apparel supply chains: the Fair Labor Association (FLA) and the Worker Rights Consortium (WRC). The first, however, is disproportionately influenced by the same corporations it is supposed to control. A full third of the FLA's governing board is made up of corporate representatives and, under the FLA Charter Document, internal monitoring is accepted as a legitimate means to detect and correct abuses in factories.
By contrast, the WRC is an independent 501(c)(3) labor monitor. For the past 12 years, this organization has been conducting factory investigations around the world, reporting its findings to affiliates and working with these affiliates to help them help their licensees abide by their previous promises to workers in the source factories with which they do business.
Currently, 16 high schools and 180 universities, including Duke, California State University, Fullerton, and all 10 University of California campuses are affiliated with the WRC. More than 40 universities have additionally committed to the Designated Supplier Program (DSP), the WRC's program to phase sweatshops out of university supply chains.
Fresno State, the CSU, and every other public and private university should commit themselves to ensuring their agreements are honored.
*****
Andrea Wilson is a sociology major and Humanics Scholar at Fresno State. Recently, she has worked with other scholars to raise awareness about alternatives to sweatshop slavery in university apparel supply chains. Contact her at 77andrusha88@gmail.com.
Fresno State Response

Deborah Adishian-Astone, associate vice president for auxiliary operations, whose responsibilities include oversight of the Kennel Bookstore at Fresno State, responded to this article with the following statement:

"The Kennel Bookstore has procedures and documentation in place to ensure we are not purchasing apparel from vendors who subscribe to unfair labor practices. The Bookstore works in coordination with our Athletic Department to ensure all vendors are approved through the Collegiate Licensing Company. It is our practice to offer a variety of clothing styles that are popular with our students and which are competitively priced. Currently, the Bookstore does sell two Alta Garcia items, however, the demand has been limited."