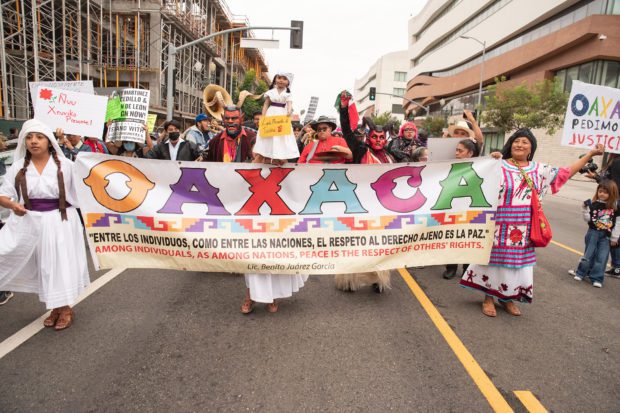 In early October, during so-called Hispanic Heritage Month, the Reddit Internet account released an audio file in which four Latinos can be heard making racist remarks about indigenous immigrants from Oaxaca, Mexico, and Blacks. The file was later reproduced by other outlets.
The initial surprise became disappointment and even anger when the identity of those individuals was exposed: Los Angeles City Council President Nury Martinez, Los Angeles City Council Members Kevin de León and Gil Cedillo, and Los Angeles County Federation of Labor President Ron Herrera.
The comments were made—and recorded—during a meeting that took place on Oct. 18, 2021, at the LA County Federation of Labor, which later declared that the leaked tape was part of a security breach at multiple offices within the organization.
Martinez can be heard saying that Oaxacans are "feos" (ugly people), and asking ironically, while laughing, "what villages are they coming from?" De León and Cedillo added their own derogatory comments about Oaxacans.
The recording included racist comments about other minorities as well: "F…k that guy, he is with the Blacks," said Martinez about District Attorney George Gascon.
Also, Martinez made fun of the adopted Black son of Los Angeles City Council Member Mike Bonin, "He looks like a 'changuito' (little monkey)." She went even further saying that "this kid needs a beatdown. Let me take him around the corner, I'll bring him right back."
Cedillo jokes about the height of "Oaxacan Koreans" (?).
Oaxaca is a southern state of Mexico and home of a large indigenous population—16 communities in total, with Mixtecs, Zapotecs and Triquis identified as the main ones. These groups started to immigrate to the United States in the mid-1980s and currently are the main workforce in most of California's fields. They bring their ancestral agricultural knowledge and skills as well as their culture, including their languages and sophisticated cuisine.
In the recording, to make things worse, the three Council members can be heard planning to modify a city district to deprive a rival Council member of an important area, as well as talking about appointing to a seat a Council member of their political preference.
The outrage of the Oaxacan community in Los Angeles—and elsewhere—got traction with several protests at Los Angeles City Council meetings.
Martinez resigned first her position as president of the Council and then from her Council seat. Herrera also resigned, but both Cedillo and de León have been reluctant to follow that path. De León recently said during an interview with a Spanish TV station that he won't resign "because there is still much to do."
"These are not incredible comments for us; we hear them daily," said Odilia Romero, founder and executive director of CIELO (Comunidades Indigenas en Liderazgo—Indigenous Communities on Leadership). Romero is of Zapotec origin.
"It's not a surprise to us. They show their scorn toward indigenous people at work…Cedillo had been even violent against Guatemalan street vendors in his district."
For Romero, these comments incite hate and violence.
"Martinez resigned, but she still thinks the same, and the other two, I guess they are thinking people will forget about this incident," said Romero. "They have hard skin."
Romero points out that Blacks and indigenous people have been discriminated against for generations and that her community will continue to press Cedillo and de León to resign.
"When I learned about the content of the audio, I felt enraged, I felt like a blow, because our community went through a lot over the centuries, since the conquest…I needed to talk to my mom about it," said Jose Eduardo Chavez, a 29-year-old Mixtec living in Madera.
"It is unacceptable that we are still getting these racist remarks. We know what is going on, we know what happens with the 'Whitexicans'—mixed-race Latinos who want to differentiate themselves from indigenous people and brag about having lighter skin—but we didn't expect this from people who claim to be leaders and have a certain political background."
To Chavez, these comments are racist and could motivate violence. He expressed support for the indigenous communities in the Central Valley and those marching in Los Angeles seeking the resignations of Cedillo and de León.
The city of Arvin in Kern County and the city of Madera are known for having the largest indigenous populations in the Central Valley. Last year, Elsa Mejia, 33, of Mixtec origin, was elected the first indigenous City Council member in the Valley (in Madera).
However, several Latino organizations don't agree with asking the Council members to resign and question who would replace the disputed leaders. Their suggestion is to "move on."
"White Latinos have a long history of discrimination and racism against our people," said Chavez. "However, this level of hypocrisy isn't very common, and yes, this is inciting to racial violence."
Several years back, while working as a reporter for a Spanish TV station in Fresno, the author asked an Oaxacan farmworker if he ever felt discriminated by White people. He responded with an expression of curiosity and said, "I barely see White people here, but I can tell you those who discriminate against us, those who constantly screw us up are the mestizos (mixed race) Latinos."
Little has changed in all these years.
(Editor's note: This report is part of the Stop the Hate Campaign. "The Stop the Hate campaign is made possible with funding from the California State Library (CSL) in partnership with the California Commission on Asian and Pacific Islander American Affairs (CAPIAA). The views expressed in this article and other materials produced by the San Joaquin Valley Media Alliance or the Community Alliance newspaper do not necessarily reflect the official policies of the CSL, the CAPIAA or the California government. Learn more at capiaa.ca.gov/stop-the-hate.")