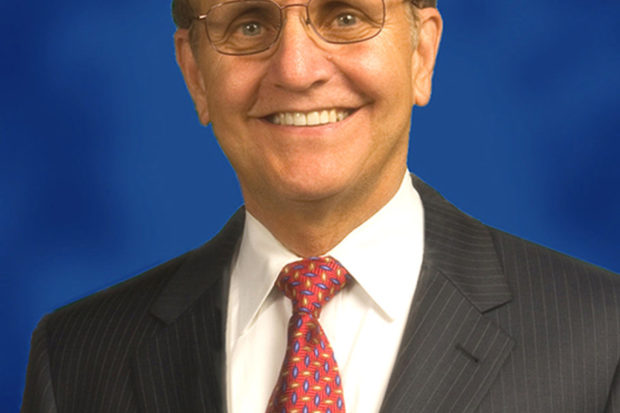 By Richard Stone
(This is the fourth in a series of interviews with members of the Fresno City Council.)
Lee Brand surprised me. I really knew little about him except as part of what is sometimes called "the North Fresno conservative bloc on the City Council." But, to start with, as I waited in the anteroom of the Council offices, Brand himself came out to greet me rather than, as is typical, an aide. (I was glad to have taken a moment in the hallway to look at the Council members' pictures, or I wouldn't have recognized him.) And as we made our way to his office and got comfortably arranged, he addressed me cordially and confidingly—no trace of suspicion over my Community Alliance credentials.
Seeming much in manner like my CPA (and Republican) and well-respected father, Brand presents himself convincingly as a non-ideological fiscal conservative from a business background. His major concern is getting the city's monetary priorities straight so it can do its primary task of delivering essential services.
Brand grew up in Fresno, on a poor side of town, and has lived here "forever." He has resided in District 6, which he represents, since buying a home there in 1989, and he's seen the urban development of the city from the time "I used to get out to Millerton Lake to windsurf with no stop signs along the way."
Although neutral about the value or necessity of the city's growth, he—in comptroller mode—has been distressed by the failure of previous administrations to apply common-sense business models to the funding of growth. He is frank in pointing squarely at the undue influence of developers as a major contribution to the city's revenue shortfalls.
Brand's path to the Council was paved by many years working in real estate, property management and investment, a successful career that left him, by his 60s, financially situated to serve on several volunteer boards as a way of "giving back to the community." There, he saw firsthand how poorly (without the hard bookkeeping and background checks a financial institution would apply) city investments were thought through.
"The ballpark, the downtown parking garages, Running Horse—which thank God was stopped—in so many cases like these a businessman could easily see the bottom line didn't pan out." He ran for Council believing he could put his business expertise, maturity and common sense to good use. "A lot of Council business is 'business,' where the city needs to act with the fiscal responsibility of a bank."
Acting along these lines, Brand has spent hours number-crunching as he largely authored the city's latest Development Plan, championing infill not out of an urban philosophy or ecological concern but strictly on analysis of the cost of providing infrastructure versus potential tax revenues. While acknowledging a responsibility to provide needed services to "the left-behind parts of town," he is a firm believer that changes and improvements have to be market-driven—though he does allow for tax differentials to be utilized according to verifiable costs.
Brand also espouses a sense of fairness that transcends laissez faire, free market ideology. For instance, he stood up to "the very strong pressure" to have the city redefine infill to include anything within the current city limits. "The money brought in for infill is meant for the truly blighted areas," he insists.
But part of the problem facing the Council goes beyond local pressure groups: It demands looking at regional trends. "At present, we have little influence on what Madera County, or even neighboring cities like Selma, do to bring in investment, especially housing. There are huge regional problems concerning, for instance, water and air quality and transportation that should be addressed jointly. But we've had little success in creating regional convocations." He thinks the city may have to seek out state or federal assistance to bring about planning to address the big problems.
Even within the city, Brand has been working against long-time tendencies "to kick the can down the road" and not deal with that main mandate: to ensure basic services. "For example, with water—we can't do without it. I've looked at all the figures and the infrastructure analysis. There's no way the city will be able to manage without the rate increase and massive investments in public works. But based on ideology alone, the increase is being opposed even by some people I'd expect to be allies. I've learned that you have to do what you think is right, and whatever you do a percentage of people will hate you for it."
Brand believes the Council should avoid partisan or ideological stances on national issues like immigration, foreign policy and gay marriage. ("We have no power, and these are divisive issues. We need to concentrate on what we can do together.") He is, on the other hand, a true believer in the Steve Jobs method—create a vision, then problem-solve creatively to achieve it "despite all the naysayers."
For example, he looks at the basic problem facing the city of economic development and job creation. "Where do we have useful leverage? I'm thinking maybe with the school district. I'm persuaded by Mark Arax's analysis that dividing the district would bring more accountability and constructive student-staff contact. To have better-educated, more engaged youth would be a major step in economic development."
To achieve such goals, Brand sees the need for a lot more interagency contact and problem-solving. "This council is a good example of the value of collegiality. But we need to reach out further. I think the Mayor is making good efforts at this, and also my friend Oliver Baines."
Brand's take on some specific issues:
District vs. city responsibility: "My district is relatively affluent and stable. While I have to look after my constituents' needs, I have the luxury to think about citywide impacts that those representing poorer districts may not have. For instance, beyond getting repaired the damaged streetlights in my own district, I was able to come up with a plan to fix and safeguard lights throughout the city."
The "strong-mayor" form of governance: "I understand why it was adopted. There are some changes I'd like to see to balance the financial powers a little, but overall it's workable…though its success really depends on who the mayor is."
Measure G/privatization: "I supported it at first. I didn't expect it to polarize the city so much, and the money potentially saved was not worth the enmity created." When I mentioned that the initiative was widely perceived as union-busting, he seemed surprised, adding (to my surprise): "I believe in the fairness of collective bargaining." But this exchange led me to wonder if Brand's strong emphasis on fiscal integrity might keep him from seeing the social aspects of actions.
The homeless situation: I believe his account of struggling with the countervailing needs of property owners and the homeless encampments, and his correct assertion that "welfare is the purview of the county." But he seemed not to have given much thought to options the city might have tried other than confiscation of property and destruction of shelter. (Some of the Steve Jobs approach here would have been appreciated.)
Police oversight: He had been concerned that—previous to the Office of Independent Review—there were so many complaints about police misconduct. He had voted against hiring a reviewer, but now is satisfied with the impact current Reviewer Rick Rasmussen is having. But he seemed unaware of how opaque the review process remains to laypeople, how difficult—without lawsuit—it remains to know if police conduct is being truly adjudged impartially. Thus, he is okay with the current compromise, saying, "We have to do what is politically feasible, not debate ideology."
Fulton Mall: "I'm undecided, I haven't heard all the arguments yet. I saw that the mall was basically obsolete from inception, but I'm not sure, with all the changing of social habits with our new technology, that major renovation is a good investment."
Brand says he welcomes living amid the multicultural diversity of Fresno and believes that his commitment to the city's overarching long-term finances has earned his reputation as a pragmatic problem solver for the welfare of all. He says he has no aspiration to work in a larger political arena but will consider a run for mayor in 2016 knowing, he adds, that "I'll need a very thick hide and a willingness to gain humility."
My feeling, on leaving our conversation, is that Brand is a fair, open-minded individual whose fiscal acumen and thoroughness is a great asset to the Council. While sensitive to social issues, he does not seem especially informed or engaged with the social aspects of city policy. But I found him much more accessible and less dogmatic than I expected. I came away liking and respecting him.
*****
Richard Stone is on the boards of the Fresno Center for Nonviolence and the Community Alliance and author of the book Hidden in Plain Sight. Contact him at richard2662559@yahoo.com.