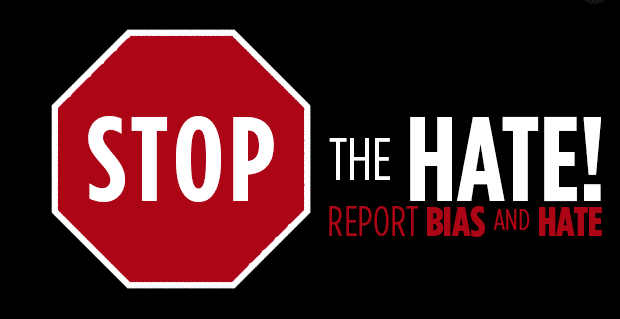 Hate crimes are on the rise in Fresno. Recently, a gay couple was physically assaulted in the Tower District (see page 1). A vicious and racist sign was put up near Central High School, anti-Jewish fliers were distributed in Clovis and we have a Fresno City Council member spewing hatred against the transgender community from the dais.
The Community Alliance newspaper has joined with groups throughout the state to confront and stop this growing threat to the safety of marginalized members in our community.
The Jan. 25 Stop the Hate Town Hall No. 2 is the second in a series of events we are organizing to call attention to this problem. The first town hall was held in Huron and addressed the institutional racism that is a roadblock to students in that rural community who are not having educational opportunities equal to students in other cities. A high school in Huron is needed to address this inequity.
Our second town hall will be held at Central East High School's Hondo Hodge Performing Arts Center (3535 N. Cornelia Ave.). Doors will open at 5:30 p.m.
Speakers will include a representative from the California Department of Justice's Office of Community Awareness, Response and Engagement (CARE), attorney Patience Milrod, Pastor D.J. Criner of Saint Rest Baptist Church and others representing the ethnic and ideological masses in the city of Fresno. Your participation is essential to the success of this free event, and a Q&A will follow each presentation.
Hate crime incidents should be reported to local law enforcement agencies. California State Attorney General Rob Bonta is taking the rise in hate crimes seriously and has set up a website where he provides guidance on hate crimes, including brochures with information on how to identify and report a hate crime, as well as services available to victims of hate crimes. (OAG.CA.GOV/HATECRIMES).
The website says that "crimes motivated by hate are not just attacks on individual innocent people—they are attacks on our communities and the entire State. It is the job of Attorney General Rob Bonta to see that the laws of the State are uniformly and adequately enforced.
"The California Department of Justice has tools and resources to aid and assist local, state and federal law enforcement authorities in the investigation of possible hate crimes, including the identification, arrest, prosecution and conviction of the perpetrators of those crimes. If you wish to report a crime, please file a report with the local police or sheriff's department."
The rise in hate crimes throughout California and across the United States has created widespread calls for action, with funding provided for this series by the California State Library under the statewide Stop the Hate initiative. This event is being organized by the Community Alliance newspaper and the San Joaquin Valley Media Alliance. For more information, visit fresnoalliance.com or sjvmediaalliance.org.