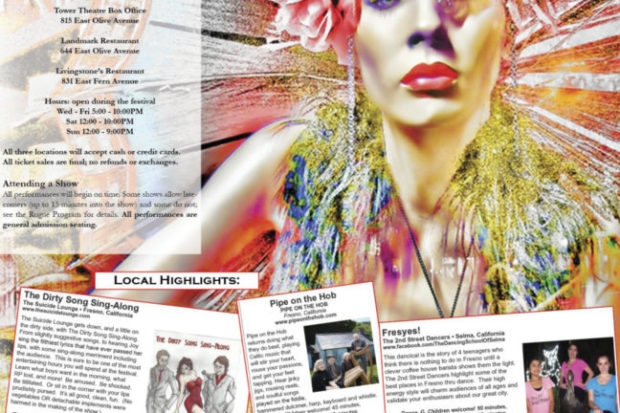 By Richard Stone
Spring is in the air, and Fresno has a Rogue-ish look in its eye. Yes, another Rogue Festival is upon us, that wonderful panoply of performance that jes' keeps growing—and is getting our city known. From Feb. 28 through March 9, multiple venues (most within walking distance in the Tower District) will be alive with creativity.
Glancing through the schedule, just some of what I saw was belly dance, monologues, improv, puppetry, burlesque, poetry, theater pieces and a brewing demonstration. And music—all kinds of music—from folk to jazz to chamber to pop, not to mention theramin-plus-harp.
Many of the performers are local; some are award-winning imports. There are several repeaters: I recognized the names of Gemma Wilcox, Katherin Glover and Martin Dockery from Rogues past. But whether you know them or not, with prices ranging from $5 to $10 a show, this is an affordable smorgasbord no arts-loving Fresnan should miss. Support your old stand-bys, enjoy discovering new winners, dis the dogs online, have a ball.
More information is available on pages 14 and 15. For the festival lineup and ticket information, visit www.roguefestival.com.
*****
Richard Stone is on the boards of the Fresno Center for Nonviolence and the Community Alliance. Contact him at richard2662559@yahoo.com.