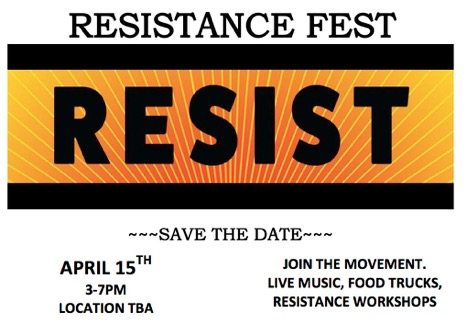 UPDATE: Resist Fest has been canceled and will be rescheduled for a later date. To help the resisters go here: https://www.indiegogo.com/pro…/fresno-resistance-legal-fund…
Resist Fest
A Letter to the Faithful-
Resist Fest was created to get people talking to each other. When our efforts to get permits failed, we decided to use Courthouse Park. The park's spontaneous use rules would have allowed us wiggle room. We were going to announce the location the week before to comply with these rules. It would have been a very mild form of civil disobedience and we would have been transparent about the risk.
On March 5, I participated in the March for Liberation and Justice. Some friends and I blocked the street in front of the jail to bring attention to the fact that Sheriff Mims allows ICE access to the jail's database. It is completely within her discretion to end this.
Four of us received arrest warrants for obstructing the sidewalk and holding a special event without a permit. All of us have been prioritized by the police. Two of us have been arrested despite having arraignment dates. Luis Ojeda is undocumented and at risk for arrest. Going into that godforsaken jail requires proper planning to keep him safe.
I've been advised that the four of us may face additional charges if Resist Fest proceeds as planned. I don't want that to happen.
BUT
It's against Ministry of Fun doctrine to allow ANYTHING to silence us
SO
(The Fun Part!)
We're formally inviting all of you to join us in celebrating our beautiful and beloved trans community at Trans Day of Visibility!!! Bring your tables, your art, yourselves! Come talk to each other! Thanks and blessings to the good people of Trans-e-motion. Y'all are the best!
See you the 15th!
Love,
Shannon Kurtz
Archbishop
Ministry of Fun
"If I Can't Dance, I Don't Want To Be Part of Your Revolution"

-Emma Goldman
The Ministry of Fun presents Resist Fest 2017.  A super fun family friendly event for leftist partisans and those who love them! We'll have bands, food trucks, and a play area for the kids! We've got know your rights workshops of every flavor, postcards to send to your elected officials, and popsicles! Meet your local union! Meet your democratic party! Meet your local radical social justice organization! Get plugged into every left of center organization (we could find) and join the revolution!  A peaceful and hella fun event.
The Ministry of Fun manifesto:
Life in this society being, at best an utter bore and no aspect of society being at all relevant to people, we declare a party to end all parties. The spectacle that ends the Spectacle, the daydream that subverts the world. We call for nothing less than the complete dismantling of this system, to be replaced by everlasting joyful revolution. We will be the art that covers the eyes, the song that deafens the bleating mews of the reactionaries and bigots, the dance that tramples underfoot our enemies. We are the creatively maladjusted who will save the world. The revolution will be an unending party, and we are ready to rock!
*****
Written by Ministry of Fun, find us on Facebook and RSVP on our event page. For more information on getting a table or hosting a workshop contact Simone Cranston-Rhodes at simonecranstonrhodesfta@outlook.com.