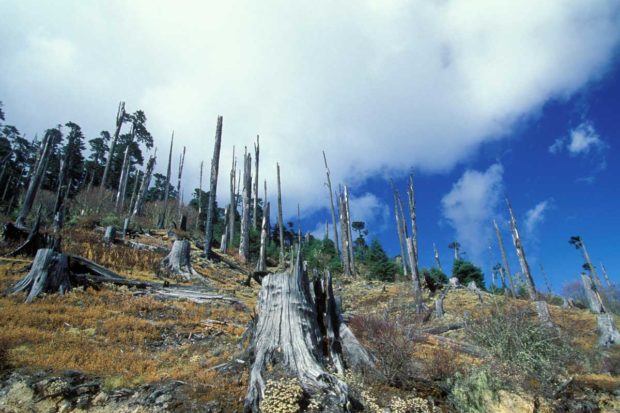 By Tom Frantz
Recent visitors to the Sierra Mountains above the San Joaquin Valley are shocked to see the dead and dying trees of these once magnificent forests. This devastation is spreading from south to north. It is directly related to climate change, with the recent drought speeding up the carnage. In Kern and Tulare County there are areas with 75% mortality rates among the magnificent pine, fir, and cedar trees found between 4000 and 8000 feet of elevation. These forests will never be the same in our lifetimes.
On a related note, the California Air Resources Board (CARB) and Jerry Brown love setting up international agreements for joint reductions of green house gases and boasting about California's role as a climate leader. It is, in fact, an excellent idea for governments to speak to other countries and work out ways to cooperate in this important endeavor to prevent global warming from becoming a total climate disaster for the human race.
At the United Nations, climate change offices have been working on an international program for the past ten years called Reducing Emissions from Deforestation and forest Degradation (REDD). The objective is to partially mitigate climate change through enhanced forest management in developing countries.
Tropical forests, as well as forests in California, are huge carbon sinks. These sinks can rapidly disappear with deforestation. A lot of forests have been degraded so that the amount of carbon absorbed and stored is less than optimal.
California is now proposing to use REDD as an offset for green house gas emissions under their Cap and Trade program. Cap and Trade sets a schedule of annually increasing reductions of GHG from major sources. The reductions needed from each entity can be emission allowances which are purchased at auction or approved offsets which are financed directly. The offsets can be up to 48% of the total.
With offsets a polluting refinery or power plant can continue their emissions which damage both lungs and climate while paying someone to reduce their emissions elsewhere. The excuse is that it may be more economical than direct reductions locally. The reality is business as usual for fossil fuel based entities and their emissions in California and no co-benefits of cleaner air locally.
With REDD there are serious quantification problems. It is very difficult to measure reductions in CO2 emissions obtained by putting a fence around a tropical forest. There are also social issues where native populations in a tropical forest are prevented from continuing their traditional ways.
Another problem is there are no real reductions in CO2 emissions with REDD but only a maintenance of the status quo and a hope of preventing deforestation that would otherwise not occur.
The reality is that deforestation is occurring on a massive scale today because of climate change caused by burning fossil fuel. If that practice is not decreased dramatically and quickly most of the forests around the world are going to be degraded. We see that clearly in our own backyard in the Sierras.
*****
Longtime clean air advocate Tom Frantz is a retired math teacher and Kern County almond farmer. A founding member of the Central Valley Air Quality Coalition, he serves on the CVAQ steering committee and as president of the Association of Irritated Residents. CVAQ is a partnership of more than 70 community, medical, public health, environmental and environmental justice organizations representing thousands of residents in the San Joaquin Valley unified in their commitment to improve the health of Californians. For more information, visit www. calcleanair.org.