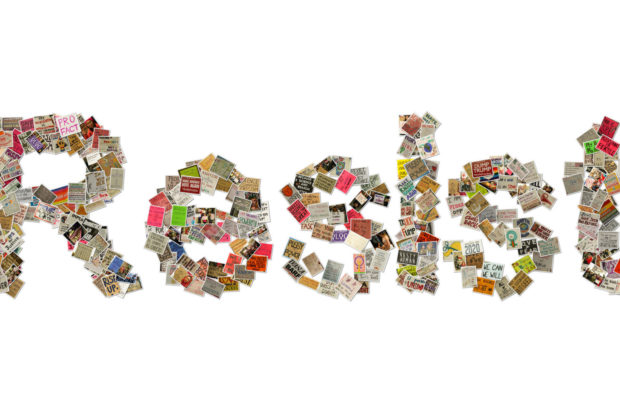 By Rev. Dr. Christopher Breedlove
My head is spinning of late, exhausted by the seemingly relentless pace of racists, bigots and gentrification vultures here locally in Fresno. Or, perhaps, the bigots, racists and capitalist developers of Fresno have been in complete control all along, empowered by Republicans and Democrats alike (there seems to be little difference between the two partisan groups). Regardless of the nature of the beast, local nonviolent, disruptive and transformative resistance is needed.
I've had the privilege of standing in solidarity and in advocacy with various marginalized groups; sadly, the LGBTQII community is often neglected and treated with disdain and hatred like no other group in our community. For example, we don't have to run off to D.C. resisting Trump when we have the party of Trump, alive and well, right here in Fresno in the likes of Brooke Ashjian.
Frankly, I'm disappointed in the failure of Fresno's collective left to effectively resist cartoonish characters like Ashjian and his truly harmful rhetoric. I'm left wondering and lamenting what does it take in this 21st century to remove or censure a school board president who compares marginalized LGBTQ Fresno Unified School District (FUSD) faculty, staff, community members and advocates to the act of genocide.
I woke up to an e-mail from a community friend the morning of Oct. 26 encouraging me to get the word out that FUSD Trustees Ashjian and Carol Mills were championing Fresno Unified policy amendments that would consolidate and extend the power of the Fresno Unified trustee position— a position currently occupied by Ashjian. I sent an e-mail to all the Fresno Unified trustees and courtesy copied select members of the local press and media outlets; here is the e-mail response that I received from Trustee Claudia Cazares with FUSD Superintendent Bob Nelson and Special Assistant to the Superintendent David Chavez courtesy copied:
Dear Rev Breedlove, I continue to admire your passionate resolve to see change occur. I actually concur with you on many fronts. I also continue to hope you see me as your ally and not your adversary. I've worked in this community, in our lowest income neighborhoods for many years, and I will continue to work for those marginalized in our town.

I thought I would share with you that campaign contributions do not necessarily require a PRA [public records request], they are posted on the County Clerk's website, and are updated regularly.

Yes, I received Mr. Ashjian's support during my campaign. No: I have proven now many times that this does not BIND me to pledge any allegiance to his causes, unless I see fit. I would respectfully and kindly request that you do not question my credibility nor my integrity.

In your corner:

–Claudia Cazares
Here was my reply to Trustee Cazares:
Thank you Trustee Cazares for your prompt reply, and for your candor in affirming that you received financial support from Ashjian during your campaign.

Since Ashjian has made unfortunate and hurtful remarks directed at the LGBTQ community, I would therefore encourage you to donate to a local LGBTQ non-profit the same amount of money that you received from Ashjian. Such a generous gesture might help reassure the general public, specifically your constituents, that your refusal to make a motion, or second a motion, that censures or removes Ashjian as Fresno Unified Trustees President is not in any way influenced by Ashjian's financial investment in and support of your elected position. By the way, I encourage all elected Fresno Unified Trustees that received financial contributions from Ashjian to donate the equivalent amount of money to a local non-profit LGBTQ advocacy and support group in Fresno.

Also, thank you for your kind compliments concerning my "passionate resolve"; I too pray that you discover your own passionate resolve to censure or remove Brooke Ashjian for his unnecessary and purposefully antagonistic rhetoric comparing lgbtq+ advocates and community members to the heinous and evil act of genocide.

At a previous public meeting, in response to my public comment, you reassured me that you in fact understand the difference between "censoring" and "censuring," please demonstrate that you indeed understand the difference between the two terms by making a motion, or supporting a motion, that would censure or remove Brooke Ashjian as president of the Fresno Unified Board before December 2017.

Also, do I understand correctly that you're "in my corner" (as per your email sign off) and will not support any amendments to Board Policy 9100, or offer or support edits to Board Policy 9322?
Something smells rotten in all of this. Let's hope all is well and that courage and decency will prevail in the form of removing or censuring Ashjian as the FUSD Board President.
So what happened?
Only Ashjian and Mills voted for the suggested edits to the FUSD policy that would've likely consolidated and extended the powers of Ashjian as the FUSD Board President. And yet, I keep thinking and stressing that if the collective left in Fresno would show up in force and convincingly resist MAGA trolls such as Ashjian then such victories, and even bolder progressive transformations, would be possible more often.
By the way, I heeded Cazares' advice and followed the money on the Fresno County Clerk Web site—it's an awkward maze of pdfs and scanned documents, showing the passing of money from trustees to other trustees and from special and partisan interests to trustees as well. Maybe other activists will have the energy and time to more clearly expose and publish the money game of collecting elected conservative and liberal politicians here in Fresno.
At some point, resisters against environmental degradation, racism, inequality in all its forms, police brutality, trans and queer bigotry, corporate corruption of representative democracy, and oppressive and antiquated immigration policies/ agendas will need to move from sidewalk protests and marches to the chambers of power with true nonviolent escalation.
Local Trump-minded officials and Wall Street neoliberal proponents are thrilled to watch (and mock) what they deem as inconsequential sidewalk protests and marches.
But when grassroots activists, reminiscent of Martin Luther King Jr., Harvey Milk, Cesar Chavez, Alice Paul, Gene Debs and brave others take to public spaces with principled and tenacious tactics of disruptive and nonviolent civil disobedience then things will truly be transformed—indeed, this is the only way significant social change has ever happened. Let's support and participate in transformative and bold resistance here in Fresno.
*****
Chris Breedlove is pastor of Community United Church of Christ in Fresno. Community UCC is an inclusive and progressive Christian church doing social justice, environmental faithfulness, interfaith collaboration and spiritual formation.