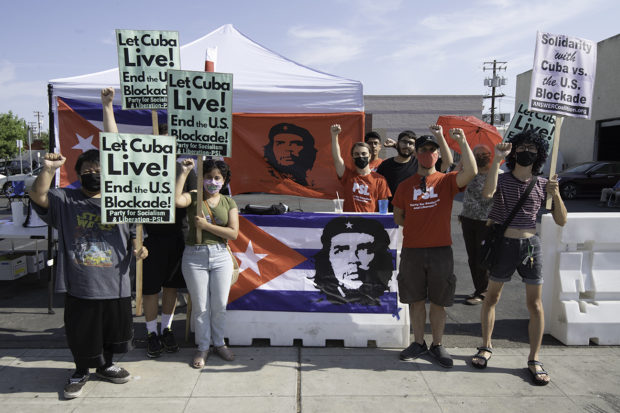 On the evening of July 24, a caravan in support of the Cuban people assembled at Olive and Wishon avenues, in the parking lot of the Tower Theatre, where they held a brief rally. Caravanners spoke about solidarity with Cuba. They brought around 30 cars and trucks, displaying signs opposing the U.S. blockade of Cuba. They drove up Van Ness Avenue to McKinley Avenue, across town on McKinley, and then up Blackstone Avenue to finally assemble at Blackstone and Nees avenues for a second rally.
There people spoke in English and Spanish, including labor leaders, members of the Party for Socialism and Liberation, and representatives of the Brown Berets. Speakers talked about the history of Cuba and the history of the blockade. They also talked about highlighting the narratives of the Cuban people to counter the voices of the U.S. empire.
The next morning, July 25, there was another action in support of Cuba at the Tower Theatre parking lot. This time it joined in with the weekly protest against the sale of the Tower Theatre to the Adventure Church. Activists showed their signs and flags to traffic going by on Olive Avenue.
On July 24 and 25, there were coordinated actions of caravans and protests across the United States. They were in solidarity with Cuban Americans from Miami who were walking from Miami to Washington, D.C., to ask President Biden to end the blockade.
The blockade is intended to cause Cubans to suffer, hoping they will blame their suffering on their own government. President Obama took steps toward opening relations with Cuba, but then President Trump intensified the blockade. President Biden has not yet reversed Trump's anti-Cuba policies.