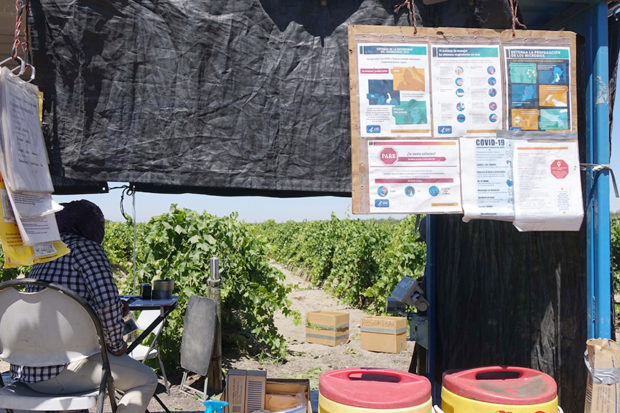 By Sunita Sohrabji
Rep. Raul Ruiz (D–Palm Desert) joined several immigration advocates on Feb. 16 to push for an immediate path to legalization for more than 5 million undocumented essential workers, via the new Covid relief package currently making its way through Congress.
Advocates laid out the need for such an initiative but noted there has been no commitment yet from members of Congress or the administration to include such language in the package, which is expected largely to focus on economic relief.
Greisa Martinez Rosas, executive director of United We Dream, noted that undocumented immigrants were left out of initial rounds of "survival checks"—$1,200 distributed in June and $600 in December to individuals earning less than $72,000. This could have paid rent or put food on the table, she said.
It is unclear if undocumented immigrants will receive survival checks in the $1.9 trillion relief package proposed by the Biden administration.
"Farmworkers are getting sick from Covid and dying at a higher rate. These are essential workers who are risking their lives to feed us," said Ruiz, chair of the Congressional Hispanic Caucus. The California Department of Public Health released data earlier this year, noting that 55% of Covid deaths in the state are Latinx people.
Ruiz spoke of his own background: As the son of farmworkers, he grew up in a trailer in Coachella in which the kitchen table served as a bed he shared with his brother. Ruiz went on to UCLA, and then to Harvard to study medicine and served as a physician for several years before winning his first term to the House in 2012.
Ruiz said that he has been out in his community to educate people about getting vaccinated. "I see the fear in people's eyes about getting sick and not being able to work," he said, citing poor workplace protections, crowded housing and worksite conditions, and insufficient health and in-language knowledge resources to combat Covid.
Patrice Lawrence, national director of UndocuBlack, said that temporary protected status (TPS) holders have "gone through hell over the past four years. It is important that Congress assure citizenship to these individuals."
"They were promised relief by this administration, and this is possible in the Covid relief package," she said, adding the need for access to healthcare.
A Public Religion Research Institute (PRRI) poll released last year found that 67% of Americans support a pathway to citizenship, provided that certain requirements are met. Thirteen percent said they would prefer undocumented immigrants to be eligible for permanent residency status but not citizenship, and one in five say all immigrants living in the United States without requisite immigration papers should be identified and deported.
Two bold immigration reform bills, which include an eight-year path to citizenship for the nation's 11 million undocumented residents with a three-year path for recipients of the Deferred Action for Childhood Arrivals program, are making their way through the House and Senate. Rep. Linda Sanchez (D–Whittier) is carrying the bill in the House, whereas Sen. Bob Menendez D–N.J.) is carrying it in the Senate.
"We have waited entirely too long for meaningful reform to the broken immigration system that has prevented so many people and families from fully contributing to the nation they call home," said Sanchez in a Jan. 20 press statement introducing the bill.
*****
Sunita Sohrabji is an associate editor at Ethnic Media Services.