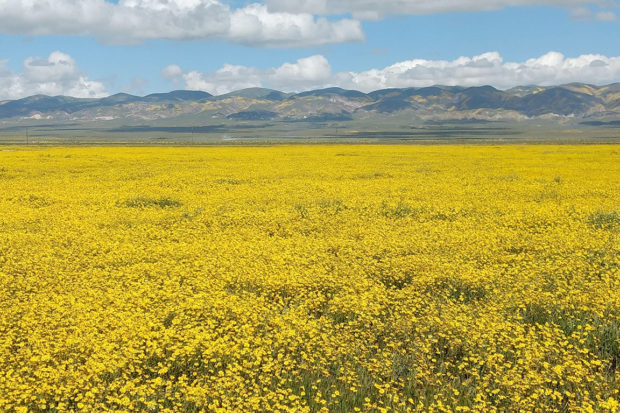 By Vic Bedoian
Environmental and civic groups in California are moving quickly to pass a bill in Congress aimed at preserving public lands in the Central Coast region of the state. The bill would greatly expand recreational opportunities in San Luis Obispo, Ventura and Santa Barbara counties.
The Central Coast Heritage Protection Act would safeguard some 250,000 acres of mountain wilderness and wild rivers in Los Padres National Forest and Carrizo Plain National Monument. The bill would also create the Condor National Scenic Trail, a 400-mile footpath stretching from Big Sur to the Los Angeles County line.
Conservation groups have been working to protect the region for 12 years. It's a diverse landscape that includes forested mountains, wild and scenic rivers, and California's last remaining undeveloped grasslands.
Rebecca August, the public lands advocate for Los Padres Forest Watch, says their goal is now within reach: "It really is the highest level of protection that the federal government offers to lands. It ensures that these last wild places, sensitive habitats and rare ecosystems get these highest protections.
"And that's really important to mitigate climate change and protect our water supply and protect biodiversity and make sure that future generations can know this nature in its most unconstrained form to better understand our humanity and our relationship to our environment and the biosphere."
The ambitious measure is supported by a diverse group of citizen organizations, farmers, businesses, elected officials and outdoor recreation leaders. The legislation expands wilderness areas in Los Padres National Forest and creates new ones, as well as designating 34,500 acres of scenic areas and protecting free-flowing rivers.
It also provides a higher level of protection from logging and critically from fossil fuel exploitation in the future. That's a major concern in the wake of the Trump administration's opening of more than a million acres of federal lands for oil production.
August says that President Joe Biden has now pressed the pause button on oil drilling in public lands: "What has not been leased is on pause. The lands that were opened by the Trump administration for oil drilling and fracking are now on pause; they can't be purchased by oil companies for lease. There were 4,000 acres that were leased at the end of the year, and those I believe are under litigation."
A previous version of the bill was co-sponsored by then Senator Kamala Harris, and advocates hope that Senator Alex Padilla will do the same. Rep. Salud Carbajal (D–Santa Barbara) is carrying the bill in the House of Representatives and has support from Congressional members up and down the California coast.
The outdoor industry association points out that outdoor recreation is a big business in California, generating nearly 700,000 direct jobs and $92 million in revenue annually. Advocates say the Central Coast Heritage Protection Act would contribute to the goal of conserving 30% of public lands by 2030 as promised by Governor Gavin Newsom and President Biden.
*****
Vic Bedoian is an independent radio and print journalist working on environmental justice and natural resources issues in the San Joaquin Valley. Contact him at vicbedoian@gmail.com.