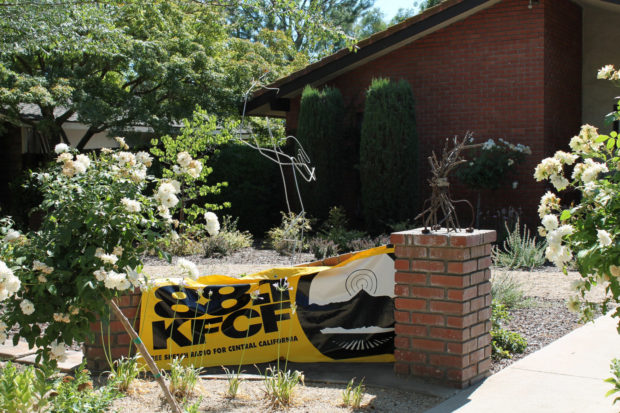 By: Rick Flores
My personal experience with the Fresno Folklore Society (FFS) goes back to the late 1970s, right out of high school, doctoring my driver's license so I could get into the Wild Blue and see the show. In those days, the FFS would bring folk performers to the Blue on a monthly basis; musical artists like Jim Ringer, Mary McCaslin and Utah Phillips played their acoustic sounds on the Blue's funky stage.
More than 30 years later, the FFS is still bringing touring folkies to Fresno on a regular basis, but the Wild Blue is no longer. Now, most of the concerts in their series are at the Fresno Art Museum's Bonner Auditorium. Pat Wolk is the person responsible these days for most of the FFS booking, promoting and hosting of out-of-town performers. In fact, the Wolks' (Dick and Pat) master garden has become a musical venue itself, coined the Wolk Folk Garden.
It is within this beautiful, woodsy, well-tended environment that the Fresno Free College Foundation will have its next benefit for KFCF 88.1 FM on May 8. I recently visited with Pat in her garden as she shared observations on her life's connection between folk music and gardening. "After I retired from teaching I had an excess of energy and started working on this acre lot of hard pan, digging, pulling weeds, amending the soil and planting a flower six pack here and there to see where it would grow," Pat reflects.
"A friend introduced me to the master gardening program where I worked with enthusiastic and amazing gardeners-beautiful people. Gardeners are for real! My time with the master gardeners became limited when my own garden and the Folklore Society demanded more of my time."
Pat was introduced to the FFS through members of Fresno's Bluestein family, first meeting Evo, and then later attending classes organized by Fresno State English and folklore professor Gene Bluestein. Gene organized courses taught by influential folk musicians like Mike Seeger, Dewey Balfa, Jean Ritchie and Richard Hagopian.
"I attended Seeger's and Ritchie's classes and danced the smoothest waltz in the world with Dewey Balfa," Pat remembers. She went on to earn a degree and teach English composition at both Fresno City College and Fresno State for eight years before retiring in 1991.
According to Pat, the FFS was originally organized in the early 1970s when the founding members desired to bring Joan Baez to Fresno, who would only come if they were a nonprofit group. "Voila! The organization became," she says.
Pat became more involved in the FFS after retiring from teaching. "Kevin Hall phoned and asked me to become president," she explains. "No one else wanted the job. They'd been there, done that. He tapped into my guilt and I said I'd do it, but only with lots of help. And yes, there was help. Bill Rickard wanted to start up the concert series again, the Wild Blue was gone, but Gene Bluestein recommended the Bonner. Somehow I ended up booking one concert a month, promoting it, hosting the performers and being responsible for ticket sales."
Even though it sounds like, and obviously is, a lot of volunteer work without a personal economic gain for Pat, she feels rewarded by the challenges of the job that keep her learning something new every day. "I realize I've come to this through a back door so I am always open to recommendations. The booking challenges my tastes in music and pushes me to be considerate to the potential audience. Promoting challenges my computer skills. I love working with young people who know so much more than I do about music and computer technology," Pat said.
The youth connection for the FFS might not always be apparent, but it is there. Just as more than 30 years ago I'd fake my ID in order to get into a Klezmorim concert at the Blue, and am now part of that graying majority attending the Bonner concerts, many young people today have an interest in music that is deeply rooted in the old-timey sounds.
Even the Wolk Gardens have a folk youth connection. Pat explains: "The youth in the folk society have been important in the design of the garden. Many plants were knocked down as a result of the kids running through and playing tag, or whatever it is kids do nowadays. Rather than get all freaked out, we just created pathways. As they grew older and needed money for proms and such, they would help in the garden."
She goes on to name a few individuals. "Arches were built by Waylay Engle, a pond by Stephen Jibe. Katy Jibe hauled rocks and designed a few of the garden beds. Austin Reilly has been turning my compost piles. Often, they return as young adults with their friends showing off their accomplishment. I love it," Pat said.
After awhile, I decide at the heart of this generational connection must be music. As musician Bruce Cockburn puts it: "It's about sharing an experience. When we play live and people are all in a room together and the music is the excuse…the music is a medium for the sharing of human expression. That, I think, is one of the things we can really do with each other."
And, believe me, this does relate to the upcoming benefit for KFCF, Fresno's listener-supported, noncommercial, free speech community radio station for Central California. Not only does the station's fund-raiser take place at the Wolk Garden (6661 N. Forkner Ave.), which being a garden by its very nature is timeless, but also the four individuals making up the band Poor Man's Poison, which will be performing at the benefit, can be considered youthful and have chosen acoustic Americana over rock and metal.
As upright bass player and band spokesperson Dustin Medeiros puts it: "We are all friends from Hanford and have been playing music in many different configurations. We have always focused more on rock and almost metal styles, but have always had a passion for acoustic music. This project kind of just happened out of nowhere…which, in my opinion, is the best outcome. Things just fell into place."
He goes on to describe the music of Poor Man's Poison as "a mix of everything we have been influenced by coming together in a folk-like environment." In addition to Medeiros, the band consists of Mike Jacobs on guitar and vocals, Tommy McCarthy on mandolin and vocals and Ryan Hakker on guitar and vocals.
The band plays mostly collaborative original material. Medeiros describes that process. "We have many techniques for writing songs, but usually one person will have an idea or start to a song, and then bring it to the table, and it evolves as a whole with everyone's input. When it is all done, it is almost never how it originally started."
Medeiros also expresses why Poor Man's Poison loves to perform in front of an audience: "What we like most is the vibe, brought about by the presence of people. There is definitely something special about live performance that is beyond words…at times the highest of highs emotionally…something that cannot be bottled."
So with that, here is a reminder of a good opportunity to take part in this all age mutual enjoyment of food and music, while supporting noncommercial radio, at the Wolk Folk Garden on May 8 beginning with a potluck at 6 p.m. and the music to follow at 7:30 p.m. Admission is a $12 donation, and beer, wine and nonalcoholic beverages will be available for purchase. For tickets, call 559-233-2221 or visit www.KFCF.org.