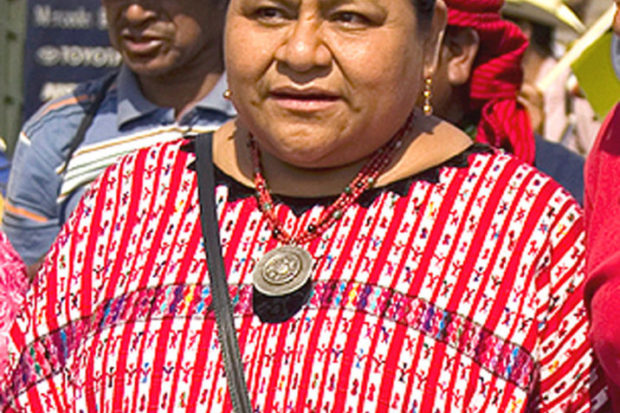 By Chip Ashley
On Dec. 20, Fresno has a rare opportunity to meet Nobel Peace Prize winner Rigoberta Menchú at the Ballroom on the Fulton Mall at the Centro Binacional Para El Desarrollo Indígena Oaxaqueño's 20th Anniversary (event information below). Menchú belongs to the K'iche' people, an indigenous group who speak Quiché, a Mayan language of Guatemala. She was born in 1959 and lived through the long Guatemalan civil war (1960–1996). After leaving school in her teens, Menchú worked as an activist against human rights violations by the Guatemalan Army.
In 1980, her father, Vicente Menchú, was tortured and executed because of his activism against abusive landowners. Most of the rest of her immediate family were also assassinated, and her entire community was destroyed. Of her parents and nine siblings, only three are living. She tells her story in her book, Me llamo Rigoberta Menchú y así me nació la conciencia ("My name is Rigoberta Menchú and this is how my conscience was born").
Since the end of the civil war, Menchú has campaigned tirelessly to bring Guatemalan war criminals, including Efraín Ríos Montt and Óscar Mejía, to justice. She helped found the Nobel Women's Initiative and is a member of Peace Jam, which has as its mission a global call to action "to create young leaders committed to positive change in themselves, their communities and the world through the inspiration of Nobel Peace laureates who pass on the spirit, skills and wisdom they embody." Peace Jam's Web site is www.peacejam.org/.
The celebration will be held at the Ballroom, 1060 Fulton Mall, Fresno, 6-9 PM on Thursday, December 20.  For ticket information and to RSVP contact Walter Ramirez at 559.499.1178 or email walter@centrobinacional.org
*****
Chip Ashley is a local environmental activist and member of the Tehipite Chapter of the Sierra Club. Contact him at 559-855-6376 or wattsvalleypreservation@gmail.com.