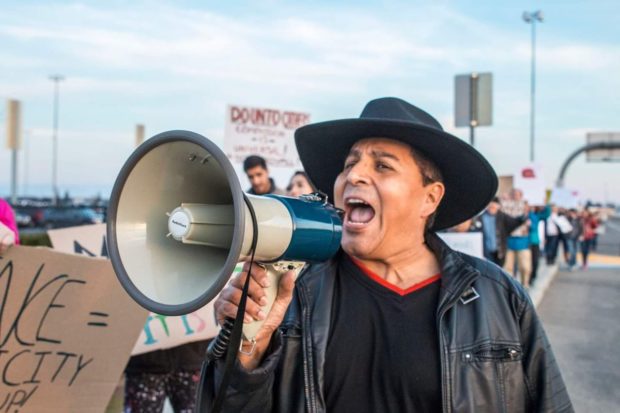 Rallies Throughout the Valley and the Nation Protest Trump's Immigration Policies
Fresno Resistance hosted No Ban, No Wall: Sanctuary for All on February 13, 2017. About 500 people of all ages from throughout the Central Valley marched for two hours through downtown Fresno in support of the immigrant community. Activists and legal observers from the local branch of the National Lawyers Guild worked together to lead and monitor the event. On March 5, 2017, 1:00-4:00 p.m. Fresno Resistance is hosting Liberation Not Deportation: Resistance March for Justice and Liberation at the Fresno County Courthouse, 1100 Van Ness Avenue, 93721.
Editor's Note: Content below by the ACLU of Northern California staff
President Trump has issued an executive order calling for strict enforcement of all immigration laws and authorizing the Attorney General to penalize "sanctuary" jurisdictions. He has also promised to triple the number of Immigration and Customs Enforcement (ICE) agents and add 5,000 border patrol officers.
Immigrant communities are understandably worried about increased ICE enforcement under President Trump's executive orders. ICE's practices sometimes violate the Fourth Amendment's protection against unreasonable searches and seizures, the constitutional guarantee of due process, and the constitutional guarantee of equal protection and freedom from discrimination based on race, ethnicity, and national origin. We are particularly concerned about increased local law enforcement entanglement in ICE's deportation machinery.
It is important for both citizens and non-citizens to understand that they have civil and legal rights regardless of status. The ACLU of Northern California is holding several free Know Your Rights workshop in Fresno with other advocates to share this important information with community members. Staff Attorney Angelica Salceda will let people know what to do if confronted by ICE agents in their homes, at their jobs, or on the street. A panel of attorneys will also be available for questions. Workshops include Spanish and Hmong interpreters.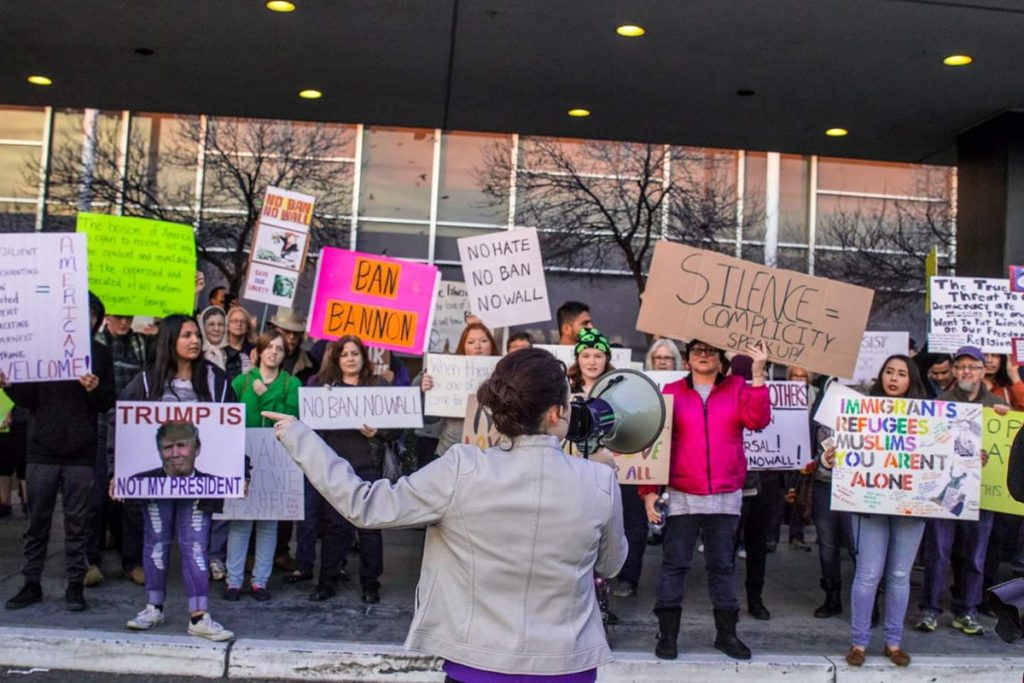 Know Your Rights if ICE Confronts You
Independent of your citizenship status, you have constitutional rights!
Don't open your doors. ICE can't come into your home unless they have a signed search warrant or you let them in. Ask them to pass the warrant under the door before you open it. An arrest warrant for one person is not enough to come inside unless it also says the officers have a right to enter or search that particular address.
Stay silent. ICE can use anything you say against you in your immigration case, so claim your right to remain silent! Say, "I want to speak to a lawyer and choose to remain silent."
Don't sign. Be careful what you sign. ICE might ask you to sign forms agreeing to be deported without first seeing a judge.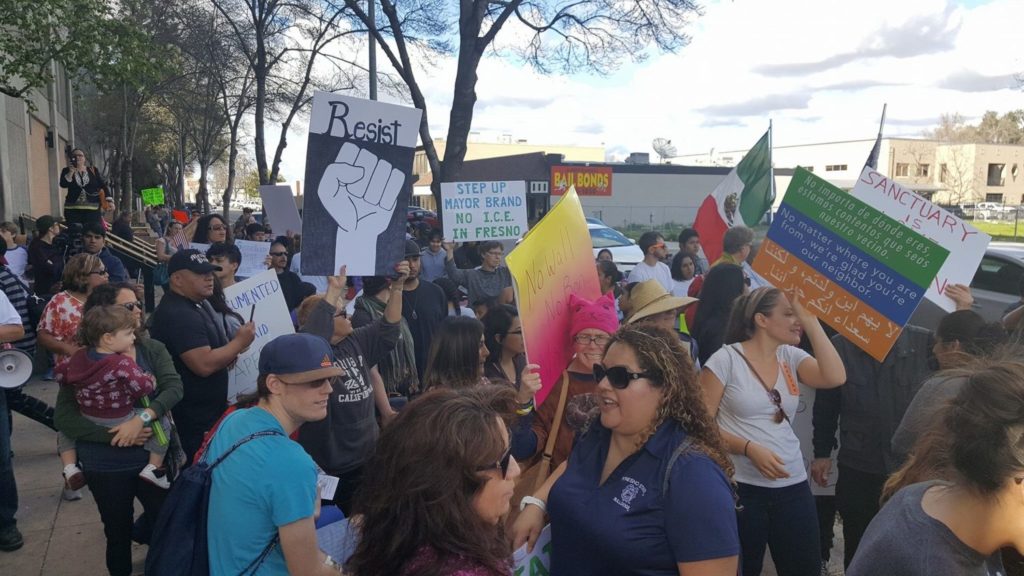 Report raids or checkpoints
If it's possible, take photos, videos, and notes on exactly what happened. Write down badge numbers. Note if ICE interferes with your right to take photos or video.
Call United We Dream's hotline to report an ICE raid or checkpoint: 844-363-1423.
En español: PaseLaVozes un servicio que facilita la comunicación entre sus suscritos por medio de su central en vivo. Cada suscrito tiene acceso gratuito a un código postal y su área próxima. Llame al 415-715-9990.
Find a person in detention
Be prepared
Make sure your family knows:
Your A number so they can find you if you get arrested;
The phone number of a trusted resource for immigration legal advice; and
Which friends and relatives can help with family obligations.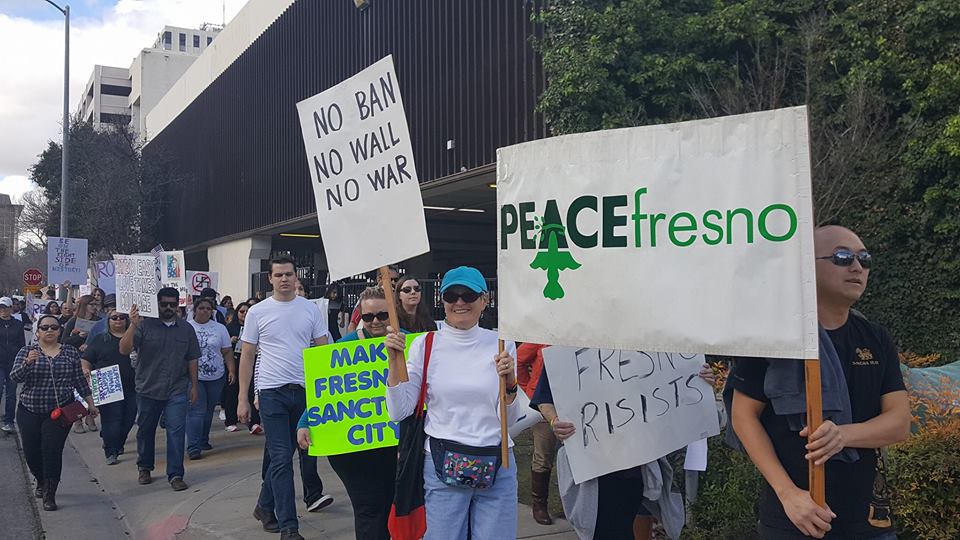 Executive Director Abdi Soltani Condemns Trump's Discriminatory Immigration Ban
On January 26, 2017, Soltani stated "On behalf of the ACLU of Northern California, I oppose today's executive order banning entry to the United States from Muslim-majority and Middle Eastern nations in the strongest possible terms. It flies in the face of the American values we hold dear.
The ban is an initial step in a Trump-era agenda that promises to persecute certain faiths, nationalities, and people of color. It is a blatant attempt to circumvent laws and our Constitution prohibiting religious discrimination. Today's actions are reminiscent of a shameful part of our American story, the Chinese Exclusion Act, which belongs in the dustbin of history. We are better than this state-sanctioned discrimination.
President Trump's actions today do not reflect the values that make America great. Our nation is stronger when we stand united against hate and fear."
If you or your visitors are having problems with travel to or from California or with Customs and Border Protection, you can contact us at 415-621-2488 or 559-374-2766 (for flights arriving at Fresno Air Terminal).
*****
Know Your Rights info can be read in English and Spanish at the website of the ACLU of Northern California at https://www.aclunc.org/article/california-ice-and-border-patrol-abuses