By Rick Flores
Local musicians are devoting their talents in a fall fund-raiser fittingly called Newzapalooza for local alternative/progressive media: the Community Alliance newspaper and radio station KFCF 88.1 FM. The event is scheduled for Nov. 16 at 7 p.m. at the Unitarian Universalist Church (2672 E. Alluvial Ave., Clovis).
Headlining the show will be Agustin Lira, Patricia Wells Solórzano and Jemmy Bluestein, all of whom are passionate about the importance of both the Community Alliance and KFCF in a media terrain otherwise dominated by mass communication conglomerates wielding a corporate agenda.
As Solórzano puts it, "I believe that the Community Alliance newspaper and KFCF [radio] are necessary media outlets that cover what is truly happening in our communities. If these entities cease to exist, I wonder what evidence there would be that we have a democracy. What is radical to some people is really just democracy in practice. It's sad to think how much to the right Fresno really is, especially when the police department takes the lion's share of the annual budget while the infrastructure of the city falls apart."
Solórzano, a singer, guitarist and actor, has been creatively active in social justice issues for most of her life. She grew up on the California-Mexico border, where she was influenced by the music of both countries.
She first met Lira in 1975 while a student at CSU Northridge. At the time, she was a volunteer in the United Farm Workers' secondary boycott of Gallo wines in the San Fernando Valley. She studied voice and guitar with Lira, performing locally and then progressing as a duet touring nationally with memorable performances at prestigious venues including the Library of Congress American Folklife Center and the Kennedy Performing Arts Millennium Stage in Washington, D.C.
Solórzano received the Fresno Arts Council's Horizon Award in 2010. Currently, she is working with Lira on a collection of songs written by Lira to be released by Smithsonian Folkways next year. Also, they are working with children through adults, teaching ukulele, guitar and singing in what is called the Generaciones Project. This effort will be evident at the Nov. 16 event with the children's group Zanzun Kids' Ensemble, along with the Generaciones Ensemble, sitting in performing a few selections during the concert.
Working with children developing their creative ability is only fitting for Lira, whose personal involvement with music goes back to his own childhood. Growing up in Lordsburg, N.M., he remembers his first-grade teacher playing for the class, on what was then a new record player, the compositions of Bach, Beethoven and Chopin among other classical legends of European musical culture. Lira reflects how it was the teacher's hope to enlighten these young students, who were mostly of Mexican and American Indian background, to the power of music.
Lira brought with him this musical upbringing when he joined the United Farm Workers movement in 1965, and it was there that he found his true calling. As he explains it, "Within the movement, with my own eyes, I saw the necessity for songs that expressed the realities of working class people. Very few songs about campesinos existed then, so we—Felipe Cantu, Luis Valdez and myself—set out to write them. We first translated the civil rights songs of the time into Spanish and taught them to our UFW membership and farmworker visitors from throughout the Valley, at meetings; simultaneously, [we were] writing our own original songs, no easy feat with the staggering workload we shouldered."
Lira, Cantu and Valdez co-founded the influential El Teatro Campesino during the Delano Grape Strike headed by Cesar Chavez. The company created songs and plays, performed on picket lines and at rallies and toured throughout the United States, giving voice to the farmworkers' plight and demonstrating the power of artistic expression in uniting and inspiring farmworker communities.
It is that same passion for a worthy cause Lira plans to express through his music at the Newzapalooza event: "Through our music, we want to turn on our different communities not only to the recent history of struggle here in the San Joaquin Valley but also to throw the spotlight on similar struggles worldwide to demonstrate that the call for freedom is wide and vast."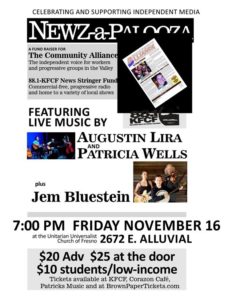 Rounding out this triumvirate of activist troubadours is Bluestein, whose own pedigree has roots deep in the folk music tradition. He's been playing folk music all his life, taking the lead from his father, Gene Bluestein, and growing up in a musical family band. Currently, he is having great fun playing, singing and performing with his own kids, Isaiah and Masha—that is, he says with a smile, "when I am lucky enough to book them."
When asked what is important about this benefit for alternative media, he answered: "Our progressive alternative media is beautiful, effective and growing. I always like to point out that if you want to read the truth in any official or commercial message or utterance, just turn it upside down. "Smoking cigarettes is sexy: Smoking will make you impotent. We are fighting for freedom: We are fighting for slavery.
"Non-corporate, non-commercial news is precious to us. We all like to do our little part to help it continue. Fresno in many ways is the belly of the beast, yet the revolutionary roots are deep and strong. We need to celebrate our power and visualize our future."
Community Alliance Editor Mike Rhodes envisions a future where local alternative media will grow. "My vision is that we become a weekly publication and print 75,000–100,000 copies each week. If we did that, we could have a significant impact on the political direction in this community by framing important issues and building the progressive movement for social and economic justice."
Presently, the Community Alliance provides an independent voice for workers and progressive groups in the central San Joaquin Valley on a monthly basis. Rhodes went on to explain the purpose of the Alliance: "The goal of this newspaper is to build a powerful progressive movement that will support social, environmental and economic justice; immigrant rights; and a living wage for all working people.
"We seek to expose social and political injustices and to link the diverse network of activists working in our community. The Community Alliance is a lot like KFCF. We survive because of the generosity of individuals in the community that understand the importance of alternative/independent media."
The community will have the chance to help support both the Community Alliance and KFCF while joining an evening of fun and united song at Newzapalooza on Nov. 16.
*****
Rick Flores lives and works on his family farm west of Easton. He hosts Wasteland of the Free heard every Tuesday from 10 a.m. to noon on KFCF 88.1 FM in Fresno.