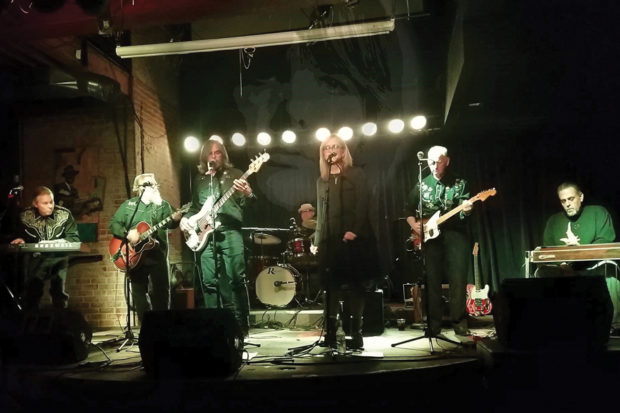 By Mike Rhodes
This month, you are invited to combine your passion for great local music and progressive politics by going to Fulton 55 as we raise money for the Mike Rhodes Social Justice Scholarship Fund. The scholarship will help support law students at the San Joaquin College of Law (SJCL) who have a special interest in defending the rights of disenfranchised groups (such as the homeless) and working to increase social and economic justice. If successful, this project will have an impact in this community for many years to come.
Steve Malm, the event organizer, says, "By attending this benefit concert you can support this project and help ensure that a law student, who has an interest in progressive issues, will get the support she or he needs to make it through law school."
Malm has lined up some outstanding musicians to perform at the Aug. 19 event. They are the Richie Blue Band, the Roger Perry Band, the Hi-Desert Ramblers, Glen Delpit and Steven M. Ono.
A recent inductee into the Blues Hall of Fame, guitarist/singer/songwriter Richie Blue's blistering guitar playing and heart-and-soul vocals have taken him to his current status as one of the top drawing acts on the club and festival circuit all over California, the northwestern states, Canada and Mexico. His brand of music, although rooted in the blues, is a blend of rockabilly, country swing, New Orleans swamp and soul.
Here is what the Roger Perry Band says about themselves: "Collectively, we've performed lots of musical styles- rock, blues, reggae, poly-rhythmic jazz, folk- but none of us ever elected to 'mainstream.' We've each played with other bands for years at venues from local clubs to opening for major acts on the big stage, but now we've settled on following the paths of our artistic heroes.
"We worship at the altars of Harry Partch, Leonard Cohen, John Coltrane, Elvis, Blue Oyster Cult, the Pretenders and Miles Davis. One audience member said the band made the hair on the back of his neck stand up. Then he said it sounded like Johnny Cash singing songs co-written by Kris Kristofferson and Frank Zappa. Our original songs and our arrangements take the audience so deep into life's darkness that they can't help but see the light."
The Hi-Desert Ramblers started out to do a one-off Gram Parsons tribute show. Once they had the band together they realized that they loved it so much they wanted to keep it going. "We still do the Gram/Burrito Bros/Byrds tunes, but we've begun to expand out from that into different artists in the cosmic country rock genre, both classic and contemporary, artists such as NRPS, Commander Cody, Poco, Uncle Tupelo [and] Lucinda Williams, as well as Buck Owens, Ray Price, Merle Haggard, the Everlys and George Jones."
Born in New Orleans, living in California, and recently named Musician of the Year in Fresno Magazine's online poll, Glen Delpit has been mining the roots of American music with his bluesy and folk-oriented slide guitar style for more than 35 years. His vocals have been characterized from deep delta to Van Morrison, and his original songs have been described as literate and poetic and can take their place with the finest American songwriters.
Delpit has opened for many American Music legends such as John Lee Hooker, Bo Diddley, Leon Russell, Brownie McGhee, Pinetop Perkins, Katie Webster and many others. He has also shared the stage with many prominent American roots artists such as Dave Alvin, Jackie Greene, Peter Case, Jonathan Richman and the British legend Eric Burdon.
Steve Ono is a guitarist, singer/songwriter, arranger and producer with extensive jazz, folk, rock, blues and world music influences and experience. His CDs, Voice of a Friend, Fingerpaint and Folksongs and Smokin', a collaboration with harmonica master Eddie Gordon, are available at CDBaby.com. His original song "Mean Streets" has been used as the theme song for the Farm Aid to Fresno campaign. Ono has been playing with violinist Patrick Contreras recently and doing dinner house solo shows.
More information about the musicians is available at www.fulton55.com/event/1730686-benefit-concert-for-mike-fresno/.
This benefit concert for the Mike Rhodes Social Justice Scholarship Fund will take place at Fulton 55 (875 Divisadero St., Fresno). The event starts at 6 p.m., and the entrance fee is only $10.
The scholarship fund was established following my diagnosis of fourth-stage lung cancer in January 2018. I was given maybe a year to live. Malm and Howard Watkins coordinated with the SJCL to set up the fund to recognize the work I have done using the legal process, in hopes of inspiring law students at the SJCL to step up and support free speech, disenfranchised groups, social and economic justice.
According to Watkins, "Mike is a longtime community leader for social justice, including his advocacy for the homeless. Much of this work requires legal assistance. When Steve and I heard of Mike's serious illness, we both wanted to do something that would continue Mike's legacy. Steve thought of doing a scholarship at San Joaquin College of Law and I thought it a great idea.
"The scholarship will encourage law students to be active in social justice issues. Raising $20,000 will create an endowment that will enable the Mike Rhodes Social Justice Scholarship to continue for many years long after Mike, Steve, and I are gone. Nice way to keep Mike's legacy going for future generations."
I deeply appreciate Howard and Steve's generosity and am honored that they have set up this scholarship fund.
It is my opinion that there is a lot of injustice in Fresno and the Central Valley, and unless someone challenges it that injustice will continue. In May 2000, I was arrested at the Fashion Fair mall for protesting against The Gap's use of sweatshop labor. The group I was with were fortunate enough to get two good attorneys, Patience Milrod and Jack Weisberg, who defended us, and the charges were dropped. We then challenged the arrest, and the court awarded us a sizable settlement that we distributed to progressive community groups.
Unfortunately, Fashion Fair continued threatening people with arrest if they handed out leaflets or attempted to engage in free speech at the mall. We organized an event on the 4th of July where we gathered (without a permit) in front of the entrance and one person after another stood up on a box and read from the Constitution and Bill of Rights. Fashion Fair security threatened us with arrest, but in the end they walked away providing us with another victory for our struggle for free speech.
In 2007, I collaborated with several attorneys on a class-action lawsuit against the City of Fresno for violating the human rights of homeless people. Central California Legal Services helped coordinate the lawsuit locally, and Paul Alexander with the law firm of Arnold and Porter was the lead attorney in that case. The ACLU-Northern California and the Lawyers Committee for Civil Rights were also deeply involved.
The city had been illegally taking and immediately destroying homeless people's property. It was such a clear violation of their constitutional rights that an unprecedented $2.3 million settlement in federal court forced the city to change its cruel and immoral policy. The homeless were elated to have stood up for their rights and won.
Social and economic justice is a constant struggle and by supporting this event you can help move Fresno in a better direction by ensuring that law students who have an interest in these issues can graduate and help us all defend our progressive values. As a special bonus, you will get to enjoy some of the best music Central California has to offer. This is the best of a win-win situation.
Tickets to this event are available at the Fresno Center for Nonviolence (1584 N. Van Ness Ave.), at Fulton 55 (875 Divisadero St.) and at the door. If you want to make a tax-deductible contribution to the scholarship fund, make checks payable to "San Joaquin College of Law" with a memo note of "Rhodes SJ Scholarship." Mail the check to Howard Watkins, 1785 W. Dovewood Lane, Fresno, CA 93711.
*****
Mike Rhodes is a writer and political activist in Fresno. Contact him at mikerhodes@comcast.net.