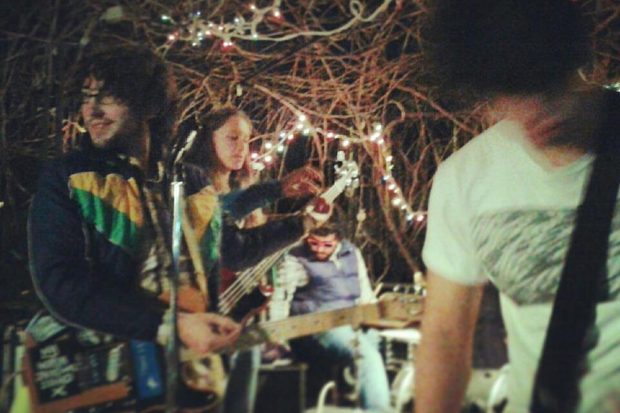 By Simone Whalen-Rhodes
The sun blinds me as I jump on the 180 West heading to Murder Park's evening practice. The freeway slowly melts away into Whites Bridge Road, passing orchards and small plots of farmland. Tiny Asian women are hunched over in the fields picking vegetables; the remote country side is so foreign to my idea of Fresno city life.
Heading out to the country, I arrive at a remote mobile home on Belmont and Hayes. The home is set back in the lot, with a giant field in the front allowing for bonfires on cold winter nights with friends and live music. Panda the drummer and Garth the singer and rhythm guitarist live here and take full advantage of their remote location to do impromptu jam sessions.
"I've had all these songs stored up for a while, and as we add new band members we add on the layers of the song," Garth muses as he sets up equipment for practice. Over the next few hours, I sat in a small 50-degree mobile home listening to four talented musicians piece together the sound they call "Murder Park."
"One, two, one, two." Panda holds his phone up to the microphone, his voice echoes through the amps as he shares a recording he's made of a new song on his phone. His recorded voice fluctuates, the drums pick up and he sings with mighty passion, "enchantment from 'em fire filled eyes craving your ardor five hundred ten times." This is the first time me and the band have heard this song, which breathes of bluesy desire, and the band mates rejoice at the new addition.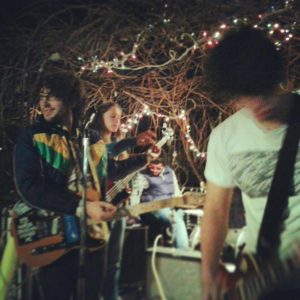 "I don't know what he's singing, but he's singing!" Janell giggles. Garth and Panda typically come up with the structure of the songs, bringing lyrics and a vague scene of what the song is. As Janell, who is the bassist, and Quincy, the lead guitarist, listen to the new songs they lay down their signature style and sound.
Last summer, if you heard So It's Come to This (Murder Park's original band name) play you would have thought they were a Mexican band. Their sound has evolved a lot since then, and that's where Janell came in. At first, they wanted to play Mexican dance music for money at parties, but after jamming with Janell they found a more folky, rock sound and went with it.
Janell is a member of a band called the Babbling Crooks. This is a local band that often plays shows like they are jamming and often features guest "Crooks" to play with them. When Garth and Panda began to be guest "Crooks" they were able to have the experience of jamming with Janell, whose solid style of playing bass was just what the band needed. The good thing about the Babbling Crooks is that it allows different local musicians to play together on their sets, and through this it creates new amazing bands like Murder Park.
The sound of the band that I heard develop is a little old school with a modern twist. A lot of emphasis goes into just one instrument (drum or guitar) with lyrics being sung. A little reminiscent of the old cowboy ballots of the 1930s. As the song progresses, they add more instruments and the sound evolves into upbeat rock by the chorus. Garth's girlfriend Phoebe calls the sound "the new generation of rock."
I listen to two new songs being made as the night goes on. I ask Garth, who has many of these songs already written, how he comes up with the lyrics, "I believe it's already been written. I don't sit down to write a song, the music just comes to me, it's already there."
You can perhaps hear the wisdom of generations in his lyrics as in the song "Speaking in Cursive":
It seems we are no more than cannibals feasting on the scraps of the men who came before us. I spent 88,000 years in the light house waiting for you to come to the shore.
He says it might be metaphysical, that he wrote all the lyrics and sound for "Speaking in Cursive" in only a few minutes while sitting in a park in Hanford. He mentioned he can't be sure what it means, but it's just something he taps into and most of the time he never writes down lyrics, he just wakes up and he knows it.
As the band mounts the stage at their various live shows around Fresno (C.A.F.E. Infoshop, Audie's and Art House), Garth says into the microphone, "We are Murder Park, it's a real place."
Garth was raised in the same mobile home we spend hours practicing at. "I moved to Shields and Brawley when I was a teenager, and that's where I met Panda." Their ghetto neighborhood was divided by a big park at Clinton and Brawley. This is where we hung out, and they called it Murder Park. "It looks like a nice place in the day," Panda comments, "but people get shot there."
"I got robbed at gun point once," Garth says.
Their songs can muse of the distaste for this town. One of their songs starts out, "This place is an anomaly, it used to seem so big to me, but now it's small and miserable, at least you think it's comfortable." But in my eyes, they are making Fresno a better place. The true embodiment of art and turning a bad situation into gold.
The band talked about the release of their upcoming CD that they recorded at the mobile home and will feature seven songs. The band mostly plays at local venues, but you can listen to a few recorded tracks at http://murderpark.bandcamp.com and find out about shows by liking Murder Park on Facebook.
*****
Simone Whalen-Rhodes is an engaged member of the local music scene. Contact her at swhalenr79@gmail.com