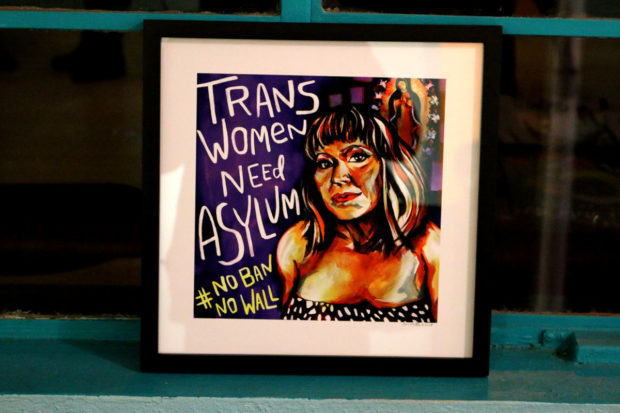 By Miguel Bibanco
[
Editor's Note: This article was originally published at the kNOw Youth Media and is republished with permission. http://theknowfresno.org/03/06/2017/micah-bazant-portraits-trans-resistance
/]
In typical Fresno fashion, the first Thursday of each month brings us the opportunity to feast on the work of many talented artists and entertainers throughout Fresno as we 'hop' from one art scene to another.
March was no exception to this tradition, but it wasn't your typical ArtHop either.
In a night filled with lots of entertainment options, one place was able to provide a fun atmosphere and a powerful message at the same time.
Located downtown, Fres.Co is "an intergenerational space that specifically cultivates positivity and innovation amongst people of color, immigrant, working class, poor, and queer and trans communities."
One of the ways they achieve that culture is by creating art and serving as a platform for artists to showcase their work. March's ArtHop featured the work of Micah Bazant.
Bazant often channels social justice in his artwork, which frequently deals with white supremacy, patriarchy, ableism and the gender binary. His artwork at the latest Arthop can be succinctly summarized as a series of portraits of trans resistance. The artwork conveyed strength and beauty alongside a powerful message in a way few artists can.
I am excited to see what kind of art Bazant will create in the future and I'm grateful to Fres.Co for showcasing such a fantastic series.
"I believe our genders and abilities to create art and change are divine gifts from the Universe. It is our responsibility to honor those gifts and allow new worlds to be born through us." -Micah Bazant.
*****
Miguel Bibanco is a Beat Reporter at the Know Media. He is 22 years old and has been cursed by the knowledge that he is the true Last Good Boy Online ™. He spends his free time making good posts online so you don't have to. Please like, fave, RT and Subscribe. Featured Area: Propane and propane accessories.