I have always been an avid believer in SIY, or the "Start it Yourself" mentality. This, I believe, derives from my unbounded passion to incite change, namely, on those issues that plague our society.
As a high school student, this mentality has led me down a variety of rabbit holes—with an equal amount of successes and failures. At the very least, however, this philosophy has provided me the chance to pursue things. I cherish this fact of SIY the most: being able to pursue something that has the vitality to aid those who need it most.
This loving principle is one of the main reasons I co-authored the book Indian Economics for Anyone.
It all began when Sam Sambath Kumar and Arashdeep Singh, my two co-authors, met with me on a call to discuss the implementation of SAT and ACT practice in local schools. We were brainstorming practical methods of helping students for these exams in my organization StudySet, an online business dedicated to improving student scores on these standardized tests.
Ideas bubbled when Sam brought the conversation to a subtle switch; he began discussing his frustration with the Indian educational system. Concretely, he was concerned with the fact that many of his friends in the economic and business pathway in India were oblivious to much of the economics that ran their own country and others were even more uneducated.
India follows a restrictive educational pathway system in which students are compelled to study either humanities/business (including economics), biology or computer science when they enter high school. Students do not have the ability to switch their pathway after a month upon choosing; that is, after a month, most of their life is planned out for them.
Consequently, many students choose computer science or biology in hopes of becoming engineers or doctors, respectively, which they are more accustomed to at this point—no economics is taught whatsoever pre-high school.
Unfortunately, many of the small population of kids, especially low-income students, actually choose to take the humanities/business pathway and fall flat in the rigorous economics course offered only in the 11th grade, which Sam attributed to a lack of an economics foundation while they were young. Low-income students—and sometimes others—lacked the money to buy resources that would help them learn economics, often leading them to lag behind the rest of their classmates.
Sam commented on the fact that this failure would likely lead many low-income Indian students to lose passion for economics—and might also be the reason for the dropping economics career rate in India.
As passionate individuals about economics and business ourselves, we became fixated on doing something about this issue.
We felt it unfair that such a treasure chest of a subject had such a low yield rate. Economics could be used to save a country from a recession, improve the status of the living, deal with employment and indirectly help save millions of lives. However, in India, it was vaguely absent.
Our approach to conquering this problem was, again, through our book Indian Economics for Anyone. Specifically, we wanted to target the entire Indian student population with a particular emphasis on those in underserved areas, as these areas would have the lowest success rates. So, we began to write—write about the things that could aid these students in their classes and enrich their passion.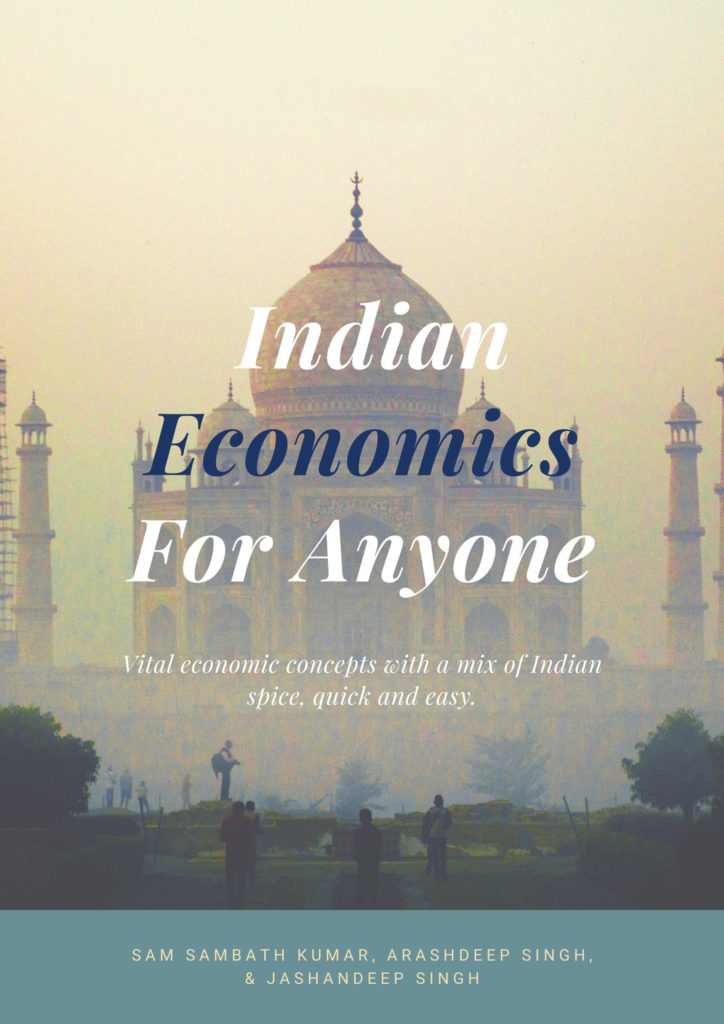 We wrote about the switch to globalization India went through during the independence era, about how India was dealing with Covid-19 economic policy, and about central economic indicators—gross domestic product (GDP), the Human Development Index (HDI), and the Consumer Price Index (CPI). With almost all these principles, we highlighted their practicality—and how students were getting closer to eventually stopping crucial, imminent problems.
After days of writing, scrutinizing reviews, more writing, and then making our book interactive—adding color and a smooth flow—we ended up with a 91-page book that teaches individuals from head to toe about economics from the lens of India. And, as a bonus, anyone from the ages 12 and up could read our book and invigorate their own self-desire for economics.
Our book started as a mere notion and slowly progressed into something more tangible. Words that once quilted away on my computer screen now lay emblazoned in the book on top of my living room bookshelf.
Since self-publishing on Amazon and Teen-Ink, we have attained more than 300 reads and plan to distribute our book in libraries and book conferences across India. We hope to leverage our connections as student entrepreneurs and changemakers to expand the distribution of our book via partnerships and nonprofits. Currently, we are reaching out to various Indian publications and hope to be backed by an Indian distributor before November.
As for where our passions for economics might take the three of us next, frankly, I don't have an answer; But what I do know for certain is that we will continue to be relentless in our pursuits; we will try to change the status quo when it doesn't fit our picture of happiness. And we know that our SIY mentality will remain with us—serving as the backbone to our many voyages to come.
We hope this article can act as a catalyst for us to disperse our book to an even wider audience and as a reminder to any kid that sees something she or he wants to change to go out there and do it. You never know what can come of it: a book, a new technology, or maybe a true impact in people's lives.
*****
Jashandeep "Jashan" Singh is a prominent machine learning enthusiast, entrepreneur, and economist who has been recognized several times on the international and national scale for his work in these fields. Currently, Jashan lives in Clovis alongside his twin brother, Arashdeep Singh. He currently attends Buchanan High School in Clovis and has taken college-level courses such as microeconomics and macroeconomics since his sophomore year.