In a fall football classic more suited to a Netflix season finale than Election Day, Fresno State pigskin boosters fumbled their Measure E sales tax proposal and took a classic fall in November. But they're back for another season, and all that's missing is the film crew from Last Chance U, there to capture the exploitation and cynicism at work.
Despite a 53-47 drubbing at the polls in a game with only one team on the field—there was no organized opposition to the Bulldoggies' $1.5 million campaign to fund a Fresno State Improvement Zone with a two-tenths of a cent sales tax for 20 years—team leader and sole campaign financer Richard Spencer & co. are now lining up for a Hail Mary pass with university president Saúl Jiménez-Sandoval going deep into the rhetoric zone with a retooled message for voters.
"We are appreciative of the continued support from the Friends of Fresno State Committee to help elevate the mission of Fresno State, which expands access to higher education for our Central Valley students and deeply promotes the economic and social well being of our Valley," Jiménez-Sandoval told Fresno Bee reporter Robert Kuwada in December following the embarrassing sack by voters.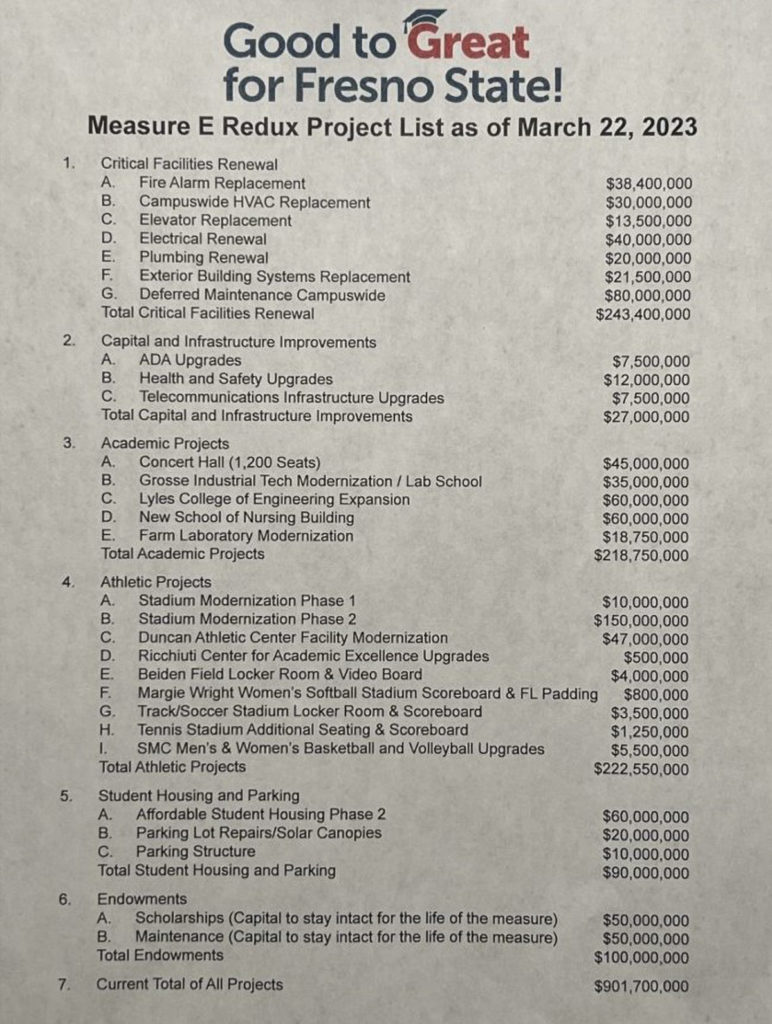 Economic and social well-being through football fans' priorities? That's a formula for failure rightfully rejected, but the people behind the initiative, which promises local control of $700 million in public works contracts over 20 years, want to run it by Fresno County voters again in the March 2024 primary while they might still need only 50% voter support to win (more below). So the rush is on.
"A lack of specificity is a part of (why the measure failed in November) and the two-thirds academics and one-third athletics, I don't think that message was really very well understood," losing campaign consultant Tim Orman told Kuwada.
Jiménez-Sandoval certainly prioritized the school's sports brand last July when the proposal suddenly emerged from behind closed doors. He told the Bee's Kuwada: "In thinking about that I really want to come up with a proper approach that's systematic and that's educated about how we move together and forward in a sustained manner that provides athletics with the proper stability it needs to sustain its momentum, not just in football, but in the other sports, as well.
"We were a powerhouse in basketball. What do we do with that? What do we do with baseball? We were national champions in baseball. What do we do with our women's sports? What do we do with the brand name that is Fresno State?"
A more important question: Who's in the Faustian huddle with Spencer, Orman and Jiménez-Sandoval calling for more concussion circuses and building contracts in exchange for local funding overseen by a body to be appointed by the Fresno County Board of Supervisors? These are not the leaders our region needs at this time, the most critical juncture in human history, according to the UN Intergovernmental Panel on Climate Change, which issued its "final warning" the same day the men huddled at Spencer's office for a private meeting with local politicians.
As an education leader with a special responsibility for students' shared future, Jiménez-Sandoval needs to take a deeper look at that towering snowpack a few miles east of Fresno State and all it portends. Babes of the Anthropocene, today's college students have never known the "average" weather of the 20th century and are looking at an exponentially worse 21st.
As that deep white blanket melts away into devastating floods, a vast mountain landscape will emerge, blackened by major wildfires and increasingly left with ghost forests named for the conifers that can no longer regenerate due to our altered climate, now estimated to cover one-fifth of the entire Sierra Nevada range. Next, the wet winter will generate rapid growth of grasses and shrubs that following a hot summer will be like kindling in those tinder dry forests come autumn. And then come the fire and smoke, loss of sequestered carbon, destruction of the natural landscape and acceleration of the downward spiral.
UN Secretary General António Guterres said after his March meeting, "This report is a clarion call to massively fast-track climate efforts by every country and every sector and on every timeframe. Our world needs climate action on all fronts: everything, everywhere, all at once." Not Fresno State. They've got the Pac-12 conference to aspire to.
One painful irony of the situation is that these closed-door planners are trying to exploit a valuable opening created by Fresno Building Healthy Community's successful parks ballot effort, Measure P. The grassroots, youth-inspired campaign created legal precedent for citizen-led ballot initiatives requiring only simple majority voter approval rather than two-thirds, which the state supreme court has said applies to sales tax measures placed on the ballot by elected officials.
Now there's an initiative on the March ballot to amend the state constitution to eliminate the 50% approval option. So Spencer and Orman, with Jiménez-Sandoval's willing participation, are driving to the March ballot goal line before the 50% threshold possibly disappears. They're very likely to win this time.
Having spent as much as $1.5 million on what should have been an easy victory in 2022, Spencer is back for more. It's a relatively small investment as his company, Harris Construction, is one of the few Fresno outfits large enough to handle major construction jobs. Local educators rely so heavily on the builder that it led to the Fresno Unified School District leaseback construction scandal, an outgrowth of the Measure Q school bond of 2010 and accusations of "sweetheart deals," according to a 2015 Fresno Bee article. The issue is now before the state supreme court.
Go, 'Dogs.