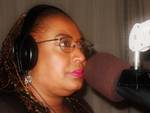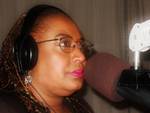 By Dr. Jean Kennedy
I recently interviewed a young woman on my radio show heard on KFCF 88.1 FM. I met Star Brown through her brother, who took my women's studies class. Star approached me to help work on a health concert to promote organ donors. We both know people on waiting lists for kidneys, so I invited her to come on my show and share her music.
I found out that this young lady, who works for an airline, is a pretty good hip-hop artist and writes her own lyrics to music in a meaningful way. It still is not easy breaking into the world of hip-hop as a female given that the industry is dominated by Black males. Hip-hop gets confused with rap, and many still think of hip-hop as "gangsta music."
Star is quiet spoken until she gets behind a microphone to sing. Hip-hop is a tool to draw in a younger audience, and I was honored to have her on my recent show.
Star is a rising hip-hop artist who has just released a single "ASTAR2NV." The single features two songs. The first song, "Dalaleh Love," composed by Fathi Aljarrah, is a Middle Eastern–infused hip-hop love song that bridges the gap between different cultures. (Star is an African-American female singing with Fathi, a Middle Eastern male.) The second song, "Thoughts of Ejypt" [yes, spelled with a "j"], produced by King Tutmosis, clearly expresses her lyrical talent. With a hook such as "music as my outlet I exit my flesh, mastering these art forms with the skills I possess," you can respect her lyrical ability.
Star is poised, intelligent and focused. She could well be the ultimate role model that we've all been waiting for to help our youth realize they can have it all in a good way. Also known as the Diana Ross of hip-hop, she leaves trails of stardust wherever she steps.
Regarding the concert to promote organ donors, if you know someone who's awaiting an organ, wish to become an event sponsor or need more information, contact our health team at drjeankennedy@yahoo.com or 559-270-1023. Special thanks to Dr. Chrissy Johnson and husband Ian, Mrs. Brown and Bro. Tut Mosis for joining this vision of infusing hip-hop and health awareness.
Star's single is available at ASTAR2NV on iTunes and CD Baby or at www.astar2nv.com. Follow Star on Twitter (www.twitter.com/astar2nv) and Myspace (www.myspace.com/astar2nv). Like Star on Facebook and become a Star-gazer (www.facebook.com/astar2nv2).
Keeping It Real with the Youth is Brotha Dallas Riveras' segment, where he is targeting a younger audience. He's earning five high school credits for volunteering as a co-host and a board engineer on our show; he is only 15 years old and does a great job. On Sept. 11, he will be personally interviewing someone in New York who had relatives die in the Twin Towers attack. He will host the show so you do not want to miss it.
Brotha Willo co-hosts and discusses the injustice system. Willo co-hosts a sensitive segment where we speak to men who have been labeled as sexually violent predators (SVPs). We hear stories of the high cost to taxpayers and individuals suffering under bad policy, biased intake assessments and individuals held indefinitely at the Coalinga State Hospital. We speak to individuals on how the legal system gets away with using criminal law to convict them and then they're brought back into the system under a civil law category to keep them locked away from their families and society without release dates.
Keeping It Real provides a platform for the voiceless. We welcome comments, conversations and topics for shows; drop me a line at drjeankennedyradioshow@gmail.com. The show airs every Tuesday from 9 p.m. to 10 p.m. We are the radio show you can see. Our archived shows are on Facebook. We provide Ustream, Livestream, a Web site and Twitter for the benefit of our listening audience. Tune in for upcoming shows on such issues as high-speed rail and genetically modified foods.
*****
Dr. Jean Kennedy is a program host on KFCF. Contact her at KFCF/News Article, 1449 N. Wishon Ave., Fresno, CA 93744, Attn.: Dr. Jean Kennedy.