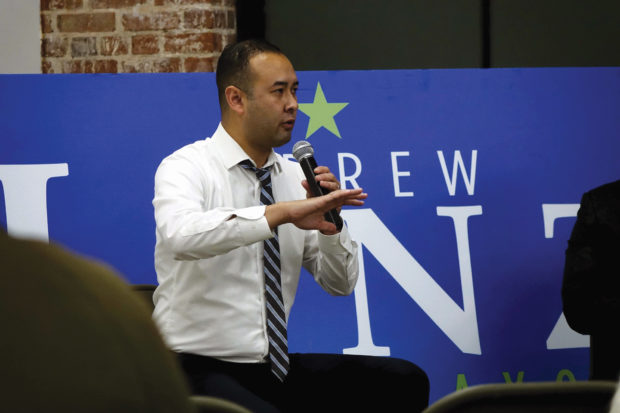 By Eduardo Stanley
"I want to be the next mayor of Fresno because we need a change. Like most voters, I think Fresno is not going in the right direction. My opponent (former Fresno Police Chief Jerry Dyer) and his supporters want to keep things as they are," said Fresno mayoral candidate Andrew Janz during a brief conversation with the Community Alliance.
Janz, who is in his mid-30s, announced in early May his run for Fresno's main job. In 2018, he challenged the Congressional District 22 incumbent, conservative favorite Devin Nunes (R–Tulare), who won by only about five points when in previous elections Nunes had a 30-percentage-point-plus advantage.
Janz, a Fresno prosecutor and the son of working-class immigrants—his dad was Canadian and his mom is from Thailand—outlines the city's main problems: "We need to invest in our community, we need to tackle the issues of poverty and homelessness. We need reforms regarding how we police our streets, and we need to do a better job building healthy neighborhoods."
Janz is convinced that Fresno's General Plan isn't bad and it is premature to talk about making another one. However, he explains the spirit of the Plan isn't there.
The candidate proudly states that he isn't taking money from developers. "It is not because they are bad people; there are lots of good people among developers," said Janz.
"But I think it's a huge conflict of interest. Nobody does more business with the City of Fresno than developers. If we look back, we'll see that some mayors took hundreds of thousands of dollars from developers and then you are in their pockets. I want to be the mayor who represents working-class people."
He added that he'll approve projects and plans based on merits rather than because developers donated to his campaign.
Developers and unions are among the main donors to political campaigns in Fresno.
Janz is aware that this decision will impair his campaign from a financial point of view, but he says many voters in Fresno are hungry for a change regarding "politics as usual" in the city and that they want a different type of candidate.
Another topic on which Janz wants to focus is homelessness.
"We failed historically on this point, we didn't put the resources required to tackle the issue," said Janz. "We put the responsibility about homelessness in private hands and the nonprofit sector while the local government invested very little money."
He would confront the situation by offering, first, a safe place for homeless people. He mentioned that disbanding homeless people from the camps in downtown Fresno created an even bigger problem. Janz considers addressing the housing problem as an important step; providing services, including health-related services, would be next.
Janz considers social inequality to be responsible for the current, dramatic homeless situation. "In the long run, we have to review our national tax policy," he added.
And how about the "tale of two cities" in Fresno? The line that divides the city is Shaw Avenue, with those living north of it being the "better off" and those south of it being from lower-middle income to low income.
For Janz, the solution is working together with City Council members to analyze where the priorities are in terms of resources.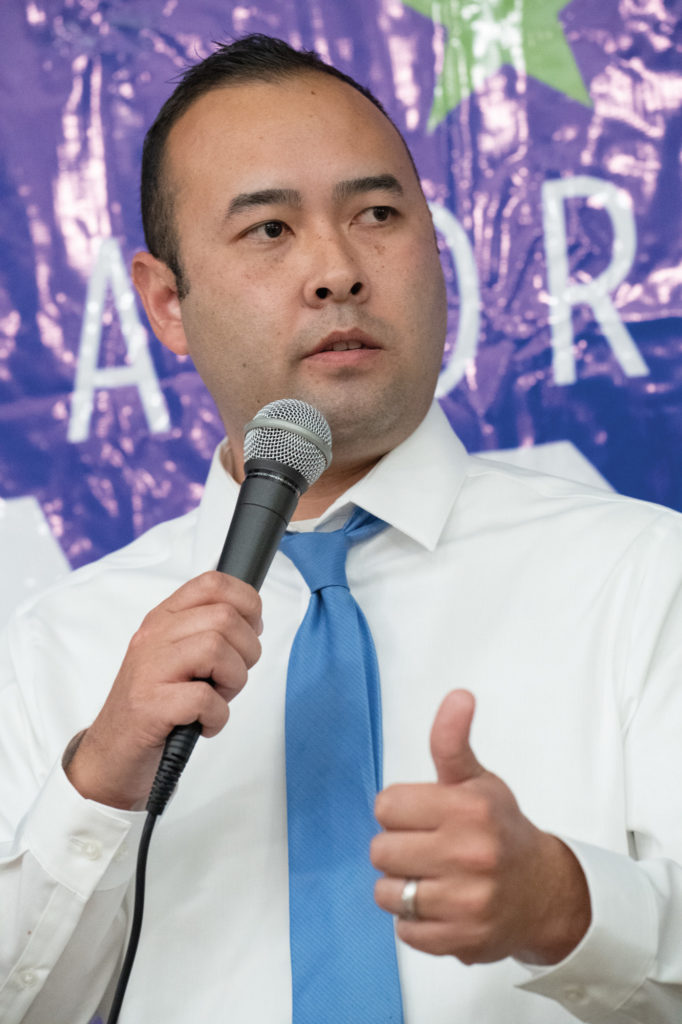 To attract more and better businesses to the area, Janz would create a better environment for local individuals and families. "We need to be sure we have a well-educated and well-trained workforce," Janz said. "We also need to be sure we support small businesses. We cannot just put more focus on big corporations like Amazon. I don't see the benefit to have them here."
He insists on supporting small businesses, explaining that 80% of the hiring in the Fresno area, besides government, comes from small businesses.
Improving neighborhoods is also a priority for Janz. He was a supporter of Measure P, which was approved by 52% of the voters in 2018 but failed because it needed two-thirds of the votes.
Measure P would have raised local sales taxes to build new parks, improve others and fund related activities. Many developers opposed the idea and donated heavily to the "No on P" campaign.
"My opponent, Jerry Dyer, campaigned strongly against Measure P," said Janz. "He created a false narrative saying if we build parks our kids will not be safe and that Fresno will not be able to hire enough police officers to protect them…But our parks are falling apart, we need them for our children."
Can Janz win? A progressive mayor could change many things in Fresno and perhaps lead an influential wave in many cities around the Valley. He is competing with a candidate who has the support of mainstream society and powerful donors.
Nevertheless, Janz is optimistic.
"I am going to win because we are going to turn out people who historically don't vote," says Janz. "We are targeting people of color, young people, people who are disillusioned about the political process—a disillusion that comes from Washington, it comes from the local leaders we have now—so on the coming Election Day voters will have two options: maintain the status quo, which is represented by Jerry Dyer, or vote for change, which is represented by me and my campaign."
*****
Eduardo Stanley is the editor of the Community Alliance newspaper. Contact him at editor@fresnoalliance.com.