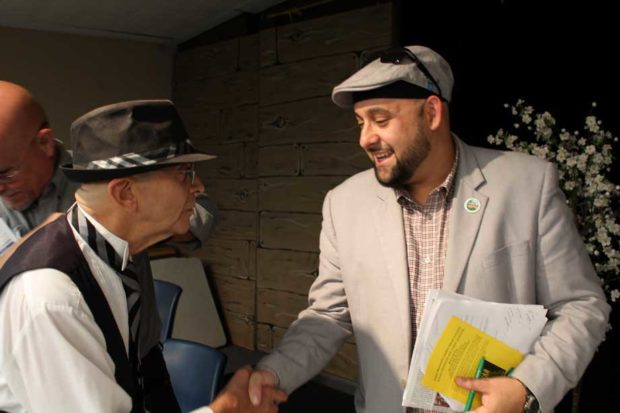 By Hannah Brandt
"Most terrorist attacks are not carried out by Muslims or any people from the Middle East, S. Asia or Africa. In fact, Muslims and people from this part of the world are often the victims. After 9/11, attacks on Muslims and those perceived to be Muslim went up threefold. Since those against Charlie Hebdo and San Bernadino, acts of hate against Muslims have skyrocketed in the U.S." Dan Yaseeen, President of Peace Fresno and moderator of the forum, Islamophobia: The Current Face of Racism in America.
This discussion on Islamophobia was hosted by Peace Fresno and sponsored by the Fresno Center for Nonviolence, the Women's International League for Peace and Freedom, and the Human Rights Coalition of the Central Valley. The panelists for the talk were Reza Nekumanesh from the Islamic Cultural Center of Fresno, Raj Singh Badhesha from the Sikh Council of Central California and Deputy Attorney for the City of Fresno, Darryl Muhammad, student minister with the Nation of Islam, Sab Masada, a survivor of WWII internment camps of Japanese Americans, Richard Iyall, a Native American peace and justice activist and freelance photographer, and Juan R. Avitia from the Fresno Brown Berets and the Mexican American Political Association.
Each panelist was asked to talk about their community's history with racism in America. Nekumanesh spoke first, defining Islamophobia. He said, "The different communities represented tonight face similar issues of racism." When asked if discrimination directed against Muslims is racism he said he knows people often say it cannot be because it is directed at a religion. But the truth is, those who attack people they think are Muslims do so because they think they look a certain way. "In fact, the Muslim community is the most diverse community in the U.S. and come from all parts of the world. Twenty-five percent are Black Muslims; half are born outside America. Most are U.S. citizens."
He pointed out that while Islamophobia is racism, Muslims and those perceived to be Muslims, are not the "new" group that Americans are racist against. Islamophobia is not new, and other forms of racism are just as virulent as they ever were. Scholars do categorize it as racism because it is directed against non-white Muslims or those non-whites who are mistaken for Muslims.
Badhesha from the Sikh Council spoke next. He said if you see someone with a turban in the Central Valley, most of the time they are Sikh, not Muslim. "Because Sikh people have olive skin and dark hair we get lumped into racism against non-whites, especially Islamophobia. Even though Sikh turbans look totally different from head coverings worn by Muslims, very often we are mistaken for Muslims and attacked for it." Sikhs live in constant fear. When he was recently in Bakersfield at a mall he noticed people looking at him suspiciously, which he called "the seed of racism." He said that until you have felt discrimination and fear from racism personally, you cannot ever understand it fully.
Darryl Muhammad said that he appreciated being included in the panel because when Muslims are asked to participate in these discussions they are rarely Black. He said the Nation of Islam is usually portrayed negatively by others, not in our voices. Many Africans brought to the Americas as slaves were Muslim, Christianity was imposed on them. "Like the founders we want independence and to live in peace and freedom, justice and equality. We teach our children to be kind, have understanding and tolerance for others. If we are allowed to speak to the larger community, it will increase tolerance."
Sab Masada is concerned about an increase in racist language and the fomenting of fear against ethnic groups bringing about a similar situation for Muslims as what happened to him as a Japanese American during WWII. The mass incarceration of the Japanese was claimed to be for national security, just like Donald Trump's calls to ban all Muslims. It is the same logic as that of Earl Warren, later a champion of civil rights legislation, who testified that the absence of evidence that Japanese Americans had committed any crimes was proof that they would. Masada said he spent four years in an internment camp "based on U.S. government lies about his race and Buddhist religion."
Richard Iyall spoke as a member of the Cowlitz tribe, whose ancestors come from the Washington state area. Originally, the tribe had four counties worth of land before the U.S. federal government took it. The tribe is now in a court case regarding whether any of the land and fishing rights will be returned to them. Iyall said, "This country was founded on the promise of religious freedom, but that freedom was only extended to the European settlers. Native Americans had Christian religion and customs forced on them and were either killed for practicing their traditional ways or forced onto reservations and into residential schools."
Juan Avitia is an educator as well as an activist with the Fresno Brown Berets and the Mexican American Political Association. He stated, "Youth are not often getting the education they should: learning about the "original sin" of this country, racism." Avitia has been appalled by the way mainstream, corporate media has enabled the discriminatory rhetoric and propaganda tactics of the 2016 election. Latin America, also ravaged by colonization, is very diverse. He noted that the attire of the revered Virgin de Guadalupe is influenced by Islamic attire. When the Fresno Brown Berets were founded they wanted to be inclusive of all religions. They removed a Christian symbol used by the larger organization and replaced it with an indigenous one.
How can the larger community support the Muslim community?
Iyall said, "In order to address the issue of fear we have to replace it with love. We need to overcome the illusion that we are separate, we are all living beings." Sab added, "Prejudice is fueled by ignorance and a lack of relationship with people who are different from us. If we know one another as people, if we develop close bonds, we will have the courage to stand up for one another." "We need to become comfortable with the whole box of crayons, with full diversity," Badhesha continued. Nekumanesh declared, "We need people from all over Fresno, those who not here from the Far Left to the Far Right, to join in the effort to redefine "us" and "we." When we destroy words like "them" and "they," we destroy racism a little more."
*****
Hannah Brandt is the editor of Community Alliance newspaper. You can follow her on Twitter and Instagram at @HannahBP2. Follow the paper on Facebook at Community Alliance Newspaper and on Twitter and Instagram @ fresnoalliance.