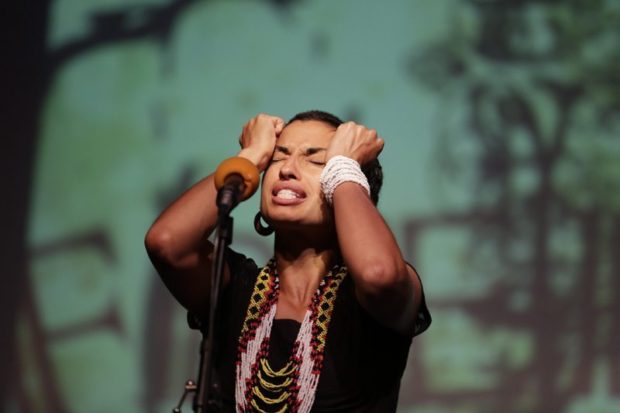 By Omequetzal Lopez
On the weekend of March 7, Dulce UpFront, a Fresno-based community multimedia arts collective, in collaboration with various organized groups and individuals, held a three-part celebration of healing through multimedia arts, culture and community.
On March 7, Dulce UpFront, in collaboration with Radio Bilingue 91.5 FM-KSJV and Todo A Pulmon, held PINCHE, a monthly multimedia arts dance experience event at Fulton 55. Attendees experienced a rich blend of musicians, spoken word, DJs, live art performance, a photo gallery, artisan vending, an Ana Tijoux unreleased album listening station and conscious projected art.
With more than 250 people attending, the featured Los Angeles‒based band, Las Cafeteras, delivered a powerful uplifting bilingual, social and politically driven message. They weaved zapateado (a foot-stomping dance) with their unique style of Son Jarocho music, blending Afro-Latin rhythms with hip hop.
To add fire to the furnace, the internationally acclaimed Brooklyn-based artist-activist duo, Climbing PoeTree, took the stage, captivating the audience with a single spoken-word piece and then free-styling side-by-side with Las Cafeteras.
On March 8 and 9, in celebration of International Women's Day, Dulce UpFront worked in partnership with various Fresno State clubs and departments, Fresno City College's Women's Studies program, the Happy Black Girl, OutWords and the Community Media Access Collaborative (CMAC) to produce "Inspiring Change: Power in Perspectives." It was a two-day community event honoring the strength women carry and inspiring change toward women in all facets of our community.
On March 8 at the Fresno City College Cafeteria, Climbing PoeTree led an art-activist workshop and S.T.I.T.C.H.E.D. By using S.T.I.T.C.H.E.D., a growing installation of Stories, Testimonies, Intentions, Truths, Confessions, Healing, Expressions and Dreams, this interactive workshop had participants exploring and testifying to the power of their personal and collective stories—bridging the political with the personal through multimedia, free-write, poetry and performance.
Participants had the opportunity to add their own truths to a large colorful tapestry of more than 6,000 stories created by previous audience members and workshop participants from throughout the world. There was also community skill-sharing booths aimed at sharing ideas, craftwork and life skills that helped participants gain empowerment through doing.
On March 9 at the Fresno State Satellite Student Union, Climbing PoeTree performed their compelling works to a crowd of 300 people and at Spirit of Women, a drug and alcohol treatment home, to 40 mothers and children. This groundbreaking duo of soul sisters interwove spoken word, hip hop and award-winning multimedia theater, challenging the audience to remember their humanity, expose injustice and heal inner trauma to make a better future visible, immediate and irresistible.
Along with local established poets and youth poets, this day served to inspire change and invited the attendees to search within themselves to find their voices and create an inner dialogue to help positively transform their perception of themselves and the world they live in.
Continuing in the same spirit of healing through multimedia arts, culture and community, Dulce UpFront will have a bike-themed PINCHE on April 4 in collaboration with five local bicycle crews. In addition to the standard format of having live bands, DJs, art and artisan vendors, there will be a best-dressed bicycle gallery and a Lost but Not Forgotten bicycle altar.
On April 10, Dulce UpFront working in partnership with the Owens Valley Career Development Center, which works with more than 100 Native American families, will present A Tribe Called Red coming by way of First Nation tribes of Canada.
ATRC is a set of three DJs and music producers bridging traditional powwow vocals and drumming with cutting-edge electronic music. Within a couple of years, they've become the face of an urban native youth renaissance, championing their heritage and speaking out on aboriginal issues, while being on top of popular music, fashion and art.
In addition to the multimedia DJ performance, World Hood, a Sacramento-based Afro-Latin dub meets conscious hip hop group will take the stage, along with local First Nation dancers and local DJ OMEDJ. The event is for all ages; $10 for adults and free for youth under 18. No one turned away for lack of funds. The event will be at Manchester Experiment in Manchester Mall from 5 p.m. to 8:30 p.m.
Dulce UpFront is a community multimedia arts collective. The entity collaboratively invents positive environments of creative expression utilizing a multimedia arts approach whereby every aspect, from design to implementation, is developed with love and respect "for ourselves, our families and our communities."
Dulce UpFront works alongside artist/activists, cultural workers and organized groups co-curating multigenerational events that highlight the talents of internationally acclaimed and locally respected artists whom bring a powerful uplifting message through various forms of art.
For more information on Dulce UpFront, call 559-464-5509, visit www.dulceupfront.org or find them on Instagram, Twitter and Facebook at /dulceupfront.
*****
Omequetzal Lopez is a founding member of Dulce UpFront, a community multi-media arts collective and a state-wide DJ and event producer. Dulce UpFront can be contacted at www.omedj.net and www.dulceupfront.org.