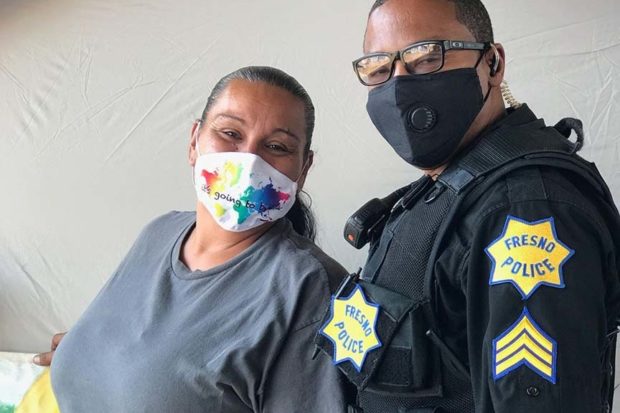 By Mike Rhodes

I was part of the group of homeless people, activists and attorneys who united and prevailed in a lawsuit against the City of Fresno in 2007. The $2.3 million settlement changed public policy and stopped the city from taking and immediately destroying their property.
Until recently, City Hall and those that curry favor from them treated me like a skunk at a picnic. They did not listen and actively undermined my work to help the homeless.
That changed in 2008 when Fresno City Council Member Luis Chavez reached out and invited me to City Hall. They declared Aug. 16, 2018, Mike Rhodes Day in the City of Fresno. Chavez mentioned to me this was the first time they had given the award to someone who had sued the city.
I'll bet some of my friends wondered what nefarious thing I had done to make that happen. The proclamation was as much of a surprise to me as anyone. I have always seen myself as more of an outsider, someone who was more likely to do civil disobedience than to be a part of the establishment.
Last month, Fresno City Council Member Esmeralda Soria appointed me to a Homeless Ad Hoc Committee. We had our first meeting on Aug. 13. The primary topic for this meeting was the Fresno Police Department Homeless Task Force (FPD HTF). Sgt. Conrado Martin, the head of the HTF, gave a PowerPoint presentation about what the HTF is doing.
Sgt. Martin stressed that the role of the HTF was to serve and protect the homeless. He said he became the head of the HTF in February and that anything happening before that was not his fault. His would be a kinder and gentler HTF.
I think just about everyone at the meeting was pleased with his presentation. I was not that impressed and at the end of the meeting suggested that our Homeless Ad Hoc Committee should consider a recommendation to defund the HTF.
Why did I make that suggestion? Because we should not be spending money designated for helping the homeless to the police. The last time I checked, the City of Fresno was giving them a little under $1 million a year. That money should be going to mental health care professionals who could do outreach, social service workers who could help homeless people get the help they need (job training, deal with addiction issues and find housing for them).
What the HTF does is tell the homeless to move on, when there is no place for them to go. Some people compare what they do with Whack a Mole (the game). The HTF success rate at getting the homeless to talk to someone about receiving help, we were told, is 1.6%. That is a terrible success rate. Homeless people feel threatened and intimidated when they see the police.
Furthermore, we were told that the 2020 Continuum of Care point-in-time count would show we have 1,000 more homeless people in this area.The approach we are taking to homelessness in this community is not working. If trends continue, following the pandemic, evictions and likely economic disaster to come, the number of homeless people in January 2021 will be off the charts.
Just to be clear, I believe the police should serve and protect the homeless and they should work with social service agencies when they visit a homeless encampment. Of course, the police have a role to play, but that role is different than social service outreach workers. We should not be giving the FPD money to do a job that can be better done by people who are trained professionals who need to reach out and help the homeless.
I'm making the argument, with my fellow members of the Homeless Ad Hoc Committee, that this group should focus on ending homelessness and creating a new paradigm that moves beyond maintaining the status quo.
What I'm calling for is:
Stabilizing the situation by establishing safe and legal facilities for the homeless (with drinking water, trash bins and toilets).
These sites would be well managed with a goal of connecting the homeless with whatever assistance they need to get off the streets. These facilities would be located throughout the community (not just in southwest Fresno).
Shortly after evaluating and establishing each homeless person's needs, every homeless person would be provided with housing. Social services and housing assistance will be available for as long as needed.
Providing homeless people with housing and social services will cost less than the current failure of the system we have now. Plus, if done right, it will end homelessness. And I think we all can agree that ending homelessness is our goal.
*****
Mike Rhodes is a writer for the Community Alliance newspaper and author of the book Dispatches from the War Zone, about homelessness in Fresno. Contact him at mikerhodes@comcast.net.