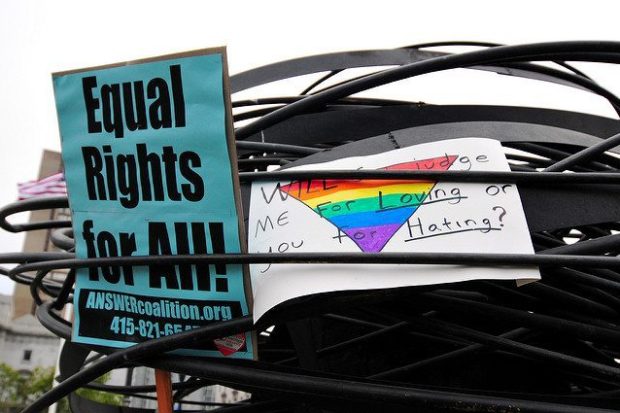 By Kaylia Metcalfe
Happy December!
Usually around this time you start seeing the recap lists: "Best Fashion Moments of 2013!," "Worst Moments of 2013: Politician Edition!," "Hottest Videos of 2013," "Most Popular Memes Involving Cats of 2013!," etc.
And usually we would take the opportunity to go over some of the 2013 LGBT-related milestones and news items.
But unless you have been under a rock, you know about the Supreme Court decision in June. You know about the race to allow same-sex marriage (now 16 states and counting!). You know about who has come out this year, about who railed against equality but maintained they totally aren't bigots, about who is working to rid California of the trans protection law that would have gone into effect on Jan. 1.
Instead, let's talk about that Gay Agenda that seems to get so much attention.
We, of course, know that the official Gay Agenda is all about ruining civilization for conservatives, right? All that talk of equality and such is just another way for us to threaten children and attempt to push our degenerate lifestyle "choices" on others.
Well, no. Strange as it might seem, most LGBT people are regular people doing regular things.
It's true! Between ruining the world and spreading "the gay" by our mere presence in public places, we do mundane things like get the tires rotated, make shopping lists and brush our teeth.
So, in the spirit of lists and in honor of all us regular folk who live under that rainbow umbrella, I present: The Gay Agenda: Holiday Edition!
Complain that the holiday season started before Thanksgiving. (Decorations on sale on Nov. 11? Have they no shame?)
Dig out a variety of holiday music. Everything from Mariah Carey to Air Supply. Buy a few new albums at the last minute while standing in line at Target. Get lazy and let "The Nutcracker" play on repeat for two solid weeks.
Vow to watch your weight. Vow to let yourself indulge in the holiday festivities. Circle all buffet lines and party platters several times trying to justify the extra cookie.
Attend holiday parties at work, the community center, the bar and friends' houses.
Buy and then consume copious amounts of wine, punch and eggnog.
Eat too many cookies.
Make a list of people you plan to buy for and people you plan to bake, knit, scrapbook and create for.
Lose list and spend frantic moments on Amazon.com on Dec. 19.
Have another cookie.
Experiment with what alcohol is the best addition to eggnog.
Chuck the eggnog and go back to Baileys.
Dip cookie in Baileys.
Donate to charity. (But not the Salvation Army.)
Dig out decorations, curse yourself for not properly storing Christmas lights and ornaments. Throw away bad strings and buy new strings of lights.
Hang stockings. Yes, even the cat gets a stocking.
Drink seasonal drinks at Starbucks.
Complain about the warm weather.
Complain about the rain.
Say things like "It just doesn't feel like Christmas yet" and "I can't believe Christmas is just around the corner."
Think fondly of holiday season of your youth—when someone else did the driving, planning, cooking and shopping.
Call family members you only talk to once a year. (Have another swig of Baileys.) Vow to keep in better touch.
Skim annoying holiday letters from people you are pretty sure you only sort of know.
Attend specific holiday-type events like Santa at the mall (complain about the cost of photos), Christmas Tree Lane (complain about the traffic) or Christmas church/school pageants (wonder why your daughter, son, niece, nephew or grandchild wasn't given a bigger part—are they blind? Your prodigy is a star!).
Watch holiday-themed movie or TV special (Charlie Brown, Frosty the Snowman, Elf, A Christmas Story, Die Hard).
Purchase special holiday-themed sweater, slippers or PJ's. Forget to wear it until Dec. 27.
Start a new family tradition of something quaint like eating clam chowder on Christmas Eve.
Realize on Dec. 28 that last year's new tradition was a promise to your family that you would stop creating random new traditions every year.
Eat all the leftover cookies in one big binge.
Buy more milk. And Baileys. And a last-minute gift at CVS for the coworker you totally forgot existed.
Make New Year's Eve plans on New Year's Eve.
Toast the New Year at 10:30 p.m. and go to bed. The DVR will record the fireworks and the parade.
*****
Kaylia Metcalfe is a writer, blogger and activist in Fresno. She is a cofounder of Skeptics Without a Cause and serves on the Gay Central Valley Board of Directors. Her short story collection "Links" is available at www.amazon.com. Contact her at kayliametcalfe@gmail.com.