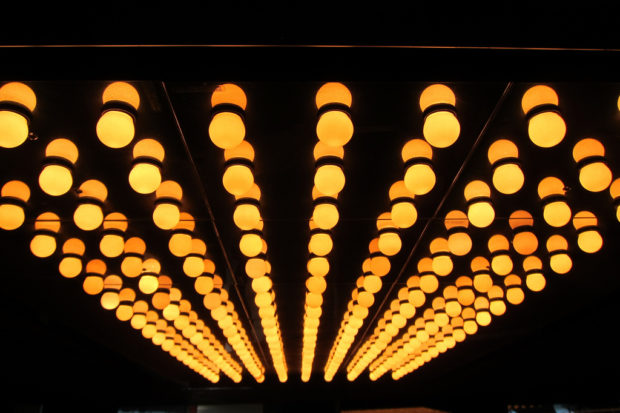 By Alfonso C. Hernandez
Filippo Tommaso Marinetti in his "Manifesto of Futurism" (1909) published in Paris' Le Figaro on Feb. 20 wrote the major principles of futurism among which were the loathing of artistic traditions from the past. The futurist found inspiration in technology, violence and speed.
Umberto Boccioni in his "Manifesto of Futurist Painters" in 1910 said that the futurist had to fight the existence of museums and the worshipping of all the preceding centuries of art. The futurist also had one innovative aesthetic concept in reference to the production of drama: synthesis. They believed that all plays could be condensed into 10 minutes of plot. Hamlet by Shakespeare or Hedda Gabler by Ibsen are no more than 10 pages in futurist theater.
The Barn Theater of Porterville recently produced The Complete Works of William Shakespeare (Abridged) (Revised) by Adam Long, Daniel Singer and Jess Winfield. Wendy Plaisted and Charles Hickinbotham directed three young actors—Ernest Medina, John Kay and Corey Barnes—who played a parody of all the works written by Shakespeare. Hamlet and Romeo and Juliette took more than five minutes each while the other plays ranged from one liners to a few sentences.
Because the fourth wall was eliminated, we see the actors improvising scenes and speeches with references even to the local culture producing unrelenting laughter in the audience. All forms of humor, from malapropisms, innuendos, allusions, mispronunciations, farcical and slapstick occurrences, ridiculous fast costume changes, irreverent, silly, vulgar and obscene, hilarious efforts in characterizations and dialogs are included.
Given the preceding points and because the pacing is diabolical, the play is not a real synthesis of Shakespeare's but only an effort to synthesize in an hour and a half 37 works of theater and the sonnets. The actors play themselves, therefore there is no effort of characterization or of real diction to make the work intelligible. Sometimes the mumbling became a part of the action.
John Kay performed most of the female parts without any effort to distinguish Ophelia from Gertrude, except one was blond and the other was a redhead. Very, very comical, but extremely flawed. Kay did stop the show for a moment of silence delivering some lines from Hamlet.
The Sierra Vocal Arts Ensemble directed by Fred Knutson, accompanied by Donita Roulsten at the piano, presented a preview of their European concert at the Methodist Church at Plano and Morton in Porterville. The choir sang several pieces that they will sing in Prague and Augsburg and Darmstadt, Germany. They will also visit Vienna and Salzburg in Austria. Specially well sung were "Set Me as a Seal" by Rene Clausen, "Sure on this Shining Night" by Morten Lauridsen, "The Sea Lullaby" by Eric Whitacre and "Kyrie" from Schubert's Mass in G. The choir will sing the entire mass accompanied by a chamber orchestra in Augsburg. Bon voyage!
Once again, the best concert of the season took place on June 4 at Porterville College, produced by the Porterville Summer Strings Artist-in-Residence workshop. The concert was historical in approach starting with a premiere in Porterville of an abstract composition called Three Musical Moments (c. 2010) by Elliot Barl for violin and miraculously perfectly played by Carry Ann Bark. Meghan Yost and Josiah Coe, violas, played Lament (c. 1911–l912) by Frank Bridge. Every one of the musicians played their instrument masterfully, especially in the "Andantino-Allegretto" from The Trout Quartet by Franz Schubert: Allison Stewart, violin; Josiah Coe, viola; Jared Cooper, cello; Evan Spieker, bass; and Jared Fisher, piano. Best of all was A. Vivaldi's Concerto No. 2 in G minor, L'estate (Summer). Carrie Ann Bark, Paul Young and Gregoy Smith at the piano plus the previous musicians excelled here.
Benjamin Hoffman, violin solo, is a true discovery. He directed the musicians and played with clarity and musical expression comparable to those of world-class and more mature violinists. Bravo Benjamin!
Italian futurism has inspired other groups such as the neo-futurist experimental theater founded by Greg Allen. This troupe created Too Much Light Makes the Baby Go Blind: 30 plays in 60 minutes. August Strindberg said much before that all plays were really one act, and he proved that with Miss Julie.
The Complete Works of William Shakespeare is a truly flawed work of art because the authors make a farce of all Shakespeare's plays following the tone and intention of Shakespeare's interludes. Just pure entertainment. Entertainment, without any demands on the public, no suspension of disbelief, no after philosophical meaning or discussion. "It's all on your face," said one critic at the Barn on opening night.
As for the Italian futurists, many of them became fascists and that was their undoing as artists, writers, poets and musicians. I wrote part of my Ph.D. dissertation on that literary movement, but I stopped after writing the chapters on the origins, the poetry and the theater.
*****
Alfonso C. Hernandez is a writer and poet from Three Rivers, Calif. Contact him at alfonsochernandez@hotmail.com.