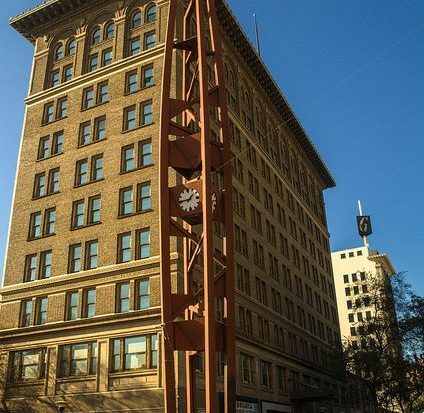 By Ray McKnight
On Feb. 27, 2014, the Fresno City Council voted 5 to 2 to proceed with the Fulton Mall Reconstruction Project, a plan to turn the pedestrian-only mall into a street. The city has recently requested bids for the project and claims that work will begin by the end of the year, but saving the mall is still possible. The Downtown Fresno Coalition has filed both state and federal lawsuits alleging that the environmental impact studies that made destruction of the mall possible were done improperly.
The suit filed in the Fresno County Superior Court in September 2014 was denied. In January 2015, an appeal was filed in the Fifth District Court of Appeals. The federal suit was filed in the U.S. District Court, Eastern District, in October 2014.
New information confirms what we have always contended—this is the Fulton Mall Destruction Project. The proponents of the project have gained support with attractive drawings of a shady avenue and promises to retain many of the features of the mall as originally designed by Garrett Eckbo. Plans recently procured reveal that approximately four-fifths of the mature trees on the mall will be cut down. Replacing them with saplings means that for years to come Fulton Street will be a heat-sink.
In an addendum to the project bid package distributed to potential contractors, we find this language: "Substantially complete shall mean the completion of all streetscape work, including but not limited to underground utilities, street improvements, traffic signals and lighting, sidewalks, landscaping, and fountains, but excluding the art restoration/ reinstallation; and not the project scope in its entirely."
This change in the terms of the contract could mean that once removed and put in storage, the sculptures and mosaic benches might never be returned to any part of the Fulton area.
Elsewhere in this edition of Community Alliance readers can learn what one Fulton Mall artist, Stan Bitters, has experienced when dealing with the city regarding the fate of his art.
Tax-deductible contributions are needed to support the litigation to save the mall. Write your check to 1000 Friends of Fresno and put "Save the Mall" on the memo line. Mail to 1000 Friends of Fresno, 4781 E. Gettysburg Ave., Fresno, CA 93726. Calls to City Council members also help.
*****
Ray McKnight was chair of the Downtown Fresno Coalition for 11 years. He is a professor of English, emeritus, at Fresno State.