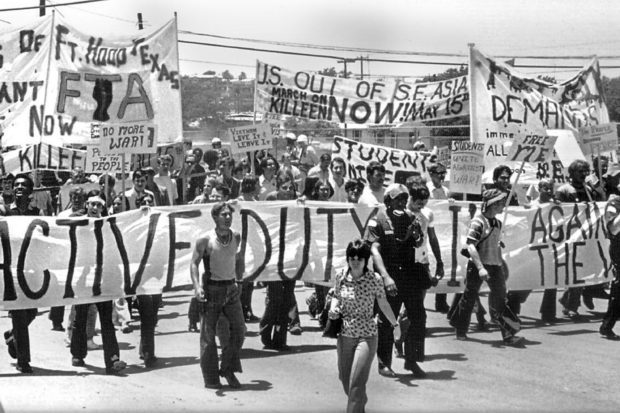 BY JOSHUA SHURLEY
"I need to do something about this, and we need to end this war!"
By late 1968, more than 15,000 American GIs had lost their lives in Vietnam during that year alone, and millions of Vietnamese civilians had been killed or displaced as a result of the war's brutality. With fresh memories of the so-called Tet Offensive earlier that year, it was becoming clear that the war would not be ending soon, as U.S. officials had been insisting.
For one young lieutenant named Susan Schnall, serving as a nurse with the U.S. Navy, this was too much to bear. Her patients had been a near endless stream of young Marines returning from combat, victims of horrific physical and psychological injuries. Schnall's disgust with the human toll of the war grew too much and ultimately compelled her to take action.
In October of that year, Schnall set in motion a course of events that would forever impact her life—and affect the burgeoning antiwar movement. After becoming aware of a GI and veterans peace march occurring later that month, and after reading about leaflet drops that U.S. forces were doing in Vietnam, Schnall and a colleague became inspired.
They rented a small airplane and flew over five Bay Area military bases, and (similar to Air Force "psychological operations" in Vietnam) dropped tens of thousands of leaflets on the bases below—including the deck of an aircraft carrier. Only these leaflets were adorned with messages calling for peace in Vietnam and promoting the GI and veterans peace march. A San Francisco Chronicle article later that week would dub her the "leaflet bomber."
Immediately afterward, Lt. Schnall held a press conference about the leaflet drop, committing an act of civil disobedience by doing so in full military dress uniform. She then marched in that October 1968 peace demonstration in San Francisco, which had the largest contingent of active-duty GIs that had ever participated in an anti–Vietnam War protest.
She would later state, "I had the same rights as General [William] Westmoreland, who spoke to the U.S. Congress about increasing the number of troops in Vietnam. I thought 'if General Westmoreland could speak about the war publicly, why couldn't I?'"
As a result of Schnall's courageous actions, as well as her trial by court martial in early 1969, some of the most provocative news coverage of the antiwar movement was elicited during that period. She later told Redbook that this time period represented not just what was happening in Vietnam but "my own stand for peace, for an end to all wars," describing the march and speech she gave as "my coming out as a human being."
This began a life of service for Schnall, who went on to pursue a career in healthcare in the New York City area. Aside from spending two decades as an adjunct professor of public health at New York University, her activism for peace and justice continued with a handful of peace, social justice, environmental and public health advocacy organizations.
In 2006, she traveled to Vietnam and encountered children who had been born with terrible deformities and birth defects caused by the Agent Orange chemicals sprayed by U.S. forces during the war. Soon after, Schnall began her work with the Vietnam Agent Orange Relief and Responsibility Campaign, of which she is now the co-coordinator.
She eventually joined Veterans for Peace (VFP), a global organization of military veterans and allies dedicated to building a culture of peace by leveraging their unique experiences as veterans. The VFP's goal is to educate the public on the true costs of wars in hopes that war might one day end for good.
It also recognizes an obligation to heal the wounds of war, not only among fellow veterans but also the wounds that U.S. war-making has afflicted worldwide. Today, the VFP has more than 140 chapters across the United States and in several countries.
Schnall has served as the president of the New York City chapter of the VFP and has chaired numerous committees and projects. Over the past five decades of activism, she has been the subject of numerous interviews, articles, books and film projects, including the 2005 documentary Sir! No Sir! (by Displaced Films).
Today, Schnall is the president of Veterans for Peace, its message of "Peace at Home, Peace Abroad" has a near-universal resonance and Schnall's leadership of the VFP amid today's ongoing domestic and international turmoil could not be more valuable to the cause of peace.
Whether we think back to the Vietnam War in 1968 or are looking at the Ukraine War today, we should all unite around the sentiment of young Lt. Schnall so many years ago: "I need to do something about this, and we need to end this war!"
Schnall will be in Fresno on July 1 as the keynote speaker for the anniversary celebration of the Fresno Center for Nonviolence. The event seeks to bring together the Central Valley's peace and social justice community in solidarity and celebration of our efforts, and will honor local activists and organizations with the Center's Way of Peace awards.
*****
Dr. Joshua Shurley is a political science professor, an organizer with Veterans for Peace and a board member of the Fresno Center for Nonviolence. Contact him at joshuashurley@gmail.com.