By Simone Whalen-Rhodes
Having lived in Santa Cruz and the Bay Area I am well aware, as many are, of the bad rap that Fresno gets. On top of the many social and economic problems that our city faces, many people also doubt our cultural relevance. I was in the heart of the Queer Electronic scene in Santa Cruz that felt so groundbreaking, and when I moved back to Fresno I thought my days of coming home to shows and band practice were over. However, I was pleasantly surprised by the blossoming and engaging music scene going on here.
About a year ago, when the Bel-Tower was shut down by the police it seemed to be a crushing blow to the Fresno DIY (Do It Yourself) music scene. The spirit of the DIY scene is to exist and maintain without a record label, to be community based over profit based. However, the creative ability of this scene to endure and carry on has impressed me.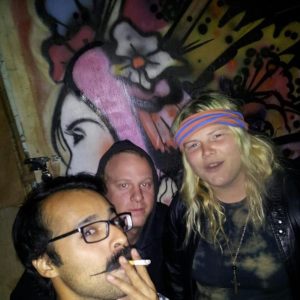 About this same time, a group of artists developed a group called Friendcore, all members of bands in the Fresno community. The group has blossomed by playing DIY shows at venues such as the Infoshop and Chinatown Youth Center (CYC) in downtown Fresno. The Infoshop became reminiscent of the Queer music scene I adored in Santa Cruz, providing a community space for many bands to conduct practices and shows.
On any given day, you can walk down the streets of Chinatown and hear the drums beat and the songs play, showing off the local talent. This sense of community has reminded me of why I call Fresno my home and gives no doubt that we always have cultural relevance.
Local bands such as I Do Not Exist, Murder Park, Strawberry Jam and Sci-Fi Caper have kept the music scene alive. Recently, I went to Strawberry Jam's amazingly successful and well-attended last show at the Art House (also in downtown Fresno). The band is made up of all women and plays hauntingly beautiful rock music. Many of the members are in other bands too, and to highlight the strength of the Fresno music scene even with the breakup of this band there is already talk among some of the members of creating a new all-girl band.
Over the past year of listening and watching many Fresno artists break onto the scene, it is incredible that I only see this growing. It sometimes takes some creativity such as organizing shows at local parks like Roeding and Woodward. That is why it is so important that there are venues in Fresno that still encourage this surge in creative youth.
Events like ArtHop provide a space for bands, and sometimes bands like Passion Bucket (which jumps from location to location during ArtHop on bikes!) just make their own venues. The newly developed CART Hop, which takes place every Thursday at the Fulton Mall, is a gathering of food trucks that often features a local band. Old venues like Tokyo Gardens and Audie's provide a great stage for these bands as does the newer Fresno Brewing Company.
Figuring out how to get to these shows can be tricky too. The best way to find local bands and show times is to like the bands on Facebook. Bands like Sci-Fi Caper, I Do Not Exist and Murder Park will post regularly on Facebook about upcoming shows. Another way to find out about shows is to look in the Tower District or the Infoshop for flyers announcing upcoming shows.
Sometimes these talented gems are hard to find in the enormous landscape of our city, but what I have to say is never doubt that it is here. You don't have to pay $50 at the SaveMart Center to hear a good live band. You can support our local musicians for $5 or less. You may have to step out of your comfort zone to a venue in Chinatown after dark. These venues sometimes can seem strange and even unclean put up against the experience of going to the SaveMart Center.
But in the true spirit of DIY this is about realness. You may see some homeless people on the corner or new murals hanging up on the walls. But in the spirit of hearing some new music that people in our community have written, it all becomes part of remembering and exploring what Fresno has to offer. And when you visit a new gritty venue or hear some local music you'll know this is about sharing our experience as a community, not about commercial profit.
*****
Simone Whalen-Rhodes is an engaged member of the local music scene. Contact her at swhalenr79@gmail.com
Friendcore Venues:

Tokyo Gardens
1711 Fulton St.
Fresno, CA 93721
559-268-3596

Audie's Olympic
1426 N. Van Ness Ave.
Fresno, CA 93728
559-233-3733

Fresno Brewing Company
1243 Fulton Mall
Fresno, CA 93721
559-393-0260

Infoshop
935 F St.
Fresno, CA 93706
Chinatown Youth Center (CYC)901 F St.Fresno CA 93706