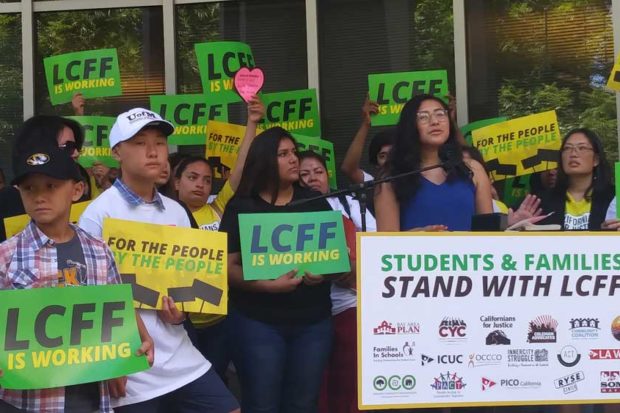 By Ziaunna Temple and Draquari McGhee
On July 12, Draquari and I, along with hundreds of high school students, parents and education advocacy groups from 30 cities across California, went to Sacramento to hold a press conference at the Department of Education to send one clear message to legislators and future California Governor: The Local Control Funding Formula (LCFF) is working!
With the tide of attacks on public education, California's fair school funding system, the LCFF, has also been swept down by bad press. At least 12 negative articles have been posted versus four positive ones in the past three months. These attacks on the public education fair funding system have raised fear in many students of color, especially in Fresno. Why? Governor Jerry Brown is on his way out in 2018, a champion for fair school funding, and with a third of the California legislators being new and overwhelmingly exposed to negative press on the LCFF, a fair funding system for education could dissipate.
In 2013, California implemented the radical LCFF public school funding system. I say it's radical because after 40 years of having a broken funding system, students of color, parents and youth-based organizations across the state fought to change it so that schools with the highest-need students, such as low-income, foster youth and English-language learners, could get more funding to better support their educational needs.
The LCFF is working, and there is more to it than just what the media is showing. California's fair school funding system is targeting students like me, who are low income. It was a struggle for me to be involved with other activities at school because I didn't have the money or transportation. I worked my way around it, but it was hard. A fair funding system that prioritizes students who are struggling financially at home makes a difference for them to succeed.
For Ziaunna and I, a fair school funding system enables more students to become involved in their education. More school resources allow students to feel empowered to take their education in their hands and to make a difference in their life; not just stay in a system that demeans and makes them lose hope.
Fair funding enhances school programs, such as student advisory committees and restorative justice, as well as invest in practices to integrate student input from every student enrolled and develop student leaders to organize activities and events and give input to decision making in their school districts. For low-income students, English-language learners and foster youth, fair funding is the answer to increase their involvement in schools, improve test scores, attendance and especially if funding is used for restorative justice practices, to build better connections among students and staff, and increase their yearning to come to school.
The Fresno Unified School District (FUSD) is an example of how the LCFF is working because of what we accomplished as students in our school district's budget this year. I was part of a delegation with Californians for Justice that met with the superintendent and school board members to propose that we invest in a design team to pilot relationship-centered schools (RCSs).
I shared my story on why building better relationships between school staff and students matter. I had a teacher who failed me in her class, but they never knew I was going from home to home as a foster youth, which affected my focus in school and my grades. She told me that she wasn't obligated to help me because I came in the middle of the school year. So, who was I supposed to get help from? If you can't connect to teachers, how will you learn? If teachers can't connect with you, how will they teach you?
In California, one out of three students cannot identify a single caring adult on their campus. That's why I was committed to pushing for RCSs so that students are given greater leadership roles in school, more investment is given to school staff and spaces are created to build meaningful relationships across students and adults on campus. Now, the FUSD will utilize the LCFF funds to design and pilot RSCs that will benefit students like me. None of this would have been possible without California's fair funding system.
So, to our Fresno legislators:
We need you to commit to the LCFF promise. Standing with fair funding means you are standing with youth of color, low-income students, English-language learners and foster youth. I am a foster youth and a low-income student who has encountered many trials in life revolving around school. Once California's fair funding system was implemented, my voice became heard, valued and reflected across the state and in my school district about changes that I felt needed to be made.
Before our fair funding system, all I was doing was going to school and trying to get out. I didn't know what was going on, or even who the principal was. When I became a part of Californians for Justice and organized to integrate student voices in the fair funding process, it opened a new door to keep pushing for this to be a priority. It's not just Ziaunna or me, there are 73,000 students in the FUSD alone. More than 80% of them are low income, foster youth and English-language learners.
Jeopardizing our school's fair funding system is jeopardizing the future of students in Fresno and throughout California. So, stand with Fresno's youth, stand for the future of our communities and stand with California's fair funding system!
*****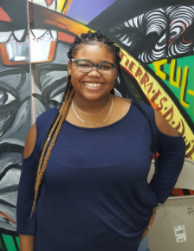 Ziaunna Temple is a sophomore at Edison High School in Fresno and currently a Summer Youth Leadership Academy (SYLA) intern with Californians for Justice (CFJ). The CFJ has assisted her in engaging her school board and deeply understanding the problems that her community, state and country are facing, as well as coming of age and connecting with her identity. As a 15-year-old Christian African American young lady, she has matured more by taking a leadership role in her community. Ziaunna plans to continue her education and study in the medical field.
Draquari McGhee is a foster youth and recent graduate of Edison High School, class of 2017. Draquari has been involved in the formation of the LCFF since his freshman year of 2013. Getting involved with Californians for Justice in the Fresno region, Draquari has bloomed into a student social justice leader making change in the educational system one step at a time. Draquari will be attending Fresno City College in the fall and is majoring in registered nursing. He will still be an active community member in the organization that has groomed him into the influential effective organizer he is today.