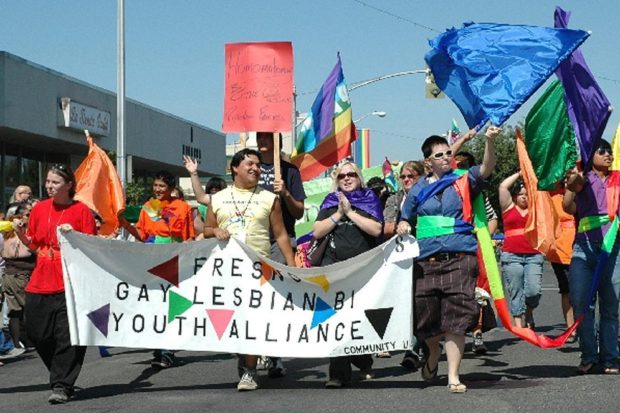 By Dante Bellota
Rainbow Pride means many things to me as a gay man. When I was a youth coming to grips with my sexuality, I knew nothing of the context of Pride. Pride was not talked about as I was growing up. I never saw Pride celebrations in the media (television or radio), and I never read about the event in books, newspapers or magazines. I'll tell you though, Pride changes lives—it changed mine.
Pride celebrations started during the Stonewall Riots in June 1969. It was a time when people looked forward to a gathering of people—a family in some sense—to come together and be openly LGBT+. Since Stonewall, Pride has been celebrated every June in communities across the nation. In Fresno, for the past 23 years, Pride has taken place the first Saturday of June. This year, the Fresno Rainbow Pride Parade and Festival will be on June 7 in the historic Tower District.
My first Pride experience was right after moving to Fresno. I was nervous and elated. I recall walking down the streets, seeing hundreds of people joined together along the sidewalks, waving little rainbow flags, watching as floats rolled. To see smiling faces all around was enough to spark the most intrinsic of connections.
On that day, it dawned on me that finally there was somewhere I could go to feel like I belonged and be with people that identified just like me. Diverse people of varying race, creed, sexual orientation, gender identity, age and religion all attended. From start to finish, I noticed, and felt, what community meant. The laughter, the joy and the amount of support that our community displays is astonishing.
After attending my first Pride celebration in Fresno, I made what seemed like a pilgrimage to San Francisco Pride. I was overwhelmed, and in awe, of the overall experience. Having gone to the event in Fresno a few weeks before, the rainbow spectrum of people attending and number of things taking place heightened the experience for me. It was then that I felt like there was a real, tangible reason why we have Pride parades to this day.
Take a look at recent news. The bullying of youth, high rates of suicides and same-sex marriage are all being exploited by homophobia. Struggles are prevalent that LGBT+ people are not treated the same. With that said, by seeing equality slowly start to break ground, it has invigorated the LGBT+ community—a group of people who have come together to overcome concrete and surmountable issues. That is why we have Pride today. It's because there will always be people who refuse to see eye to eye with others in the communities we live in.
As LGBT+ people, we continue to be seen as being different. It's not acknowledged that we all have been born from a womb, have the same life-giving blood pumping through our veins and have the capacity to love unconditionally. Pride parades and festivals are not only a fun, social celebration but also a chance to actively embrace where our LGBT+ family came from, where our community stands presently and how much growth is still out there in the drive for equality.
This June, let's celebrate Pride on the common ground that we find in our individual differences as human beings. We should all be proud to be human and find reason to celebrate our unification. You'll come to find we are not so different after all.
As a blogger to the online community and an active volunteer with My LGBT Plus (www.mylgbtplus.com), an organization dedicated to connecting, interacting with and supporting LGBT+ individuals throughout the Central Valley, I feel I am fulfilling the need of support my younger self needed. With the ultimate goal of bringing people together, let's celebrate Pride this June together with open minds, open hearts and the possibility to allow for love to be shared with the people around us.
The 24th Annual Fresno Rainbow Pride Parade and Festival will take place on June 7 in the Tower District. The parade will begin at 10 a.m. on Olive Avenue, starting at Palm Avenue and continuing to Wishon Avenue. Following the parade, a festival will run until 3 p.m. featuring local community organizations, LGBT+-friendly vendors and live entertainment.
(Author's note: Thanks to Justin Kamimoto for his assistance in preparing this article.)
*****
Dante Bellota is a supporter of Pride celebrations. Contact him at staff@mylgbtplus.com.