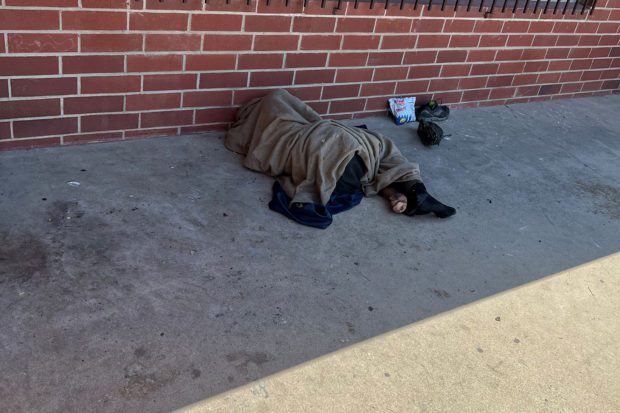 Our economic system, with its excessive corporate greed and its concentration of ownership and power, destroys anything that gets in the way of profits. It destroys lives and discards human beings. The phenomenon of hedge funds and Wall Street investors buying up housing stock and then raising rents is a good example.
The poor and the unhoused have been discarded in the United States. Unhoused people have different stories about how they ended up on the streets, for example, escaping domestic violence or losing a home during a divorce or due to the death of a spouse or to a fire.
Many faced eviction during the pandemic, and many are on the street due to rent increases. Others are foster children who turned 18 without support; some struggle with addiction. Some were ostracized because they are LGBTQ+ or were forced to leave home.
Many struggle with mental and physical disabilities. More and more people are on the streets because of the high cost of housing and the housing shortage.
Recently, because of the City of Fresno's current policy, enforced by the Homeless Assistance Response Team (HART), those who are unfortunately on the streets face even more danger and misery.
Sadly, two unhoused women were run over and killed by an alleged drunk driver on April 23 as they slept in a tent close to a busy intersection on Ashlan Avenue near Highway 41, as reported by the Fresno Bee. The Fresno County Sheriff Coroner's Office identified the victims as 30-year-old Brianna Britton and 61-year-old Kathy Esqueda.
Tragically, a day later, on April 24, television station KSEE/KGPE reported that an unhoused man, later identified as 59-year-old Eric Bennett of Fresno, was burned to death in a tunnel near Norwich and Santa Fe avenues.
Say their names: Brianna Britton, Kathy Esqueda and Eric Bennett
Arguably, these three deaths could have been preventable if HART did not harass, intimidate and force people to move and throw away their possessions on a daily basis. The City uses HART to force unhoused people to move every day without providing shelter, as mandated by the Ninth Circuit Court of Appeals' Martin v. Boise decision. Hence, people are forced to move to dangerous locations close to busy streets and in irrigation tunnels, such as the locations where Britton, Esqueda and Bennett were.
The establishment of safe camps and safe lots would prevent the inevitable reoccurrence of further tragedies such as these. Currently, the City of Fresno opposes safe camps. Alternatively, the establishment of tiny home villages would provide some housing quickly.
The State of California provided $5 million to the City of Fresno in February 2022, and the City allocated another $5 million in March 2022 for a tiny home village to house 100 people. That project is now stalled. This is irresponsible and shows a lack of real interest in providing safe housing quickly.
Elected officials are accountable for the policies they implement and their failures to implement funded housing projects. Obviously, the Fresno City Council is responsible for any and all outcomes of its policies, including any deaths that occur as a result.
The mayor and city council of Tulare, to their credit as responsible leaders, have established a safe camp and safe lot for the unhoused residents of Tulare. Like other cities, Tulare has recognized the mandate of Martin v. Boise to provide shelter before displacing an unhoused person.
We recently e-mailed Fresno's mayor and city council these questions: Will the City reconsider its current position on safe camps and lots? Why is the City unwilling to comply with a court mandate when other cities comply? How can the City prevent future tragedies? When will the tiny home project break ground? These and other questions remain unanswered.
In addition to accidental deaths, unhoused people die every winter and summer from exposure to the elements. Many die in pedestrian accidents, and some die from drug overdoses and the long-term effects of drug use.
An article in the May issue of the Journal of the American Medical Association, "Population-Level Health Effects of Involuntary Displacement of People Experiencing Unsheltered Homelessness Who Inject Drugs in U.S. Cities," models 23 U.S. cities and studies the effects of involuntary displacement (e.g., "sweeps," "cleanups") on unhoused addicted people.
The article summarizes a study that found "500,000 in the U.S. experience homelessness nightly. More than 30% of people experiencing homelessness also have a substance-abuse disorder. Involuntary displacement is a common practice in responding to unsheltered people experiencing homelessness.
"Understanding the health and the implications of displacement is important especially as they relate to key substance-abuse disorder outcomes. Models estimated between 974 and 2,175 additional overdose deaths per 10,000 people experiencing homelessness at 10 years in scenarios in which people experiencing homelessness who inject drugs were continually involuntarily displaced compared with no displacement.
"Between 611 and 1,360 additional people who inject drugs per 10,000 people were estimated to be hospitalized and there was an estimated 3,140 to 8,812 fewer initiations of medications for opiate use disorder per 10,000 people. Continual involuntary displacement may contribute to between 15.6% and 24.4% of additional deaths of unsheltered people experiencing homelessness who inject drugs over a 10-year period."
Take Action!