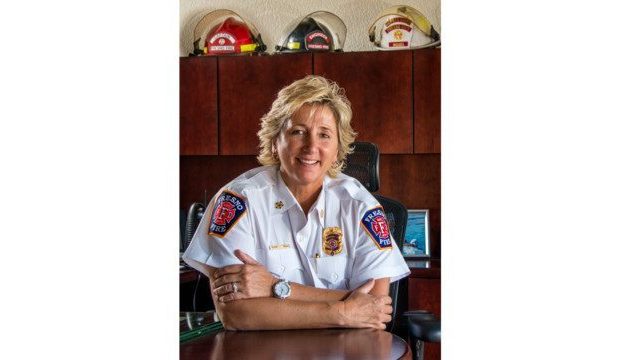 By Susan McCall Carrasco
Fresno Fire Chief Kerri Donis, who broke through the glass ceiling to become the first woman to hold that position in the Fresno Fire Department's 130-year-plus history, will speak at the July meeting of the National Women's Political Caucus (NWPC).
Donis began her career as a firefighter for the Fresno Fire Department in 1996, where she served in a variety of positions, including firefighter, engineer, captain, staff captain and as a deputy fire chief. She held the interim fire chief position for seven months before being appointed permanently in January 2014.
She came to Fresno to play softball at Fresno State in the late 1980s. Building on that foundation, Donis finds herself using the team skills she learned on the field and honed in the field of fire service.
Donis is a member of several professional organizations, including the International Association of Fire Chiefs, the Central Valley Fire Chiefs and the California Fire Chiefs Association, as well as a Rotarian and coach for youth softball, baseball and soccer in the community.
NWPC is a multicultural, intergenerational and multi-issue grassroots organization dedicated to increasing women's participation in the political process and creating a true women's political power base to achieve equality for all women. The organization recruits, trains and supports pro-choice women candidates who support the group's "bottom-line issues" for elected and appointed offices at all levels of government regardless of party affiliation.
NWPC will meet on July 7 at 5:30 p.m. at Toledo's Restaurant (367 E. Shaw Ave.). The cost to attend is $18 (including dinner) or $5 attendance only. To RSVP or for more information, call Missy Heffron at 559-227-6541.