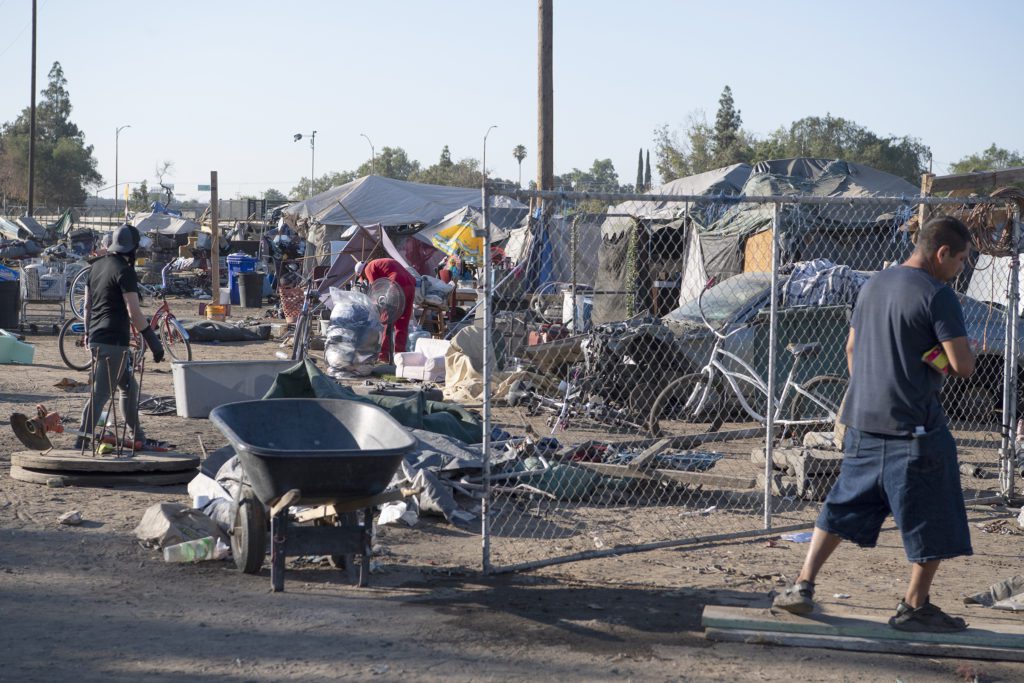 By Bob McCloskey
In one of the hottest summers on record, the City of Fresno continues to fail to provide housing for its most vulnerable citizens. As the mayor and City Council members tout their efforts to address the housing crisis (e.g, Project HomeKey), the unhoused languish in the heat and still face removal from their locations.
At the City Council meeting of July 29, several unhoused members of our community spoke directly to the mayor and the Council. Led by homeless advocate Dez Martinez, street family members told heart-wrenching stories of life on the streets of Fresno. Martinez had also organized a sleep-out on April 22 at City Hall to bring attention to the crisis and demand immediate shelter for people.
The new Fresno Homeless Union is being organized, and further actions are coming as part of a statewide effort to demand housing now.
At the City Council meeting of April 29, the Council reiterated its intent to systematically remove homeless encampments from (in this order) areas near schools, parks, residential districts and business districts. The City of Fresno continues to displace the unhoused even though it acknowledges that there is no housing or even shelter beds available.
Although some of those removed from freeways through Project Off-Ramp did receive housing or shelter beds, others were forced to relocate to other areas. As more unhoused persons are moved with almost no place to go except the industrial area where all the shelters are located, life on the streets is more miserable than ever. The industrial zone near Ventura and Broadway streets is a heat island, treeless, without shade and deadly in a heat wave.
On July 12, a record-breaking temperature of 114 degrees Fahrenheit was recorded in Fresno. The climate catastrophe we are all facing is affecting the poverty-stricken and homeless the most. Temperatures above 135 degrees have been recorded inside tents.
We cannot allow this unfolding tragedy to continue. We must organize and fight for the right to permanent housing.
Mayor Dyer brags about housing 435 folks in the newly renovated motels that are still not considered permanent housing. He has addressed less than 10% of the need and says it will take three or four years to house everyone.
Thousands of unhoused persons on the streets of Fresno still need safe shelter. This is not acceptable. We are facing a humanitarian crisis on the streets of Fresno, which is considered the third-largest hotspot for homelessness in the entire country.
We have to follow the money. The Fresno area has received more than $160 million in the last two years to address homelessness.
Reinforcing the status quo, most of the money has been used to expand shelter beds, temporary housing and a variety of services. This is the traditional "Continuum of Care" model, based on the premise that unhoused people need "care" first for dysfunction, such as substance abuse or mental illness. Research shows that 30%–45% of the chronically homeless fit this profile, and the chronically homeless represent just 20% of the homeless population.
In the alternative "Housing First" model, the same $160 million would provide actual permanent housing for about 3,000 people in four-bedroom, two-bathroom housing. The Housing First model would provide permanent housing in tandem with social services provided offsite.
At the low end, a house can be built for $150/square foot. A four-bedroom, 1,500-square-foot house could be built for $225,000. Divide $160 million by $225,000 and the result is 711 new four-bedroom houses, housing at least 3,000 people mortgage-free.
Modular homes, container homes and tiny homes can be built with even lower costs. Some of the unhoused could be employed to build these homes. There are many "homeless" people who have construction experience. Imagine how local jobs and apprenticeship programs in the building trades could greatly expand if housing construction was prioritized.
Not only failing to provide housing and shelter, or even portable sanitation, the City is also failing to offer even a modicum of humanitarian assistance. Many of the street family members are disabled, many are elderly with tiny Social Security incomes and all are desperately poor. The City and County should be using emergency funds available to do humanitarian assistance.
On April 22, the mayor and the Council committed to providing portable restrooms and showers throughout the city. But even during the scorching days of mid-August, there was still no sanitation. Were they just boldly pontificating?
Fresno's initiatives on homelessness so far have been a multimillion dollar subsidy to a complex of service providers, contractors and the City itself. These initiatives will not end homelessness.
The City's plan is based on the false narrative that people become homeless because of some personal failure. The fact is, and it must be said repeatedly, that the leading cause of homelessness is the high cost of housing and low incomes.
The remaining funding and future funding must be used to build permanent safe housing, such as single-family residences, modular homes, container homes and tiny homes. Thousands of families and individuals could be housed using the Housing First approach.
Until real permanent housing is provided, the City and Fresno County have an obligation to bring vital infrastructure services such as water, restrooms, sanitation services and cooling centers to the unhoused and existing encampments. If the lives and safety of the unhoused citizens of Fresno mean anything to the elected leadership of the City and County, these humanitarian essentials should be available now.
Another failure of the mayor and Council members is to get the $35 million in state and federal funding for rental assistance out to those thousands of renters who desperately need it. The City has yet to distribute most of the $35 million earmarked for tenants.
A City report from July 19 indicates only $4.3 million has been distributed to renters and landlords through the Emergency Rental Assistance Program. Another $1.5 million has been distributed to partner programs to increase housing stability and prevent unlawful evictions. The City still has more than $29 million to distribute.
Meanwhile, only 1,173 applicants of the more than 8,600 people who have applied were given funds.
The City has eliminated some barriers to the program as the federal guidelines have loosened. The process is now easier after intense lobbying by advocates. It is of utmost importance for the City to get the rental assistance out. It will help prevent a new homeless crisis as the eviction moratorium ends.
The City's failure to build housing and improve substandard housing to meet the enormous need in Fresno goes hand in hand with increasing homelessness, predations on the unhoused, heavy policing and street violence. The Housing First model is the best way forward.
*****
Bob McCloskey is an activist and retired union organizer. Contact him at bobmccloskey06@gmail.com.
###
Action Items
The Fresno Homeless Union is being organized and joining with the California Homeless Union to organize for housing and justice. Join the Facebook group (Fresno Homeless Union) to participate. For more information, contact bobmccloskey06@gmail.com.
Project H2O is an effort by homeless activist Dez Martinez and other volunteers to do outreach and pass out cold water to the unhoused. Talk to folks, reach out and provide information, sanitation packs, healthy food and water. To participate, join the Facebook group (Project H20).
The Emergency Rental Assistance Program will pay 100% of your rent between April 2020 and April 2021 if your employment was affected by the Covid-19 pandemic. Learn more at www.fresno.gov/mayor/erap/. If you live in the county outside the city of Fresno, contact 559-515-4700 or erap@rhcbfresno.com regarding this program.
Urge your elected officials to use our public tax dollars to support the Housing First model to address homelessness.