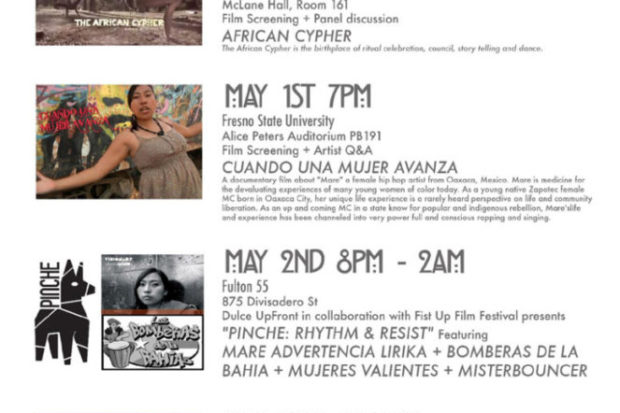 By Analicia Mia Rangel-Garcia
The 5th Annual Fist Up Film Festival will be coming to the Central Valley from April 29 to May 3. Last year, I was able to attend the film festival in the Bay Area and was taken aback by the films, the people involved and the discussions that took place. Experiencing this, I felt the desire to bring this same experience to my community in Fresno and I hope this is the first of many.
The Fist Up Film Festival highlights documentaries that capture the lives of underrepresented communities from around the globe with the mission to spark conversation around cultural identity, social justice and community empowerment. It started by Eli Jacobs- Fantauzzi around one simple idea: Seeing a good film can change your life.
The films creatively visualize parallels between people's lives and stories from around the world, inspiring change and activism within the community of those who are watching. When we see people fighting for justice anywhere, it reminds us of our social conditions, and how we can continue to improve conditions within our own community. Many of the films capture vibrant social movements, cultural movements and people who have changed their society, sometimes without even knowing that they have changed the course of history.
Having the opportunity to see films like these in Fresno can only bring our community closer and inspire us to become more active. Past films include Reportero (journalists documenting the narco war in Mexico), Furious Force of Rhymes (ways in which hip-hop takes root in different countries throughout the world), Crimes of the Police (looks at police brutality in California) and Jacobs- Fantauzzi's own films Inventos (looks at the hip-hop culture in Cuba) and Homegrown (about one of the founding groups of hip-life music in Ghana).
*****
Analicia Mia Rangel-Garcia is a student and poet, currently studying and implementing the power of healing and therapy through a multicultural, social justice lens.