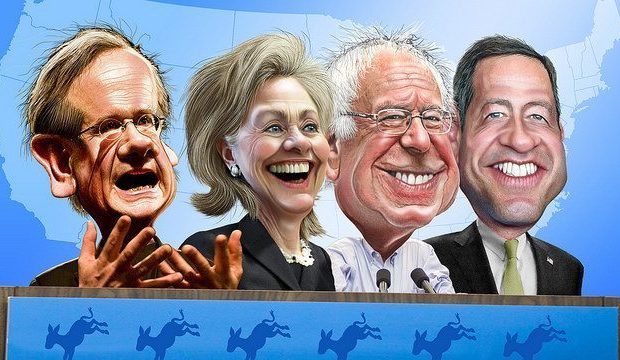 By Michael D. Evans
Our Presidential election is dominating the U.S. news, with outrageous reality-TV-like personalities and attention-grabbing demagoguery from the Republican candidates. Fortunately, we have intellectually unmatched and rational choices for President—the candidates seeking the Democratic nomination. Lest we forget, our choice for President is a critical one, and particularly so in an election cycle that will likely define our country's future for the next generation via the Supreme Court appointments. We must be prepared to unify behind the candidate who is best prepared to represent the people come November.
Although the Presidential race will continue to receive the lion's share of the press, a number of critical but so-called down-ballot Fresno County races and measures will take center stage in our June Primary Election. Voters will have the opportunity to weigh in on issues that will directly affect their daily lives in Fresno County.
U.S. Congress
Four Congressional districts cross into Fresno County, and at least one of these districts should be competitive this year. Congressional District 21 includes parts of Fresno, Kings and Tulare counties and all of Kings County. Incumbent David Valadao (R–Hanford) is being challenged by Democrat Daniel Parra, a City Council member in Fowler. At press time, another Democrat, Emilio Huerta, son of labor leader Dolores Huerta, was also contemplating a run. Although the district has a double-digit registration advantage for Democrats, it is currently held by a Republican, meaning it likely will be a targeted race nationally.
Incumbents Tom McClintock (R–Elk Grove) in Congressional District 4, Devin Nunes (R–Tulare) in Congressional District 22 and Jim Costa (D–Fresno) in Congressional District 16 will likely be reelected with token opposition.
State Assembly
Two Assembly members represent Fresno County. In Assembly District 31, an unusual situation was created by incumbent Henry T. Perea (D–Fresno) resigning a year before his term was to be completed. That now requires a special election. The likely candidates both for the special election, which will be only to fill the seat for the balance of Perea's term, and the regular election are Democrat Joaquin Arambula, an emergency room doctor, and Republican Clint Olivier, a member of the Fresno City Council. The special election might take place as early as April, but that will be determined by Governor Jerry Brown in mid-January.
In Assembly District 23, incumbent Jim Patterson (R–Fresno) is being challenged by fellow Republican Gwen Morris, who has worked with a variety of local nonprofits.
Board of Supervisors
Three Board of Supervisor races will be on the ballot this year. Republican incumbents Andreas Borgeas (District 2) and Debbie Poochigian (District 5) are up for reelection. The other seat is District 3, and the field was not yet set at press time. Incumbent Democrat Henry R. Perea is rumored to be a candidate for mayor of Fresno, in which case District 3 would be an open seat. Nevertheless, two candidates already have announced—Democrat Sal Quintero, currently a member of the Fresno City Council, and Republican Tony Gastelum, a financial consultant.
City of Fresno
Fresno city elections include the mayor's race and the even-numbered City Council districts. City Council Member Lee Brand and H. Spees, the vice president of Leadership Foundations, have announced and both are Republicans. On the Democratic side, Henry R. Perea remains the likeliest candidate to run. High-profile names who apparently have decided not to run include Fresno Police Department Chief Jerry Dyer, former Board of Education Superintendent Larry Powell and former Supervisor Susan Anderson.
Seeking reelection are incumbents Steve Brandau (Republican) in District 2 and Paul Caprioglio (Democrat) in District 4. With Brand terming out, District 6 is an open seat and at least three persons, all Republicans, have expressed interest— Holly Carter, Jeremy Pearce and Garry Bredefeld.
Judicial Races
Fifteen Superior Court judge races will be on the ballot, however, these are rarely contested except when there is an open seat. That doesn't say much for democracy, but that's our local reality.
Central Committees
Each of the political parties elects its members in presidential election years for four-year terms. In Fresno County, these include the Democratic Party, the Green Party, the Peace and Freedom Party, the Republican Party, the Libertarian Party and the American Independent Party. The candidate filing period is Jan. 1 to March 11; candidates file at the Registrar of Voters office (2221 Kern St.). For those races where there are more candidates than there are seats available, there will be an election on the June ballot. Only persons registered in the respective party can participate in that election.
The Democratic Perspective
The progressive community in Fresno County has spent years building coalitions to become more effective. Your local Democratic Party has been a key participant in these efforts. These collaborative efforts were a key to the passage of Prop 30 (an initiative to fund schools) and the defeat of Prop 32 (an anti-labor initiative) in 2012 and the defeat of Measure G, Mayor Ashley Swearingen's effort to privatize Fresno's residential waste service. Shortly thereafter, the Fresno Partnership was formed with a goal of optimizing and organizing the collective efforts of the multitude of players in our diverse progressive community. There is unlimited power in unity.
This year, we face a critical election. The future of our country is at stake in ways not seen in decades. And the Democratic vision—rational solutions for our nation that address the many issues before us—is decidedly more proactive than the rhetoric of fear and the fact-free zone promoted by the other side.
The challenge, however, is turnout. Voters must be engaged, and that requires education. We can register voters, and we can encourage registered voters in front of Election Day, but if voters don't feel there is a reason to vote, they won't. So there is a mismatch between what voters perceive and what is in fact achievable through voting. Change happens when people vote.
As Democrats, part of our strength is that we are a big tent, a party that embraces different opinions, viewpoints and cultures. That's a beautiful thing.
We do what we do for you. Please help Democrats help you make our community better. We can ensure change for the better by determining who is making the decisions that affect change. And we can do that by voting. When everyone in the community votes, the community as a whole is the winner.
Come join us at the Democratic Party—the People's Party:
Every donation counts! Go to tinyurl.com/fresnodems.
Like us on Facebook at Fresno County Democratic Party.
Join our precinct leader program at http://fresnocountydemocrats.org/?page_ id=5734.
Subscribe to our newsletter at http://fresnocountydemocrats.org/?page_id=5736.
Volunteer to help Democrats at http://fresnocountydemocrats.org/?page_id=1589.
Contact me directly at 559- 495-0606 or fresnocountydemocrats@yahoo.com.
Democratic Presidential Campaigns

Bernie Sanders for President

Fresno for Bernie contacts: Yezdyar Kaoosji, Chip Ashley & Simone Cranston-Rhodes

E-mail: Fresno4Bernie2016@gmail.com

Facebook: Fresno for Bernie, Fresno for Bernie Events

Web site: www.berniesanders.com

Hillary Clinton for President

Hillary for America–Fresno contacts: Pat Brown & Matt Rogers

E-mail: FresnoForHillary@gmail.com

Facebook: Hillary for America – Fresno

Twitter: @Fresno4Hillary

Web site: www.hillaryclinton.com

Martin O'Malley for President

We are unaware of any local efforts for this campaign. If you are interested in working on the O'Malley campaign, contact 559-495-0606 or fresnocountydemocrats@yahoo.com.

Web site: https://martinomalley.com/
*****
Michael D. Evans is chair of the Fresno County Democratic Party.