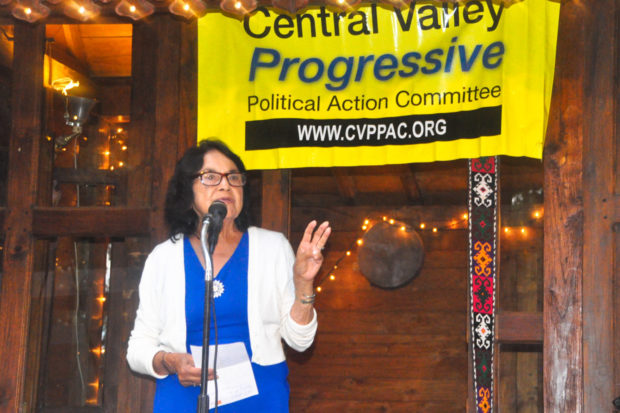 By Hannah Brandt
On Sept. 27, the Central Valley Progressive Political Action Committee (CVP PAC) hosted union organizer and civil rights icon Dolores Huerta at the home of Pat Wolk. It was a time to "rally the troops" for the causes of education, the fight for a $15/hour wage, justice for homecare workers and child-care providers and, of course, the 2016 election. "This here tonight is our convention," Huerta announced to the sounds of cheers.
Fresno County Democratic Party Chair Michael D. Evans noted that two-thirds of the precincts in Fresno voted for Barack Obama in 2012 and opposed Measure G in 2013 but that turnout was dismal in 2014. Evans said that there are more progressives in Fresno than people tend to think because the people in power in the Valley tend to be conservatives. Fresno is fundamentally a "blue" city. If all of the progressives in Fresno turned out to vote, progressives would be elected.
Evans outlined a program to increase voter turnout that proved successful in a 2014 trial run. There is a goal to have 150 precinct leaders in targeted precincts for the 2016 election. Precinct leaders visit their neighbors, build networks and foster relationships where they live. Those precincts in which it was tested in 2014 had an average eight-percentage-point increase in turnout above the county average.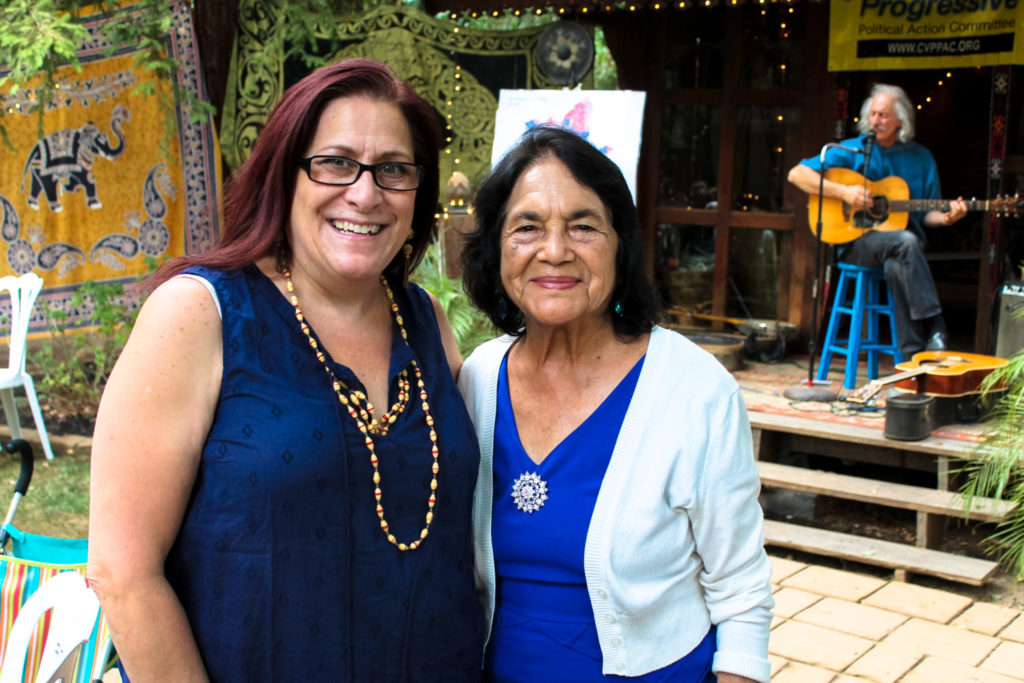 When Huerta took the podium, she was introduced by CVP PAC Vice President Loretta Kensinger, who reminded the audience that Huerta became a symbol of standing up against police brutality when she was beaten at a union protest in San Francisco in 1988. According to the San Francisco Chronicle, "Doctors at San Francisco General Hospital had to remove her spleen and treated two fractured ribs. She had been distributing grape boycott literature outside the Union Square hotel where Vice Pres. George (H.W.) Bush was speaking at a fundraiser."
Kensinger declared that "Dolores has been promoting human and civil rights, organizing workers and mobilizing voters for most of her 85-year life." She was born in New Mexico in 1930. When her parents divorced, which was almost unheard of in those days, she moved to the Central Valley. She credits her mother's courage in that time with igniting the fire of feminism within her. Her mother ran a restaurant and hotel, often serving low-income workers at a discount or for free.
Like me, Huerta began her career as a teacher. She came to believe that she could do more to fight for rights and fight segregation as an organizer. "I couldn't tolerate seeing kids come to class hungry and needing shoes. I thought I could do more by organizing farmworkers than by trying to teach their hungry children." In 1962, she co-founded the United Farm Workers (UFW) union with Cesar Chavez and served the organization until 1999. She has been arrested 22 times for peaceful protest.
Huerta reminded everyone it is the 50th anniversary of the Delano Grape Strike, an historic action that saw her at the helm. Her focus has always been to empower others to become leaders. Beginning in 1955, she helped lead the Stockton branch of the Community Service Organization and voter registration drives in 1960. For three years after the UFW was formed, she conducted in-house meetings of 6–8 people in their homes. It was helpful to show people the victories of the past by those who came from the same neighborhoods, backgrounds and experiences.
For several years, Huerta and others organized farmworkers up and down the state. According to her, this was key to setting up the farmworkers' union because people were already organized and knew what goals they wanted to achieve. She connected this grassroots organizing to voting. "It is the same thing. It is time consuming work that requires dedication and patience, but it is not difficult."
"How can we organize people who are poor, don't always speak English, who are not citizens? You do not need a high school diploma to have power within you," Huerta said. "I knew an organizer who could not read or write in English or in Spanish. He got guys from Harvard to work with him…17 million people boycotted grape growers. We should be able to take care of the Central Valley."
Huerta's foundation worked on Democrat Terry McAuliffe's 2013 campaign for governor in Virginia. "The Latino vote won it for him by 53,000 votes. It is a significant voting bloc. We have so many Latinos in the Central Valley… We cannot only focus on registration but also on education. Many of those who are registered do not vote in the end." Where she has been working on voter education in the Bakersfield area, they have won 11 elections and the turnout has been 15 percentage points higher than the rest of Kern County.
Because some precincts are huge, their strategy has been to divide up volunteers by neighborhood. That makes it easier to determine who needs an absentee ballot, who needs to become a citizen and so forth. It is worthwhile to have candidate meetings with presentations, including segments where individuals cannot make speeches but only answer yes or no on an issue.
In terms of ballot success stories, Huerta cited Prop 30, which taxes millionaires. It garnered $6 billion in state revenues. Groups like hers are trying to get it extended for 2016, in addition to a proposition on commercial property tax reform. That would bring in $8 billion that she declared big corporations should be required to pay.
"Every month, 50,000 Latinos turn 18 years old and become eligible to vote in the United States. Voting on high school and college campuses needs to be possible…We need good candidates to run. We need a network of voters. We cannot all leave the Central Valley. Some of us have to stay here. This is not a poor area. Our people are poor because the wealth is all at the top. There is no reason for us to have the poverty we do in the Central Valley."
At the end of the evening, Huerta joined the CVP PAC. "We can say that this here tonight is our convention. I believe that this is an historic moment…We can make the Central Valley a place for justice."
Raising a fist, she asked the crowd, "Who's got the power?"
"We've got the power!"
"What kind of power?"
"People power!"
If there was any doubt, Huerta can still energize the people to fight the good fight.
*****
Hannah Brandt is the editor of the Community Alliance newspaper. Contact her at editor@fresnoalliance.com, @FresnoAlliance on Twitter and Instagram, or Community Alliance Newspaper on Facebook.