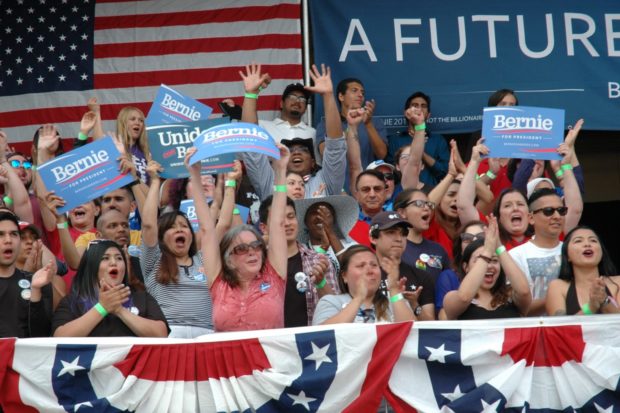 ***The content in this section is paid for by the Central Valley Progressive PAC***
Join the Political Revolution in Fresno
The opportunity to substantially change the course of politics in Fresno is within our grasp. We can elect progressive candidates this November who will have an impact on the issues we care about. Do you think that future will come if we elect Republican Party candidates who are lapdogs for the wealthy, ensuring business-as-usual with the same old results? Or is it time to elect candidates supported by organized labor and grassroots progressive community groups who support social, economic and environmental justice? Which path will we choose?
---
Imagine this scenario—Welcome to the Political Revolution:
The progressive community, organized labor and enlightened faith-based groups unite and elect Henry Perea mayor (the city's first Latino mayor) and replace Sal Quintero on the City Council with a progressive, and we have for the first time in decades the potential to move City Hall in a new direction.
Think about the possibilities. Instead of fighting off an attempt to privatize sanitation workers' jobs, we could be opening new parks. Fresno Unified School District (FUSD) schools could be opened after school for children to play in. There will be more walking trails, better public transportation options and more bike paths for a healthier and less polluted community.
The homeless will have a safe and legal place to sleep at night. They will have basic public services such as toilets, drinking water and trash pickup, and they will start to receive the social services they need to live a better life. In short, they will be treated with the dignity and respect every person deserves.
Community policing will restore trust and build a better relationship between police officers and the community they serve. The culture within the police department will change as transparency and a functioning independent police auditor is given the authority needed to investigate and report the truth.
The economy will improve as high-speed rail comes to Fresno, new jobs are brought into the area and blight and poverty are dramatically reduced. The new City Council will put teeth into Code Enforcement, forcing slumlords to improve their rental units or flee the city. The days of the rich and powerful running Fresno like it is their private kingdom have ended.
In the FUSD school board elections, the progressive coalition will elect trustees who will put students first, respect teachers and end the outrageous governance of Superintendent Michael Hanson. There will be no more special deals with developers (e.g., lease-leaseback), the top heavy administration will be eliminated and the children will start to get the resources they need to improve their educational experience.
---
A Tale of Two Cities and "business-as-usual" forces prevail:
Because of apathy, the belief that no candidate is pure enough to deserve our support and voter suppression, Lee Brand is our new mayor. Republicans have control of the City Council and they set out, yet again, to help their wealthy benefactors feather their nests while intense poverty, police brutality and cruelty to the homeless run amok.
Brand will double down on the assaults against the homeless that have already led to many deaths, misery and no safe and legal place for them to live. He will blame the homeless for their problems, say it is their own fault and espouse a toxic concoction of tough love. He might even have the hutzpah to proclaim victory and claim that we are reducing the number of homeless in this community, while knowing the truth that his administration is hiding the grim reality of the city's policy of death and destruction.
In his campaign for mayor, Brand already has said he is opposed to increasing the minimum wage to $15 an hour and can be expected to maintain Fresno's position as a city with one of the highest levels of concentrated poverty. After all, he was on the City Council when it decimated the staff of Code Enforcement so that resources were unavailable to stop slumlords from building their empires. Expect more of the same.
Brand is proud that he has been attending Tea Party meetings for the last four or five years (see his Tea Party mayoral debate). What does that tell you about his approach to the issues progressives care about—immigration, trickle-down economics, deregulation, etc.? If you want to see what a heartless, community service slashing neo-con can do to a city already reeling from poverty, then do what you can to get Lee Brand elected.
---
The next CVPPAC meeting will include a discussion of transportation options/development that include bus rapid transit, walking trails and bike paths. What would a progressive transportation plan for Fresno/Clovis look like? This meeting will take place Saturday, July 9, at 3:30 p.m. at the Fresno Center for Nonviolence, 1584 N. Van Ness Ave. For more information, call 559-994-9390 or visit www.cvppac.org.