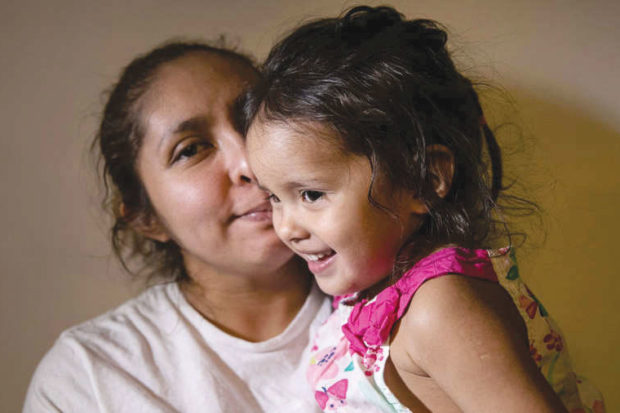 By Pilar Marrero
Five federal courts recently banned the U.S. government from changing the rules on the use of public benefits for applicants seeking permanent residency or a non-immigrant visa, leaving things as they have been for more than 20 years.
"There is now a nationwide injunction, and it means that the Public Charge rule is not in effect while the litigation continues and…it may never take effect," said attorney Madison Allen of the Center for Law and Social Policy. "The plaintiffs had to show that they had a likelihood of winning on the merits and that they could prove imminent harm."
But fear in the community of the consequences of asking for public benefits fueled by misinformation threatens to have dire consequences for families.
Reports by the Migration Policy Institute (MPI) estimate that "millions of immigrants will stop asking for help with health, nutrition and social services," and social service organizations continue to report cases of people needlessly giving up benefits they need with the belief they are now banned from using them.
According to experts and attorneys in a recent national teleconference, many of those immigrants aren't even in danger of having a future visa being denied because of use of public services. Many are not in the categories included in the rule, aren't using the benefits that would affect them or have other factors in their favor that could be taken into account.
During a teleconference co-sponsored by the National Immigration Law Center, the Immigrant Legal Resource Center (ILRC) and Ethnic Media Services, the following was emphasized: Many immigrants are not and will not be affected by that rule.
There are several categories of immigrants that do not fall under the new Public Charge regulation that was issued by the U.S. Department of Homeland Security (DHS) last August and is now paused by court orders.
Refugees or asylum seekers, those who apply for or have U visas for victims of crime, T visas for victims of human trafficking, WAVA cases of domestic violence, SIJS for abandoned minors, renewal of Temporary Protected Status (TPS) or DACA, and most permanent residents or citizens will not be affected by this rule.
"No matter what the courts decide, these people will not be directly affected by that potential change in the Public Charge rules," said Allison Davenport, the ILRC's supervising attorney.

Affects Only Certain Immigration Benefits
Fear in the community primarily comes from confusion about who would be affected by the Public Charge rule should the federal courts give the go-ahead, Davenport said.
"The concept of public charge has been part of immigration law for 100 years. What is changed is how DHS now wants to interpret it. They want to apply a stricter standard," said Davenport.
Nor is it a ban on obtaining services, many of which undocumented immigrants aren't entitled to anyway.
"It will only be applied on two occasions: when a person asks for a visa to enter or stay in this country or when they ask for permanent residence," she added.
Moreover, those who fear their use of benefits will affect their chances of obtaining such visas in the future should understand that this rule is not retroactive.

Not All Public Benefits Listed in the New Rule
The current Public Charge law, in effect since 1999, limits only visa applications for people who use two types of benefits: long-term care and cash assistance, such as welfare payments.
The new regulations that are currently on hold add several more to that list: assistance for housing subsidies or Section 8, food stamps and Medicaid. However, this does not include Medicaid received by children under the age of 21 or by pregnant women for 60 days after delivery.
Programs that are not included in either the old or new regulations (not yet in effect) include the Special Supplemental Nutrition Program for Women, Infants and Children (WIC), the Children's Health Insurance Program (CHIP; Healthy Families in California), food assistance or school lunches, Head Start, any type of earned benefit such as Social Security or Disability, tax credits or certain military family benefits.
The attorneys and community leaders said that no one should suspend their use of these services, even those that are included in the new rule, without consulting a specialized community organization or an immigration attorney.

Public Charge Rule Has Had Limited Impact
If the courts give the green light, the actual effect of the regulation could be more limited than feared as most benefit applicants have other factors that might tilt the scales in their favor.
"Our analysis tells us that 69% of those who recently received green cards have used at least one of the listed benefits, but most also have positive characteristics that can counterbalance that and result in a favorable decision," said Jeanne Batalova, an MPI researcher who has studied the issue.
As an example, if the person applying for the green card has used food stamps but speaks English and currently has a stable job, those might counterbalance the use of benefits.
A recent analysis by the MPI revealed that while the Trump government has denied more visas than in the past due to the State Department applying stricter measures at its consulates and embassies, many of those rejected eventually manage to overcome the hurdle.
"In 2016, they denied 1,000 resident visas and that number rose to 12,000 this past year. However, half of those managed to appeal and be approved," said Batalova. "In the end, only 1% of the green cards were affected."

Family Member Benefits Don't Count
The fear of what might happen is proving more serious than reality, said Mayra Alvarez, president of the Children's Partnership, who urged the community not to rush into giving up benefits for which they qualify. "The new rule does not penalize a person for benefits received by a family member, only those which they themselves may use."
"Families should continue to use the services they need," Alvarez said. "People should feel safe using those benefits even if the injunction is lifted. This rule was not meant to be retroactive. It would only count benefits received after the date the new regulation goes into effect, if that ever happens and there is likely to be a grace period. The injunction is clear, that benefits received before that would not be considered."
The new Public Charge rule was to go into effect the week of Oct. 15, but judges in New York, California and Washington State blocked it the Friday before. On the same day, two other judges in Maryland and Illinois joined the order.
*****
Pilar Marrero is a contributing editor with Ethnic Media Services/ImpreMedia. She has long experience covering social and political issues of the Latino community in the United States. She is one of the foremost experts on immigration politics in the U.S. media.