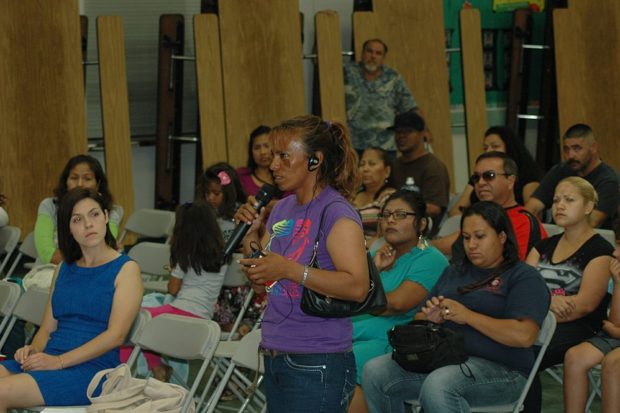 By Leoncio Vasquez Santos and Stan Santos
Since 2006, the May Day Coalition for Immigrants Rights (CPMDI) and immigrants' rights organizations have met with Fresno County Sheriff Margaret Mims on several occasions regarding the implementation of the Secure Communities Program (S-Comm) in Fresno County jails. We have pressed Sheriff Mims to cease cooperation with ICE (Immigration and Customs Enforcement) through S-Comm.
What Is Secure Communities?
The process begins when a person arrested by a Fresno police officer is taken to jail and fingerprinted. The prints are sent to the federal government (the FBI and ICE), where officials search their databases for verification of criminal records and legal status. When an immigration officer determines that the arrested person is undocumented, an immigration hold is requested and the jail has the responsibility to hold the person for 48 hours or until immigration picks them up. At this point, the deportation process begins.
The concerns we have raised to Mims are as follows:
The human cost of the deportation of a family member has consequences, particularly if the deportee is the only source of the household's income. When the family loses that support they have to approach social services such as welfare and seek other public benefits. This results in further costs to society.
The increased number of prisoners results in increased fiscal cost to county budgets. The longer they await ICE retrieval, the greater the cost. As a result, counties must assign larger portions of their budgets to jail facilities.
The community loses trust in those who supposedly have the duty to protect public safety; there is no confidence to report crime. Many fear contact with police officers and that their immigration status will lead to arrest and deportation.
Sheriff Mims Turns Her Back
During each meeting, Mims felt justified in continuing the program that has deported 1,840 persons between March 2010 and April 30, 2013. At first, her excuse was that because S-Comm was mandatory, she had no alternative; she had to abide by the terms of President Obama. One proposal by the May Day Coalition was that she modify the program to focus on deporting criminals who have committed serious crimes as it was originally designed. However, at this time, anyone who is arrested and jailed, even with a misdemeanor, is deported. Mims was not convinced by our arguments and wanted to hear directly from people who had been affected by the deportation of a loved one.
This year, other organizations such as the Immigrant Legal Resource Center, the ACLU, Peace Fresno and Faith in Communities joined the effort to ask Mims to stop implementing the S-Comm program. This should have been within reach because the federal government clarified that this program is voluntary. Although other counties such as Los Angeles, San Francisco and Contra Costa have ceased cooperating with ICE, Fresno has not moved a step back. With the support of the aforementioned organizations, we again sat with Sheriff Mims, and presented testimonials from people directly affected, as she previously requested. However, there was no good faith negotiation. To the contrary, Mims confirmed she will continue to implement the S-Comm program.
Community Forum
Immigrants' right groups were determined not to give up, and on June 15 we organized a community forum where Mims was invited to speak directly with the community on this issue. Other invitees were Fresno Police Chief Jerry Dyer; Grisel Ruiz, an attorney from the Immigrant Legal Resource Center, and people who have been affected by this program. All participated with the exception of Mims.
The irony is that two days before the Community Forum, Sheriff Mims appeared in a press conference in Washington, D.C., with President Obama. She was there presumably to support his call for immigration reform on the first day that the Senate would begin discussion of SB 744. The Fresno Bee article indicated that this was the second trip that Mims has made to the nation's capital to advocate for immigration reform. This is contradictory to what happens in the administration of Fresno County by Mims, who knowingly and rigorously applies S-Comm, causing deportations and the separation of families. As a result, minor children are left helpless and traumatized. Rather than advocating for immigration reform, it appears that Mims has traveled to Washington, D.C., to seek federal government reimbursement for the resources used in the implementation of S-Comm in Fresno County.
During the Community Forum on June 15, Ruiz provided a "Know Your Rights" session. She involved the audience in a drill meant to remind them of their rights and how they should respond to ICE if they have an encounter with them in the community, as well as in the safety of their homes.
Immigrant Testimonials
A young immigrant woman gave an account of her life since being brought to the United States as a small child and the price her family has paid in order to remain here. Her father was deported when she was 10 years old and died in Mexico. She then suffered the losses of her mother and brother. She was unable to see her mother and father to their burials because she could not cross the border. She struggles on in the United States with the hope that someday she will qualify for legalization. Only then will she be able to see her loved ones in Mexico without losing the status that her family sacrificed so much to earn.
Council Sandra Mendoza, from the Protection Department of the Mexican Consulate in Fresno, acknowledged that her office receives cases in which "families are broken up when they deport the parents. We work with Child Protective Services so family members can recover the children. The offices in Fresno and Madera work with us when both parents have been deported.
Members of the audience spoke of their difficulties: of working with the daily fear of arrest by the Fresno Police Department, the Fresno County Sheriff or ICE and deportation. Dyer was clear in his statement: "If the FPD stops you, please cooperate. We don't care if you are documented or not, even whether you have a matricula (Consular Identification Card). We need to verify who you are. If it is a misdemeanor and you have a matricula we will issue a citation. We won't take you to jail. If you don't have a matricula we may take you to jail. Please provide the matricula and cooperate."
One participant was not convinced and asked Dyer, "How true is it that the police are not helping ICE?" Dyer responded, "As chief, I don't know everything, but if I know that our policy is not being followed, then I need to know that. I will only know if someone reports that. I receive a small amount of complaints, so I am certain our policy is being followed."
*****
Leoncio Vásquez Santos is the executive director of the Binational Center for Indigenous Oaxacan Development Centro Binacional para el Desarrollo Indígena Oaxaqueño. Contact him at lvasquez@centrobinacional.org. Stan Santos is an activist in the labor and immigrant community. Contact him at ssantos@cwa9408.org.