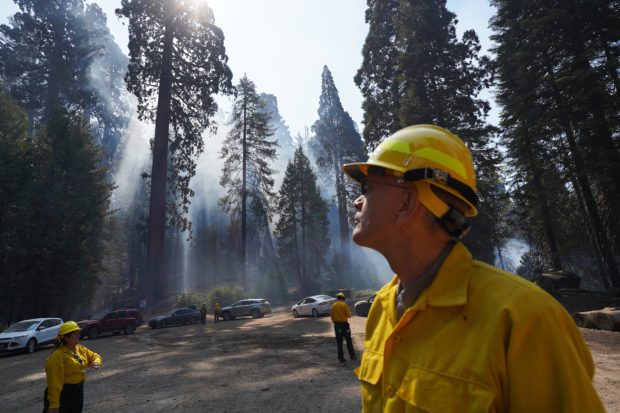 The firefighting effort to suppress Sequoia National Park's KNP Complex Fire is beginning to wind down after burning nearly 90,000 acres of drought-stressed forest. With containment increasing around the perimeter, some fire crews continue to build out those lines, while others patrol and protect giant sequoia groves in the area.
Evacuation orders have been lifted for some areas of the fire zone but continue in the Mineral King region at the southern perimeter of the blaze. Now the focus is on public land managers to figure out how to restore the giant sequoia ecosystem in the age of climate change.
Three lightning strikes was all it took to forge the KNP Complex Fire on Sept. 9. Within days it spread rapidly in late summer heat through the dry mixed and overgrown conifer forest and into groves of giant sequoias.
Christy Brigham, the park's chief of resources and science, said that "they were all full suppression from day one. We threw everything we could at them.
"We authorized water drops immediately because of the fire's position on the landscape and the fact that they did not have recent burn history around them.
"We understood that the fires were a threat and could be a real problem. We were doing everything we could to put those out from day one."
Flames were spreading in every direction, threatening Sequoia's resources and even the park headquarters. Nearby communities were in danger, and some were evacuated. So, despite the aggressive initial effort, Brigham describes how the fires expanded so quickly.
"It's very rough terrain. It's incredibly steep. The Southern Sierra has been the hardest hit by tree mortality from our climate change, driven hotter by drought from 2012 through 2015. There's 5.8 million dead trees in our parks.
"It's very rugged. There's a lot of tree mortality.
"Even with all the prescribed fires that we have done and the preemptive actions that we have taken to reduce fuels and maintain forest hill, it's very dangerous out there. And it's very difficult to put fires out."
Brigham says park management has been doing controlled burns for decades to reduce combustible fuels. Firefighters found that in Giant Forest and Redwood Canyon the fire burned less intensely because of those prescribed fires over the years. Last year, the park did not do any prescribed burns. Climate change has made that practice more risky because the forest has become so tinder-dry.
William Tweed was for 30 years a ranger and park naturalist at Sequoia-Kings Canyon National Park. Since retiring, he has authored two books on giant sequoias. He explains that sequoias inhabited the Sierra during a cooler and wetter time.
He says that giant sequoias are finely attuned to a narrow range of temperature and moisture. But since the industrial age, the average temperature in the Sierra has risen between two and three degrees Fahrenheit.
Tweed says that makes giant sequoias more vulnerable, "The sequoias are pretty much in one plant zone. Their plant zone is no longer particularly hospitable to them though.
"A dry warmer world from the lower altitudes is moving into the Sequoia range. Sequoias are mostly between 5,000 and 7,500 feet. The lower half of that is now too warm and dry for the sequoias.
"Most of the other trees that want to live there. The giant sequoias are not unique in that almost all the plants in the Sierra are wrestling with that. The problem is the sequoias are less mobile than many other species in the Sierra, and that makes their plight a little more difficult."
Brigham points out that although the KNP fire burnt nearly 90,000 acres, it had a beneficial impact on the forest and nearby communities. Now a massive amount of fire-prone wood has burned, reducing the threat of a future fire.
Brigham points out that public lands managers are adapting to the changing climate by improving coordination between federal, state and local firefighting agencies, "We know fire is a part of this system. It's not going away; lightning isn't going away.
"Climate change is making it harder to address fire and have good beneficial fire. But these wildfires create black on the landscape. They allow for more prescribed fire. And we are all trying to work together to restore resilience, wildfire resilience, to our forest and our communities."
In the long term, given a warmer, drier and more erratic climate in the Sierra Nevada, Tweed contemplates whether the giant sequoia ecosystem will evolve fast enough to survive, "Giant sequoia trees at best take a hundred to 200 years to begin to produce significant numbers of cones.
"Mature individuals may live for several thousand years. This is not a species designed for quick evolution. In fact, its geologic history shows that it has chosen rather than evolving quickly to seek different conditions.
"It has moved over time to places where it can find the conditions it likes. What does that say about the future of giants acquired in the evolutionary sense? It simply says we haven't got a clue."
For Brigham, the lesson learned from the KNP Complex Fire is that once the forest is on fire, the options to fight it are limited. Making the giant sequoias and their ecosystem more wildfire resilient will be an immense and costly undertaking. But, the financial and human cost of fighting wildfires dwarfs the price tag of preventive measures.
*****